The contrasting fortunes of the flamboyant promoter and his fellow boxing dealmaker, Bob Arum, were on full display over the weekend
Larry Merchant, the venerable sportswriter and TV commentator recently observed, at the age of 92, that "it's easy getting into your 80s but hard to get out of them."
That wisdom applies to two men who dominated boxing for a half-century and shaped the business as we know it today. Don King will turn 92 on 20 August. Bob Arum will be 92 on 8 December.
Muhammad Ali's longtime physician Ferdie Pacheco once suggested: "Think of Don King as a sledgehammer and Bob Arum as a stiletto." British promoter Mickey Duff remarked: "One's Black and one's white. That's the only difference."
But King and Arum are too complex for simple caricature. During their sojourns through boxing, they've shown themselves to be brilliant, imaginative, focused and driven. They're admired by some and disliked by others.
Arum is still a force in boxing, although the calendar suggests that he's nearing the end of his long impressive run. King's carriage turned into a pumpkin years ago. That contrast was on display this past weekend when King and Arum promoted back-to-back fight cards on 9 and 10 June.
On 9 June, King promoted a show at Casino Miami Jai Alai headlined by a past-his-prime Adrien Broner. Several thousand fans watched it on DonKing.com and Fite.tv pay-per-view streams at a cost of $24.99. Twenty-four hours later at Madison Square Garden, Top Rank (Arum's promotional company) promoted a major fight card headlined by Josh Taylor v Teófimo López that was viewed by more than a million people on ESPN.
King's impact on American life extended far beyond boxing. He was Black and from the streets. Rather than hide his background, he forced America to accept him as he was. He was the first Black man to dominate a major industry in the United States. We're not talking about an athlete, singer or movie star who made his mark by entertaining people. We're talking about commerce and economic control.
King was larger than boxing. Over the years, he met with Nelson Mandela, Mikhail Gorbachev, Vladimir Putin, Leonid Brezhnev, two Popes (John Paul II and Benedict XVI), Tony Blair, Fidel Castro, Ferdinand Marcos and eight US Presidents. Also, as he once recited: "most of the people who have been president of a country in Africa, some Chinese heads of state, every president of Mexico for 30 years, and more senators, governors, and mayors than you can count."
Seth Abraham, the architect of HBO's boxing program, once observed that "Don was incredibly creative in making his fights bigger than just a boxing match and infusing them with sociological importance. Look at how he turned Ali-Foreman into one of the major cultural events of the 1970s by taking the fight to Zaire."
Even today, long removed from his glory years, King is one of the most recognizable people on the planet for those who remember his time in the spotlight. But now, for the first time since the mid 1970s, he doesn't have promotional rights to a world champion. And the occasional fight cards that he does promote are small events.
Arum, like King, made big fights at the right time. And like a good fighter, he made adjustments as time went by. As the world changed, Top Rank thrived by staying ahead of the curve. Abraham, who worked with Arum for years, declared that "Bob is the most advanced thinker ever in the marriage of television and boxing. Don operated largely in the present. Bob was always thinking down the road."
Arum didn't invent pay-per-view, the internet and social media. But he used them well. He was the first major player in boxing to understand and exploit the power of the Hispanic market in the United States. And unlike King, Arum was willing to delegate authority and rely on the judgment of people he trusted. As he aged, that became increasingly important.
King's fight card in Miami last Friday was evocative of a carnival sideshow. Broner was once a star but self-destructed in and out of the ring. Now 33, he had scored one win in the previous six years – a decision over Jovanie Santiago in a fight that most observers thought Broner lost.
Bill Hutchinson, Broner's 34-year-old opponent, had 20 wins in 26 fights with no recognizable names on his resume. Hutchinson says that he is a licensed attorney who graduated from the University of Pittsburgh law school and that he works as in-house counsel in Pennsylvania and Florida in addition to consulting with multiple businesses.
On the fistic side, Hutchinson had scored one win in the preceding 42 months – a six-round decision over a fighter named Rondale Hubbert who has won twice in his last 21 outings.
An April press conference in Las Vegas to formally announce the fight was called off when Broner failed to appear. King and Broner finally sat together in the promoter's Deerfield Beach, Florida, office for an internet stream on 9 May.
King was wearing black slacks and a conservative gray sport jacket festooned with ribbons and pins. His famed "Only in America" jacket was nowhere in sight. There was a time when King had a nobility about him. Watching him at the May press conference was sad. He looked old (which he is) and rambled (which was not uncommon during his years in the spotlight). But King's monologues are less entertaining now than they were in the past. This one was a disjointed sermon about Donald Trump, Joe Biden, Putin and Ukraine. Broner seemed almost disdainful of him during the proceedings.
More to the point, the Broner fight didn't seem to make economic sense for King. Broner was reported to be getting a $1m purse. Most likely, that number was exponentially exaggerated for publicity purposes. But there appeared to be no logical way that King could recoup the fighters' purses and other expenses out of the live gate, pay-per-view buys and auxiliary income that the bout was expected to generate.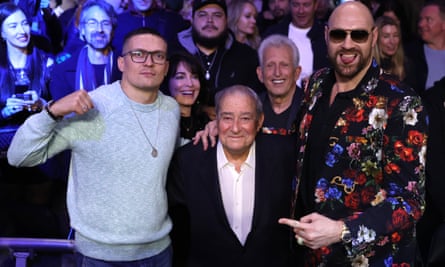 The final pre-fight press conference for Broner-Hutchinson had been announced for 6 June at 3pm. But there was no press conference; only a short musical loop that repeated again and again until 3.52pm when the festivities began. Eight minutes later, the stream cut off. Twenty minutes after that, it came back on but a reverberating echo made it unintelligible for another five minutes. By then, Broner and Hutchinson had already spoken and King was holding an Israeli flag, talking about being a world peace ambassador to moderate the conflict between Russia and Ukraine and castigating Biden.
"This is great," King proclaimed when it was over. "What a press conference."
Fight night was a dreary occasion. Less than five miles away, the Miami Heat were hosting the Denver Nuggets in Game 4 of the NBA finals. King's 10-bout card was not well attended. The pay-per-view stream dragged on for six hours.
Fans had been told that Hutchinson was tough, confident and determined. He might have been all of those things. But he wasn't a good fighter.
"He can't hurt Broner," commentator Nate Campbell told viewers as the bout progressed. "He ain't no puncher. He doesn't have an idea how to fight this fight."
Broner cruised to a 100-90, 99-91, 99-91 decision and, in an interview with Ray Mancini afterward, proclaimed, "Right now, I need some pussy."
King seemed happy. Fight night energized him. He can't take his money with him, so why not spend it and have a good time?
One night later, Arum and Top Rank took center stage at Madison Square Garden. In contrast to King's promotion in Miami, Taylor-López was the most intriguing fight shown on television in the United States so far this year that didn't require viewers to pay a pay-per-view charge or subscription fee. Both men are skilled athletes in their prime, and were fighting for Taylor's WBO junior welterweight title.
Adding to the drama, in late May, López had declared: "This is a kill-or-be-killed sport. I want to kill Josh Taylor. When I fought [Vasiliy] Lomachenko, I took his heart. With Taylor, he don't got no heart. So what can I really take from this man? His life."
The next day, Taylor responded: "He can come try and take my life. Let's see who is the one who ends up in the back of an ambulance."
In a well-run sport, the threat of killing by a participant would result in punitive measures by that sport's governing body. In boxing, these threats are viewed as a marketing opportunity.
A sold-out crowd of 5,151 packed the Garden's Hulu Theater. Top Rank had six prospects on the undercard. Five of them won and the sixth would have but for an accidental clash of heads that led to a no-decision.
The main event was fought at a high skill level. But Taylor was playing checkers and Lopez was playing chess. The 117-111, 115-113, 115-113 decision in Teofimo's favor was far closer than warranted.
"I've got no excuses," Taylor said afterward. "I fought to the best of my ability. He was better than me tonight. Congratulations to Teófimo."
The evening showed that Arum is still a significant force in boxing. King is not. But in considering both men, there's another factor to keep in mind.
Arum could walk down any street in the world unnoticed. Even today, wherever King goes, he commands attention. People in boxing are asked all the time: "Do you know Don King?" One is rarely asked: "Do you know Bob Arum?"