Christian Ally Moussa did not tell anyone that he had decided to get in a small boat to make the 350km (220-mile) trip across a treacherous stretch of the Indian Ocean between Madagascar and the French island of Mayotte.
He was desperate and he had made the risky crossing twice before.
He needed to return to the place from where he was deported a few weeks earlier as he was supposed to appear at a hearing about his application for French citizenship.
After years of saving to pay his legal fees, the 42-year-old hoped he would finally be able to claim the European passport that was his birth right.
He had the right to a passport as his father was a French citizen from Mayotte, a French overseas territory, 8,000km (5,000 miles) away from Paris. In almost every respect it is supposed to be treated like any part of mainland France.
But because Mr Moussa was born and raised in Madagascar, an island to the south of Mayotte, he had struggled to gain recognition as a French citizen.
He had been living and working in Mayotte on and off since 2004 without the correct paperwork, while, like many others, supporting his wife and children in Madagascar.
But a French passport would allow him to become a legal resident giving him greater opportunities.
Famous for its stunning coral reefs and lagoon, Mayotte is home to an estimated 300,000 people.
It is the poorest part of France yet wealthy compared to the neighbouring islands of Madagascar and Comoros, off the south-east coast of Africa.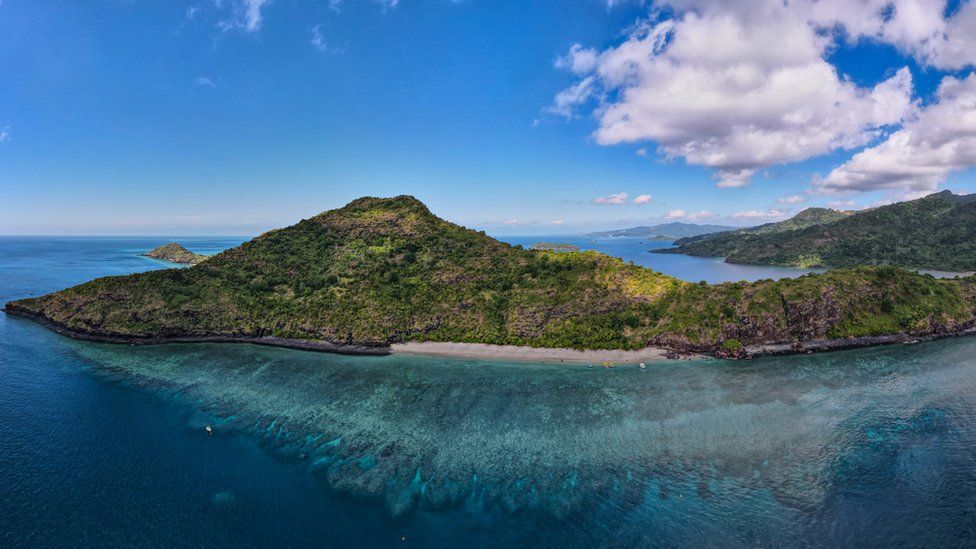 With only weeks to go until his citizenship hearing, Mr Moussa was unexpectedly arrested by French immigration police and deported to Madagascar.
"[The police] barged in and wanted to take Christian away," his relative, who we are not naming for security reasons, says.
"He asked me to go and get his shoes but by the time I came back with them, they had already taken him."
Mr Moussa was tracked down to the only detention centre in the main city, Mamoudzou.
"We spoke on the phone. He was crying a lot and said he didn't want to go back to Madagascar," the relative says.
The family then contacted a lawyer who launched an emergency appeal to stop the deportation.
Mr Moussa was set to appear in front of a judge at 11:00 the next day but by this time he was already on a flight to Madagascar, less than 48 hours after being detained.
But it was the court hearing on his bid to become a French citizen that he did not want to miss. That was when he hatched the risky plan to return to Mayotte on a small fishing boat, known locally as a "kwassa kwassa".
"I didn't know he wanted to make the trip back to Mayotte," the relative says.
"He didn't say anything to me or his friends. He just asked for money as he said he was sick and needed medicine because they had no drinking water in the village."
That was the last the relative ever heard from him.
"When the authorities called to tell me he had been found dead, I told them: 'No it's not him. It can't be him'. They then sent photos and I recognised his face."
'An open-air graveyard'
Mr Moussa died with at least 34 others – all discovered drowned off the coast of Madagascar on 12 March.
What happened to Mr Moussa was not unusual.
"The lagoon around the island is an open-air graveyard," says Daniel Gros, from the Human Rights League NGO in Mayotte.
But, he adds, there is no official attempt to find out how many perish on the journey from either Madagascar or the Comoros.
"When I [started working here] in 2012, the authorities used to say that about 10,000 people were estimated to have died there [since 2002]. And today, they give the same figure."
Mayotte has been in the headlines for riots and unrest, with islanders experiencing rising poverty.
They complain about an increase in immigration mainly from the Comoros, which has put pressure on public services.
The French government says one in two people living on the island are "foreign" and has vowed to crack down on illegal immigration. It has stepped up its presence at sea as well as aerial surveillance and currently deports 24,000 people a year.
As part of a plan to tackle the migration, the French government is planning a major demolition operation, known as Operation Wuambushu, to get rid of what it says are illegal dwellings or shanty towns.
It has also boosted the police and paramilitary presence on the island to 1,300 officers.
North of Mamoudzou, in a shanty town called Majikavo, officials are already marking some of the corrugated iron dwellings for destruction.
The police believe most of the residents in this poor area are there illegally, but regardless of their status many are getting caught up in the operation.
"We live under constant threat," says Fatima, who has lived there for 15 years. "They said: 'Whether you accept it or not, this place will be destroyed'."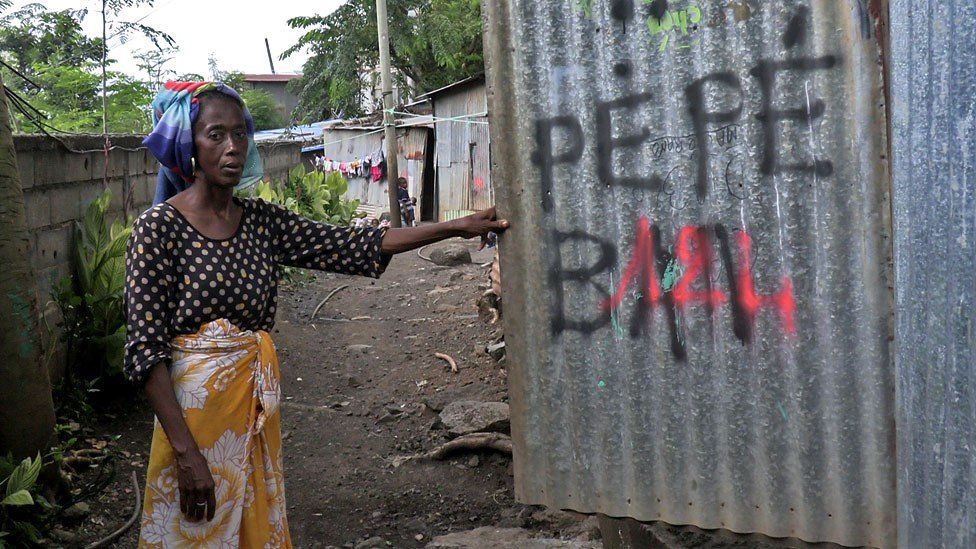 Fatima, not her real name, is originally from the Comoros but holds a residency permit which allows her to remain on the island, though not travel to mainland France.
Under French law, the government has to offer "suitable alternative accommodation" to those whose homes are set to be destroyed. But up until now, no clear relocation plan has been released though some residents have been offered emergency accommodation for six months.
French member of parliament for Mayotte, Estelle Youssouffa, who asked for the operation to take place, says it is urgent that the state regain control of these areas.
She is one of two representatives that the island sends to Paris.
"It is about destroying an illegal habitat that shelters a population that is mostly foreign or recently regularised," she tells the BBC.
"These shanty towns are built on private or public land that has been stolen because it is illegally occupied. The shanty towns are dangerous areas for the safety and health of those who live there. They are also environmental hazards: destroying them is an emergency for the return of republican order and the security and health of all."
She has also called on Paris to take a tougher stance with the Comoros islands and wants the national navy to set up a permanent base on the island, solely dedicated to fighting clandestine immigration.
"There is no point in carrying out such large-scale slum-demolition operations if the borders are not closed."
But the Comorian government, which claims the island of Mayotte as an integral part of the Comoros, has called out the danger of such an operation and asked the French authorities not to proceed with it.
In a statement this week it said that "the electoral promises made in Mayotte of 'spectacular action' to destroy shanty towns and expel their inhabitants, judged to be in an irregular situation, must not lead to the destabilisation of an entire region".
With Mayotte being majority Muslim, the operation is set to start straight after Ramadan at the end of next week.
Human-rights activist Daniel Gros is highly critical of what he describes as the "heavy-handed actions" of the French state.
"If you chase people away, you shouldn't be surprised that they come back. We deport hundreds of people a day yet we have boats arriving with a similar number of people at the same time."
The tragedy for Mr Moussa was that he was entitled to be French all along, but his desperation to get the citizenship cost him his life.
"His dad was French, his grand-parents were French. Why did he have to die in the sea?," his relative asks.