How a young musician captured the music of Rwanda
The singer, songwriter and producer Michael Makembe has compiled an audio library with almost 1,000 recordings of people singing, clapping and playing traditional instruments
In a studio in Kigali, Rwanda, Michael Makembe sits down at his laptop and starts playing some traditional vocals he recorded in the street. The music producer adds a layer of Afrobeat and drums, and mixes in some percussion, his own harmonies, and chords he plays on the keyboard. Then he listens back to what he's done so far.
"That's the groove," he says to the documentary maker from Rwandan media organisation IGIHE, as he sings along. "That's Africa, man."
Makembe, 25, hasn't always been interested in traditional Rwandan vocals and instruments. Growing up, he listened mostly to artists from abroad such as Michael Jackson and Bob Marley. It was when he attended music school that he felt an urge to connect with his roots.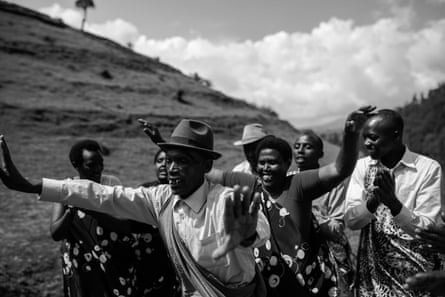 "I never got a chance to connect with Rwandan tradition at a young age," he says. "I realised I really needed to connect with my roots, and speak to my homeland through music."
In 2018, he decided to travel all around Rwanda, visiting communities in remote places to collect voices, poems, songs and recordings of traditional instruments.
In five years Makembe has amassed nearly 1,000 different sounds. He is hoping to open an audio museum this year where people can go and listen to them. He also wants to launch Sounds of Rwanda, an online library for a global audience.
"I had to connect with my home and have time to understand, discover and explore its traditions. Rwandan music is me, it's who I am," he adds.
Makembe began by researching different communities and their musical traditions before travelling to meet these communities, sometimes living with them for a week or two. He takes equipment and a camera, and records singing, clapping or playing instruments, as well as any other sounds he finds interesting, like people cooking or digging.
He is often asked what he's doing and where the vocals will end up. "It has been a journey to preach to people and tell them my idea. It is for my own use, but it's also something for the next generation too," he says.
He pays for contributions. All his work so far has been self-funded by other creative work, gigs, music production and festival appearances.
One of Makembe's most treasured experiences was on Nkombo Island, on Lake Kivu, between the Democratic Republic of the Congo and Rwanda. Most of its population eke out a living from fishing. They speak a language different from the Kinyarwanda spoken in the rest of the country.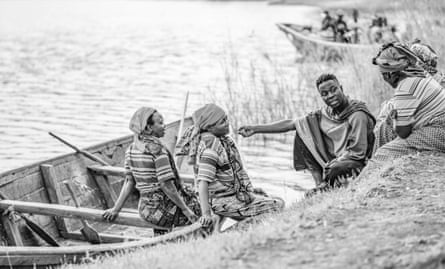 Makembe recorded the fishers singing at work and found one whose voice stood out. "He was someone who was different. I had to understand him. I've always been trying to push his story. When he sings, it's a true story and something he believes in.
"He's poor. In his community he doesn't have much and so doesn't have a voice. When you have no voice, you are nothing. He has no power. His way to tell his story is through a song."
Since then, Makembe has stayed in touch with the community and organised a concert for them to perform in Kigali in September last year.
He is due to release his own album this year, using some of the sounds he has collected. "I bring the influences I had in my childhood, and fuse modern sounds with tradition," he says.
Makembe has also collaborated with other Rwandan artists including Ish Kevin and Bushali, part of a burgeoning music scene in the country that uses elements of Rwandan and other African culture to create new genres.
"The industry now is made up of a young generation who are creating styles influenced by tradition, like Kinyatrap and Afrobeat," says Makembe.
"It's the beginning. It's a growing movement. We are among the people bringing it to life, inspiring [our young people]. We bring them solutions in their own language. I wish I could have had this in childhood."
Instagram: @michaelmakembe