"When I was little, being a successful woman meant being a woman who was able to decide for herself, who had a job and didn't have to wait for other people to do things for her. I saw that whenever a man took care of a woman, in some ways, he also imprisoned her.
If a man gives you a roof over your head, in some way he takes away your freedom because the day you reproach him, he could take it all away from you and you'll find yourself with nothing. Especially if you have kids, and especially if you come from the family which does not have the means to help you.
And for me as a young girl, I said to myself, I want something that belongs to me. I didn't want to delegate my wellbeing to a man.
But the model of a good woman in Senegal is a woman who is a virgin at marriage, who doesn't assert herself, who says yes to everything, who is a good mother and is a good wife, who is able to accept living with a man who might be violent or unfaithful, who doesn't raise her voice, who doesn't presume anything.
We shouldn't hear her when she walks by."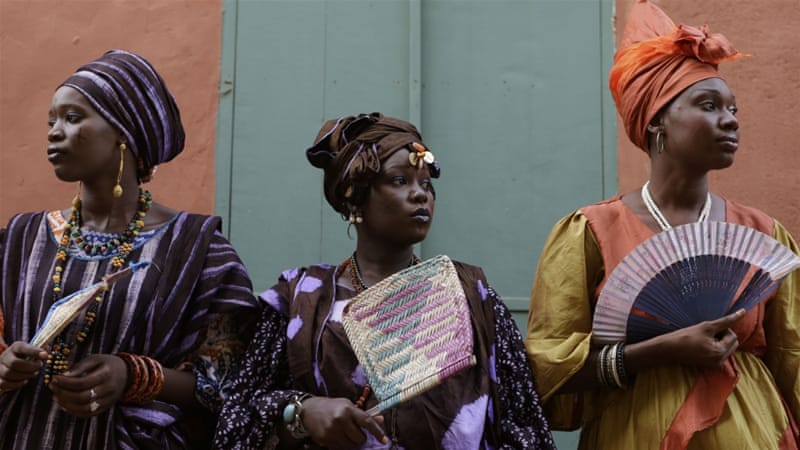 "I remember female weather presenters or television announcers. They were well dressed and very beautiful. There were very few who actually read the news but what I remember most was the men. The programmes I watched which were maybe a little bit more intellectual, political were always presented by men. You didn't see women in serious roles.
As for fictional characters, the women I saw were often submissive. They were there to be beautiful, to smile, to talk about almost nothing, to be well made up and looking back on it, they definitely weren't women who could've inspired me.
Now as an adult, I started to see that elsewhere it was possible to be a woman who spoke about economics or law or had political ambitions. To be married and yet not have to take a backseat to your husband. To be honest, it was when I started to see women like Michelle Obama or others like her.
I even started calling my mother Magaret Thatcher. It was when I started seeing women like that, that I realised it was possible to be a strong woman and to portray that on screen. I realised the fact that I always thought I was different from others because I thought I didn't have the right to be myself."
"To tell you a little story, I discovered Grey's Anatomy, I discovered How To Get Away With Murder, I discovered the TV Producer, Shonda Rhimes. When I saw this African-American woman who successfully managed to create something in the US, not just as a writer; I really identified with her. 
But I didn't know how to write a script or how cinema works, so I went onto Google, YouTube and I typed how to write a screenplay. I visited all the sites suggested; I watched all the videos and that's how I learnt how to write. That's actually how the series, 'Mistress of a Married Man' was born.
The series is about the day to day lives of women and that gives me the opportunity to cover all sorts of subjects; domestic violence, marital rape, body shaming, pay disparities. There are also storylines about depression which is quite a taboo subject here in Senegal.
Something else that has come up is polygamy which is still practiced in Senegal today and which often has consequences which can be very difficult for the woman involved. So really we've covered almost every subject that touches a woman's life."
The series has attracted some flack for empowering Senegalese women and critics, who are mostly male, have said the series is controversial.
"I'm the kind of person who does what I like. I may not do what everyone approves of but I do it anyway. But I realised once it was broadcast at that time, I don't live in a country where people take responsibility for their choices and actions.
They expect us to follow them, to accept it and not to take it on. There's a big difference between the two. But I'm someone who tackles things head on, no matter the consequences.
For me everyone has the right to decide what their own values are. In this country with all the difficulties people are experiencing, for me, the most important value we share is that people are hardworking; that they're not liars or thieves, that they're not malnourished. The rest, all those things about sexuality for example, are for each individual to decide what they do with their body.
I knew this could lead to debate or maybe to confusion but I'm just presenting my own vision of things. I was surprised with the criticism. I really didn't expect that. It also hurt me because it was my work being judged. I realised they were judging me as a woman. If it had been a man making this no one would have said anything. Every day on social media or on TV there is loads of sexist discourse; there are things I would never dare to write. So the real problem it seems to me is that I am a woman who has shown other women that they can be themselves. That's what they are worried about.
In our series, we show how men really treat women. For example, we see one of the male characters hitting a woman and that didn't seem to shock anyone. What shocked people was when a character said that her sexual parts belong to her and she will give it to whoever she wants. So marital rape isn't shocking? A man who hits his wife in front of their kids isn't shocking?  It seems what's shocking is a woman who is saying she will choose who she will sleep with."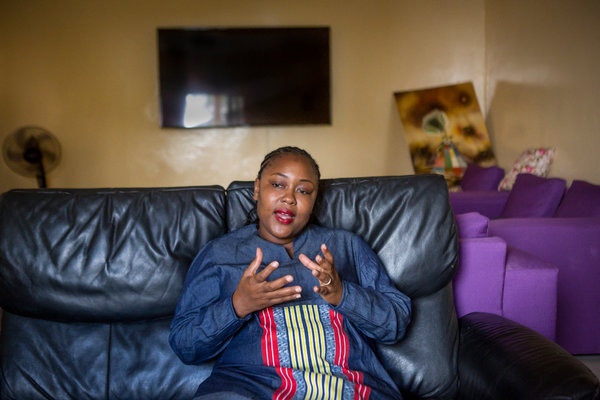 "A lot of women say thank you for telling their story. I get men thanking me too, they say, thank you for helping me understand women better. It's quite surprising and everyday I get half a dozen messages from women who want to tell me their stories. They want to speak to me personally. In some ways I've become a sort of psychologist, they all think I can listen to them and help them. Sometimes I'm up till 3 o'clock in the morning listening to people's stories. I try to respond to everyone. 
What I do, I do for myself. I do it for my daughter, and I do it for all the women out there. I am not waiting for anyone to support me or help me because I have all the weapons I need to dazzle people and to make change. I have the power that most don't have. I have the power to create strong women who inspire other women. Campaigns can't achieve that and I would use all these tools to help women believe in themselves and to let them know that they can succeed."
Kalista Sy leads the debate on the role of women in Senegal with her television series, Mistress of a Married Man. She was featured on BBC's 2019 List of 100 women which recognises and honours the role women play promoting and impacting women affairs across the globe.