The 'Temple run' is a dangerous journey young Sierra Leoneans embark on to get to greener pastures in Europe. If they are lucky, they will survive the awful and terrifying journey but is they do not, illegal migrants from Sierra Leone will face death or lose their families forever.
While the government has not offered much to rescue families from their losses, a group called Advocacy Network against Illegal Migration, is doing their part to offer support where they can and sometimes reel in former illegal migrants to also offer their services to the cause.
One of those helping out at the Advocacy Network is 31-year-old Alimamy, who set out across the Sahara three years ago, after stealing and selling an expensive water-packaging machine belonging to his uncle.
One of his two travelling companions died of starvation in the desert. The second drowned trying to cross the Mediterranean in a dinghy. Alimamy ended up in a Libyan detention camp. He was only rescued in November 2017 when the IOM began organising flights from Tripoli to West Africa for those who wanted to go home.
Emaciated and exhausted, he accepted the offer of a ticket, but he was terrified of the reception he would get. "I was thinking I should not come back to Sierra Leone, because I know my uncle has a very high temper," he says.
Since returning, Alimamy has lived with friends. His elder brother, Sheik Umar, a former professional footballer, says: "We are hearing he is in Freetown, he is suffering. And yet he hasn't got the guts to face any of us in the family."
Sheik Umar says he used to be close to his brother, but if he sees him now, he will ensure he is "arrested, prosecuted and convicted".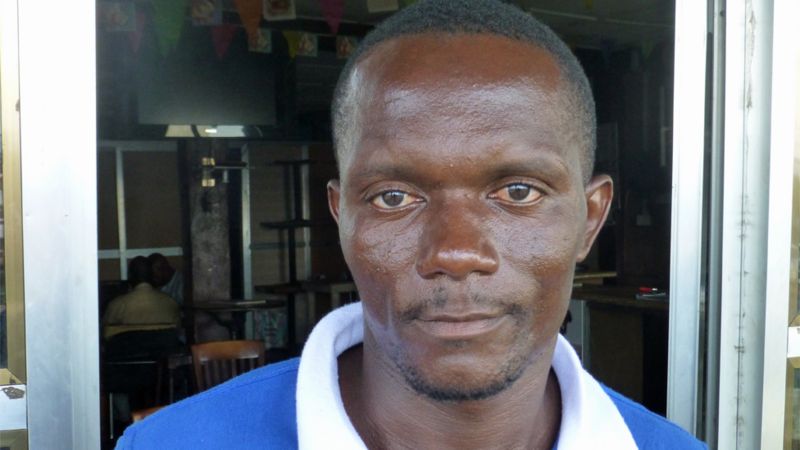 "If he dies in prison, I will not have any regrets, I am sure no family members will have regret, because of the shame he has put on all of us."
He says the water-packaging business Alimamy had been entrusted to run by his uncle could have generated enough money to support the whole family.
"But he misused that opportunity and all of us are in this mess now… Wherever I go now, people taunt me. Our mother is sick, she has moved to a village. That (business) was the beginning of our hopes. But Alimamy has shattered all of that."
Alimamy himself is angry and frustrated. "I have come back home, no impact, just like I'm zero," he says. "The place where I am living, it's like a hell for me. The way people look at me, I don't feel happy. They're looking at me like I'm not human."
The IOM offers migrants who return voluntarily to their home countries in Africa "re-integration allowances" worth up to 1,500 euros (£1,270). The money comes from a 347m-euro fund financed mainly by the European Union. But the allowances aren't paid in cash. If they were, most people would just use them to repay their relatives. So the IOM pays for goods or services that applicants can prove they need to set up a specific business.
Alimamy got an allowance to buy a motorcycle to rent out to other drivers to use as a taxi. But after just four months, one of the drivers went off with it and never came back. Alimamy himself had become a victim of theft.
This story is part of a series on illegal migration from Sierra Leone and the 'temple run'.