The tutor on my exercise science course pointed me towards literature, and I began to read voraciously. It was the start of a love affair that led to my first novel.
Mid-2012, I was trying to read a book on the physiological and biological changes that occur when a person begins training, and I was failing. I had passed my level 3 qualification for personal training and fitness instructing some years before and was trying to get ahead of my colleagues by going further than the qualification required.
I wasn't doing very well and was explaining this to my cousin, who was now my client – we spoke during most of our training sessions to extend his rest periods. It was during one of these interludes that he started going on about the benefits of university and how well he was doing. He was 19 and I was 23. My only thought while he was talking was how smart he must be, and how much I enjoyed talking to people who were at university.
Then he asked me why I didn't go to uni: "Study exercise science, then you'll be better than all these dead PTs in here," he said. No chance, I thought. Either way, he was talking too much and compromising his training so I cut his rest time, added more sets and weights, and watched him struggle to breathe, breaking up any talk about my possible academic success.
But he was already convinced. Soon after, he arrived at my house with his sister – not unusual, as we always chilled together, though she didn't usually borrow my laptop for so long. When I asked her what she was doing, she told me she was writing a personal statement. What's that? "For uni," she said. "I ain't going to uni," I insisted.
Two weeks later, I was putting my things in the back of my cousin's car, enrolled as a mature student at the University of Bolton, accommodation paid for – all sorted by this 19-year-old who had some delusional faith in what I was going to achieve in higher education. He dropped me off, helped me unpack, and said he'd pick me up when I graduated. He also gave me a Qur'an and a Bible, to bless the room twice.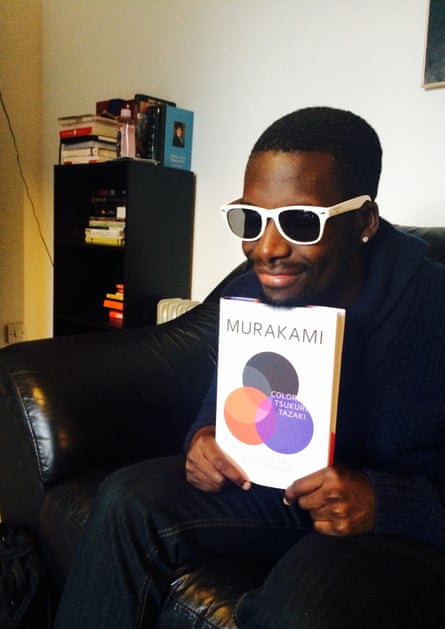 The anxiety I'd felt when I was given my ID card stayed with me, dissociation trying to take over like venom. How was I going to last three years?
The first module of my sport and exercise science degree was on research methods. Our lecturer was Dr Colin Robertson, a tattooed, unshaven, motorbike-riding Liverpudlian gym owner. Later on, I found out he loved Haruki Murakami, Charles Dickens, Marcus Aurelius's Meditations and making midnight notes on his progress through the bloated experimental novel House of Leaves by Mark Z Danielewski. He told the class to get used to reading because there would be no practical aspect to the course: start reading research papers, scientific journals and some literature; go and pick up some Dickens and train yourself to read.
So I made my way to the library the next day and looked for some books. Honestly, I didn't know the difference between a novel and a work of nonfiction any more than I knew the difference between a comma and a semicolon. But I managed to find something: a short story by DH Lawrence called St Mawr. The beat-up book felt important to me, and short enough not to bore me or put up much of a fight. I walked over to the prayer room, always empty, took a seat on a beanbag and started reading.
I don't have the words to describe what happened to me while turning the pages of that short story, but I know language became something three-dimensional, and everything around me seemed connected by an unexpressed narrative.
From then on, I read every day, kept a notebook with me to write down interesting words and their meanings, and covered my room with the faces and quotes of my favourite authors printed from the library. I taught myself as many passages and poems by rote as my mind could stand. Each book was like uncovering the details of the world around me, piece by piece. And the longer it took, the better.
Every night, I would read from my favourite play, The Importance of Being Earnest. A close second was An Ideal Husband, and every morning I would read off my wall the dialogue between Lord Goring and Phipps: "To love oneself is the beginning of a lifelong romance."
I was obsessed. I tried to change my degree course, of course, but the extra year would have to be self-funded, so I settled for conversations with Dr Robertson, stopping him every time he walked past the sports centre reception where I worked, and eventually found a friend who would sneak me into her literature lectures at the University of Manchester.
Time disappeared again, my obsession began to lay the ground for a vocation as a writer, assignments felt like asides to reading, and that ominous hourglass only returned to remind me it was time to graduate. And, of course, I did so with a book in my hand.