Actor Ncuti Gatwa will take over from Jodie Whittaker as the star of Doctor Who, the BBC has announced.
The 29-year-old will become the 14th Time Lord on the popular science fiction show, and the first person of colour to play the lead role.
Scottish actor Gatwa, who was born in Rwanda, is best known for starring in Netflix's sitcom Sex Education.
He told BBC News: "It feels really amazing. It's a true honour. This role is an institution and it's so iconic."
Speaking on the red carpet before Sunday's Bafta TV Awards, where he was nominated for Sex Education, Gatwa said the role of the Doctor "means a lot to so many people, including myself".
He added: "I feel very grateful to have had the baton handed over and I'm going to try to do my best."
Gatwa will make his debut as the Time Lord in 2023.
Showrunner Russell T Davies said Gatwa had impressed him in a "blazing" audition.
"It was our last audition. It was our very last one," the writer and producer said. "We thought we had someone, and then in he came and stole it.
"I'm properly, properly thrilled. It's going to be a blazing future."
The Queer As Folk and It's A Sin creator, who is returning to Doctor Who after departing in 2009, posted a selfie with Gatwa on the Baftas red carpet.
The actor was nominated for the Bafta for best male performance in a comedy programme for the third year in a row for playing Eric in Sex Education.
As well as being nominated, he presented the Bafta for best scripted comedy at Sunday's ceremony, and received a loud round of applause as he walked on stage.
He has already won a Scottish Bafta and a Rose d'Or Award for Sex Education.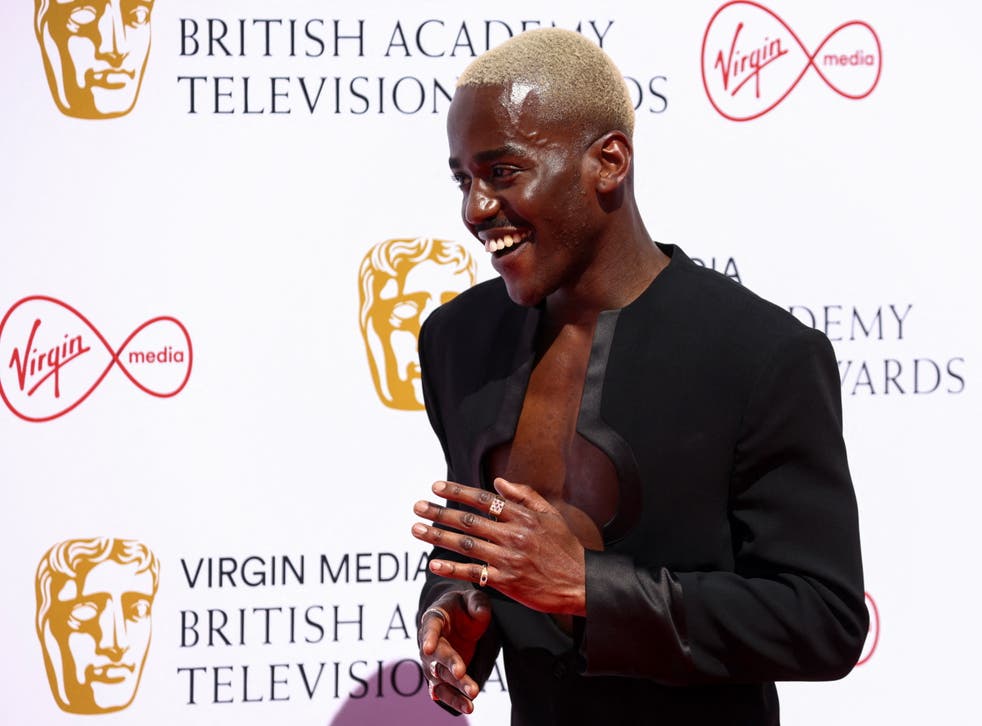 'A double bonus'
Analysis by Lizo Mzimba, BBC entertainment correspondent
Ncuti Gatwa is a very shrewd choice for the role. He's incredibly popular with viewers in their late teens and 20s, thanks to Sex Education on Netflix. He has more than 2.5 million Instagram followers, and that's likely to shoot up even further after today's announcement.
Doctor Who, like so many programmes, is eager to win back some of those younger viewers, so the sheer interest from someone like him being involved is going to help with that.
That's not to put aside the fact he's an exceptionally gifted young actor. He's absolutely brilliant. He's been nominated for the Bafta for all three series of Sex Education, so he's not just been cast because of what he can demographically bring in.
It's a double bonus because he can bring in that demographic and in theory give a fantastic performance as the Doctor.
Gatwa said he was "definitely going to do my own thing" with the role rather than modelling himself on any previous Doctor.
In a statement, he added that the prospect of working with Davies was "a dream come true".
He said: "His writing is dynamic, exciting, incredibly intelligent and fizzing with danger – an actor's metaphorical playground. The entire team have been so welcoming and truly give their hearts to the show.
"And so as much as it's daunting, I'm aware I'm joining a really supportive family. Unlike the Doctor, I may only have one heart but I am giving it all to this show."
'Talent and energy'
BBC chief content officer Charlotte Moore said: "Ncuti has an incredible dynamism, he's a striking and fearless young actor whose talent and energy will set the world alight and take Doctor Who on extraordinary adventures under Russell T Davies' new era."
Others welcoming Gatwa's appointment included Sex Education co-star Aimee Lou Wood, who said on the Baftas red carpet: "Obviously it's just the best news in the world ever and he deserves it more than anyone."
Olly Alexander, who starred in It's A Sin and who was himself among those tipped for the Tardis, wrote on Twitter that it was "amazing" news.
Scotland's Culture Secretary Angus Robertson congratulated Gatwa, writing: "Great to see the success of this young Scottish acting talent and graduate of Royal Conservatoire of Scotland."
Doctor Who author and podcaster Juno Dawson said it was "perfect, perfect casting".
Ncuti Gatwa is so good on SEX EDUCATION, a lightning rod of charm and comedic timing. A star from the moment he popped on screen. He's going to be phenomenal as the next Doctor. #DoctorWho pic.twitter.com/IiM1qjd8UC

— Robert Daniels (@812filmreviews) May 8, 2022
I don't know a single thing about that time travelling phone box but for Ncuti?? I'm now invested.

— Kelechi (@kelechnekoff) May 8, 2022
Fully been under the impression that Ncuti Gatwa was 19 or 20. But Wikipedia tells me we were born in the same year!

Forget Dr Who, when's he gonna announce the skincare regime??? https://t.co/gtzIUDkt5S

— Ash Sarkar (@AyoCaesar) May 8, 2022
Gatwa moved to Scotland as a toddler when his family fled the Rwandan genocide, and was at one point homeless before finding his big break as an actor.
In Sex Education, he plays Eric Effiong, a young gay British-Nigerian who is best friends with Otis, the show's lead character. He has also appeared in a BBC adaptation of Iain Banks' novel Stonemouth, and the 2021 film The Last Letter from Your Lover.
Whittaker took over as the Doctor in 2017 as the first female doctor.
She will bow out in a special episode to be broadcast this autumn. Her finale will also feature appearances from two previous companions – Ace, played by Sophie Aldred, and Janet Fielding's Tegan.