'People were going crazy' – how the Super Eagles took the world by storm
A new documentary looks at what Nigeria's success in the 1990s meant to its people, including the daughter of the executed activist Ken Saro-Wiwa.
It may be more than 25 years since Celestine Babayaro was part of the Nigeria men's football team that made history by winning a gold medal at the 1996 Olympics in Atlanta as a teenager, but the former Chelsea and Newcastle defender still retains his youthful exuberance when he thinks back to that moment.
"As soon as we landed it felt like 200 million people were there to celebrate," recalls the now 44-year-old at the end of a new documentary, , which tells the story of their remarkable achievement. "There was loads of happiness in Nigeria – people were just going crazy on the streets. That tournament made a lot of difference."
Directed by Yemi Bamiro, a London-born film-maker of Nigerian heritage, the documentary tracks Nigeria's progress under their coach Clemens Westerhof – known as the "Dutchgerian" – on their journey to the 1994 World Cup before he was replaced by his compatriot Jo Bonfrère during a period of political instability under the country's military dictatorship.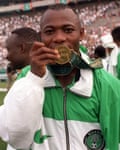 It also features interviews with some of Babayaro's teammates, including Taribo West, Jay-Jay Okocha and Emmanuel Amunike – scorer of the winning goal in the Olympic final against an Argentina side that featured Diego Simeone and Hernán Crespo. There's also a killer soundtrack.
"We started thinking about the music very early on in the process and I had this dream of using lots of authentic Nigerian music and specifically Fela Kuti," Bamiro tells the Guardian. "We approached the Fela estate and they were really into the film so they allowed us to use five songs, which was kind of mindblowing. I didn't really expect that."
However, it is an appearance from Noo Saro-Wiwa, the daughter of activist and Nobel peace prize nominee Ken Saro-Wiwa, that leaves the most lasting impression. The execution of her father in 1995 by General Sani Abacha's regime, after he had spoken out about oil pollution in Nigeria, led to Nigeria being ostracised from the international community, leading to the country's withdrawal from the 1996 Africa Cup of Nations in South Africa.
"Noo was really important to have in the story because the case was central to Nigeria having this unwanted global attention at the time," says Bamiro. "We had to connect it because I always thought that Ken Saro-Wiwa couldn't be a footnote or paragraph in our film. That was the most nervous I'd ever been for an interview because we were asking her to talk about what happened when she was only a teenager and she got a phone call to tell her about this horrific thing that had happened to her father. She was so brave and articulate to give us a little insight into what that must have been like. She is a brave and courageous woman."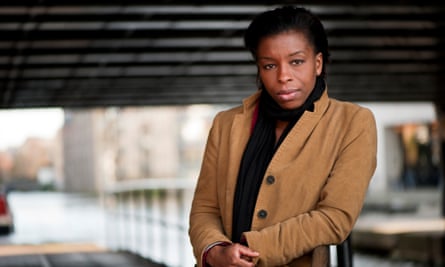 Despite previously receiving funding directly from Abacha when they reached the second round of the 1994 World Cup in the US, Nigeria's squad stayed in a motel that cost $10 a night two years later. Yet they shocked the world by recovering from a group-stage defeat against a star-studded Brazil side containing Ronaldo and Juninho and a 3-1 deficit in the semi-finals against the same opponents thanks to a golden goal in extra time from a fresh-faced Nwankwo Kanu.
"We were packed in a room," recalls West, who had spells at Derby and Plymouth, in the film. "Two would sleep in a bed, others would sleep on the floor. After two hours, we would change. It was madness. But it was only football that could take the weight of this trouble away. The thing that unites Nigerians is football."
Watching from his home in south London as they became the first African side to win a global tournament by beating Argentina 3-2 in the final in August 1996, Bamiro always wanted to explain what Nigeria's triumph had meant to him.
"I was 13 when this happened and I remember feeling this deep sense of pride," he says. "I was in awe of this group of young men who had achieved what they did on the world stage. I went back to school after the summer holidays were over and I remember feeling like the guy. In south London there was friendly rivalry between the west African kids and the Caribbean kids about who was the coolest and stuff, and I just remember that was huge kudos for us that Nigeria had achieved that. I wanted to take that feeling and put it back into the film – there was no science to it. The entry point was if I could channel what I felt as a 13-year-old then we should start there."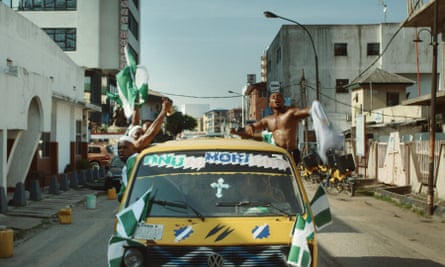 Three countries – Kenya, Zambia and Cameroon – declared national holidays as the Nigeria players were welcomed home from Atlanta as heroes, although Bamiro acknowledges that Abacha was also one of the chief beneficiaries of their success. "His government was doing all those atrocious things in terms of human rights abuses and then all of a sudden the attention was on this merry band of brothers who had made history," he says. "It was a convenient distraction for the military government that this team was able to achieve what they did. By winning gold, they inadvertently pardoned the military dictatorship."
But it is still heartwarming to hear Noo Saro-Wiwa's fond memories of an achievement that remains close to the hearts of Nigerians to this day. "Everything about Nigeria was just on a real downer, so to see Nigerians smiling, laughing and celebrating, I hadn't seen that in such a long time," she recalls. "We were the centre of the universe, we were getting attention but for the right reasons and that was amazing."
Super Eagles '96 is available to stream on Amazon Prime now