Rapper Tobe Nwigwe: 'Every day I wake up and say, "What a life"'
The Nigerian American artist talks about his Grammy nomination, the importance of refusing to compromise and his role in the new Transformers movie.
Filing taxes isn't the most obvious sign of musical success but when I speak with rapper Tobe Nwigwe, he's been doing just that.
"It's a little different during tax season now we're not poor any more," he says playfully. "But we're not just well off financially," Nwigwe continues. "My marriage is thriving, my children are healthy, the movement that we have going is just gaining a tremendous amount of traction and I feel like every day I wake up and say to myself, 'What a life.'"
The Nigerian American artist is having, in his own words, an "immaculate" time. His seventh studio album, MoMINTS, earned him a Grammy nomination for best new artist. Speaking from his Houston home, Nwigwe's black hoodie and relaxed demeanor is a world away from his all-mint stage outfits and electric showmanship that has become as popular as the music itself.
Nwigwe excels in near-breathless wordplay as he raps about poverty, faith, fatherhood, gang violence and the joys of being black (sometimes in Igbo, a nod to his Nigerian heritage). The aim? To make music that's "real and that touches the soul". And to help people "live more purposefully". While indebted to local heroes Slim Thug and Lil Keke, other influences – Andre 3000, Lauryn Hill, Fela Kuti – are similarly conscious. Like 3000, he maneuvers his voice and genres with satisfying results; there's vacant monotone, saccharine sing-song melodies and all out shrieking. Produced by Nwigwe and Nick Humes and Nick Baker, MoMINTS has drill, boogaloo, a nursery rhyme ditty and a nostalgia hip-hop track where production changes no less than five times.
The best new artist is notorious for few of the nominees actually being new. Since 2016, Nwigwe has posted a new song with a video every week. Titled #getTWISTEDsundays, his then girlfriend, now wife, Fat, would twist his hair as he rapped. Joined, until recently, by producer LaNell "Nell" Grant, you can watch how the trio developed the sound and visual concepts – synchronized choreography and one-shot scenes – that Nwigwe continues to utilize. As a result, he has an expansive discography and remarkable self-discipline.
Did he expect to be here? "Maybe not in this capacity. I expected to be consistent, I expected to do this with integrity and character," he says. "I didn't expect to get nominated for a Grammy even though I submitted my stuff. It was ultimately up to other people and whether they received what it is that I'm doing."
He understands that there's no guarantees. As high-profile artists like Drake and the Weeknd snub the Grammys over racial bias and lack of recognition, Nwigwe gets why. "I can understand why people boycott it because at the end of the day, whether they say you are the best or not, music ain't like a sport, like basketball or football. It's literally open for interpretation." For now, he relishes the co-sign. "It's like, OK, even at the 'highest level' they think I'm tight too."
As an independent artist, Nwigwe doesn't, as he puts it, "do things the normal way". A label probably wouldn't agree with his weekly release schedule, performing no more than once a week to spend time with family and not embellishing his experiences for clout. "What's the man that sang that song, 'I did it my way'?" Frank Sinatra? "Yeah, we Sinatra'd this thing out."
Born to Igbo parents, Nwigwe grew up in Alief, a Houston suburb. He had a "pretty standard" first-generation upbringing. When his NFL hopes ended with injury, his parents pushed for him to get "a real job". Instead, a friend and entrepreneur encouraged Nwigwe, who would freestyle in cars and locker rooms, to consider it. "He was like, 'Yo, if this is the talent that you have, if you actually lock in and put the effort into it, it can actually be something,'" Nwigwe says. What followed confirmed he was on the right path.
"The doors that were opening … Stuff don't happen like that." He reels off a list: booking the new Transformers reboot as his first movie, featuring in Beyoncé's Ivy Park campaign and Dave Chappelle, Erykah Badu and Pharrell – who produced Lord Forgive Me – being fans. "Pharrell don't have to reach out to nobody, he's Pharrell!" His first break came in 2020, when he rapped about Breonna Taylor, killed by police in Louisville, Kentucky. "Arrest the killers of Breonna Taylor / All of y'all who think we need more evidence, you goofy." The 44-second song went viral on TikTok. Nwigwe later told the New York Times that he wrote it because he had a dream in which God told him to.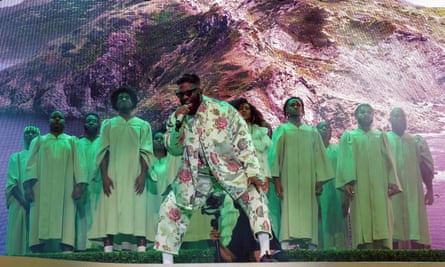 Nwigwe's faith is core to him and his music. MoMINTS is loaded with imagery of demons, devils, Hades and the Holy Ghost. Some are biblical references: "Big steppin' on the head of the serpent," and others less so: "Lord forgive me I put a hole in his shirt / Lord forgive me he was on the wrong turf." There's a clear tension between the man of God who loves his family and the man whose experiences inform his worldview. What does he hope people will take from it? His answer is amusingly simple: "Go with God, dodge the devil."
Family follows closely. Fat features on six out of 11 songs on the album. On Round Here (Part Two) her falsetto is a counterpoint to Nwigwe's bass; On Lord Forgive Me her fierce, maternal energy threatens to outshine both her husband and Pharrell. In live shows, Nwigwe and Fat are a double act and their three children roam freely on stage. They're a very visible priority in his career. "It's just more important than the rest of the stuff that's happening," he says. "My relationship with God, my wife and my kids is the most important thing to me. If any one of those things are not what they're supposed to be, I have absolutely no problem stopping all that I'm doing … Making music, doing movies, shows, interviews"
He's not kidding. A San Francisco venue told him late in the day that his kids couldn't be there. "It was a sold-out show. I was gonna go outside and tell each person that unfortunately, since they can't have kids here, I can't perform, so we gon' give y'all money back." They eventually changed their minds. "I feel like it's important for other people to see you don't gotta compromise in any way, shape or form what's important to you."
To shoot his role as Reek in the latest Transformers movie, the entire family went to Montreal. Nwigwe was hand-picked by the director, Steven Caple Jr, despite the two never having never met or Nwigwe having acted in a film. You can understand why. He's charismatic to say the least. Filming went so well that he had to cancel his European tour. "On the way to shoot more scenes, we found that we were nominated for this award at the Grammys."
It doesn't end there. Mo, the Netflix sitcom that Nwigwe also starred in, has been renewed for a second season; he featured on the Wakanda Forever soundtrack and his 2023 began with a performance at Chance the Rapper's festival in Ghana. Grammy win or not, Nwigwe's immaculate journey continues.