Violet Frank's two grandchildren serve as reminders of her missing daughter-in-law.
It is feared her name will be added to those of more than 300 who died when Cyclone Freddy struck Malawi at the beginning of the week.
The youngsters had gone to stay with Violet just days before and escaped the fate of their mother, who fell victim to the unforgiving power of a landslide.
"She was with my son in their matrimonial home in Chilobwe. He stepped outside their home when he heard neighbours screaming and things falling with a loud bang outside their house," Violet said.
"Luckily, he survived. He was taken to hospital by well-wishers. But we do not know where his wife is."
When we met Violet, she was staring at what was left of her son's home. A huge boulder sat in the middle of the two-bedroom house, the memories there smashed to pieces.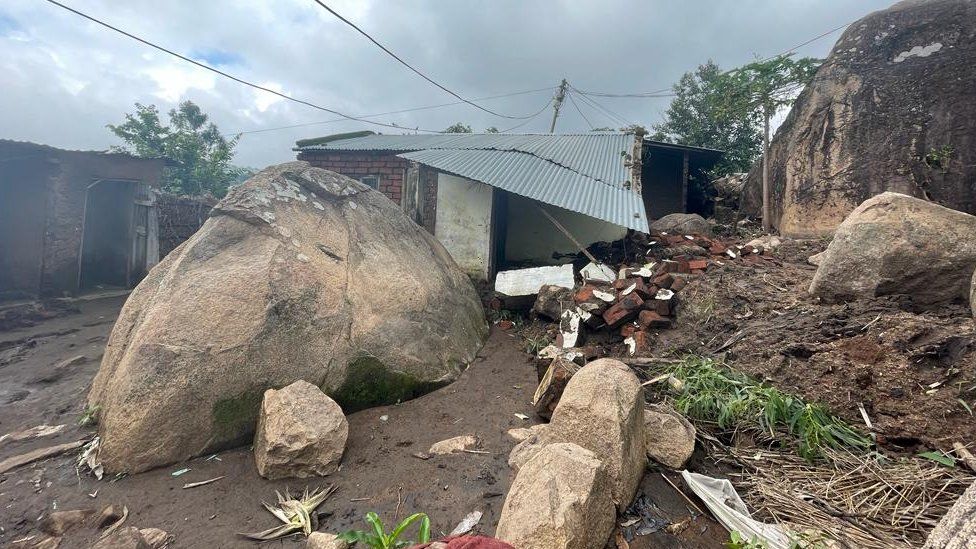 A few metres away, rescue teams were retrieving a body from the rubble and mud. It was not Violet's daughter-in-law.
She asked one of the officials to help look for her loved one, but she did not get an answer.
"When you tell [the rescue teams] where to look for people, they do not go there. They are only retrieving bodies in the places that are not as badly affected.
"But what about our people? When will they go to look for them?"
Chilobwe was one of the areas worst affected by the landslides that hit Malawi's commercial hub, Blantyre.
The advice that most residents received from the authorities before the cyclone struck was to stay indoors, but that was not much help.
It is not clear how many houses were destroyed in Chilobwe, but we saw huge piles of boulders and trees that had flattened people's houses.
Other homes were washed away by torrents of water or buried under mudslides.
Areas that had been green and bustling with small businesses were in a sombre mood.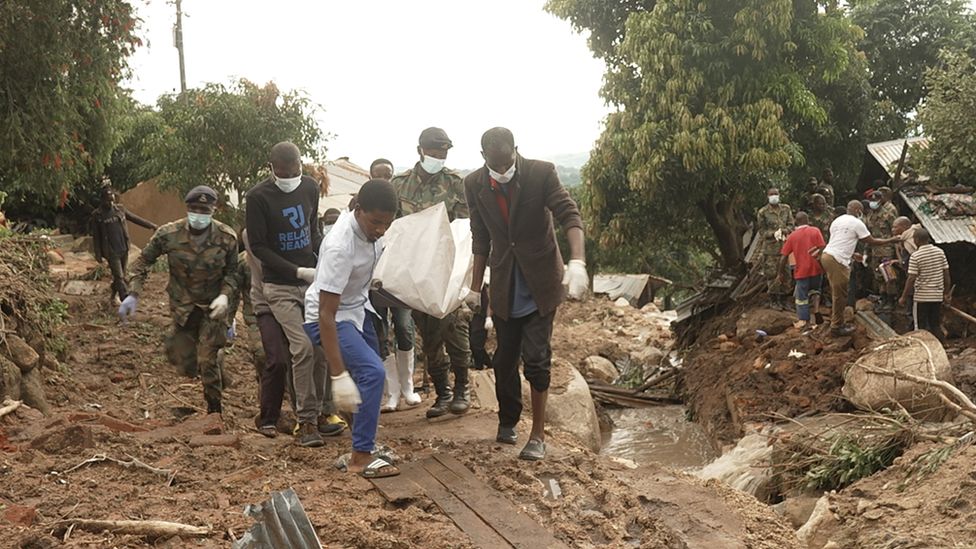 There was still activity – but of a different kind, with the community helping to look for the missing.
Those whose houses are still standing carry hoes and shovels to comb through the debris looking for bodies.
When we met Richard Galeta, 34, he was dressed in a white protective suit, worn by people who have volunteered to help bury victims. Richard buried his wife and child on Wednesday.
"I was working hard for them. Now that they are gone, I don't know what to do," he said.
"The last thing that I told my wife is that I am going to give her money this week to go and visit her parents. But now I must be the one to go and visit them and share the bad news."
He is now living in a temporary camp set up at a local primary school.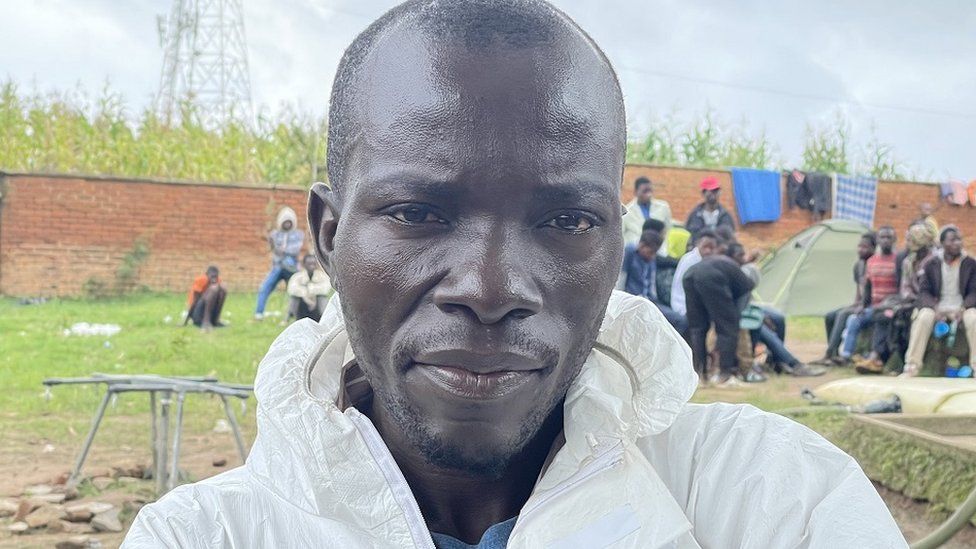 Richard said life there was not easy. He accused those running it of not looking after the victims properly, saying that getting enough food was a major challenge.
"A lot of organisations have brought us food. But it is just rotting in one of the classrooms that have been turned in storage facilities," he added.
Malinga Namuku, who is in charge of the camp for the Malawi Red Cross, said they were feeding people, but it was sometimes "hard for volunteers to keep track of who has been fed and who hasn't". "But we are trying our best."
There were a lot of children at the shelter running around and playing with makeshift balloons created out of surgical gloves. Looking at them it did not feel like it was a disaster zone. This is something some experts say will probably register in their minds later.
Dr Charles Mwansambo, Malawi's Principal Health Secretary, said the mental health of the survivors was a critical issue that the authorities will need to attend to over the next few weeks.
The camp houses about 5,000 people and many others were arriving in the hope of finding a dry place to stay.
Most of the people living in the camp have nowhere else to go and are in distress, as they are unable to trace their loved ones.
This weather is making it difficult for search-and-rescue teams to find people. On some days teams would stop halfway through the activity either because it had rained, or there was too much fog.
Those helping with the search include the police service, the military and international organisations. The police are also using dogs to locate bodies.
As of Friday, more than 300 deaths had been confirmed in Malawi, with more in neighbouring Mozambique, and more than 80,000 people had been forced to leave their homes.
The death toll is likely to rise over the next few weeks as the weather clears and makes it easier for rescuers to continue their grim work.
At least 200 people are still missing – among them Violet's daughter-in-law. She just hopes her body will be found so that she can be given a fitting burial.