"Despite the pain, I continue my fight. The world is on fire, but you should act."
A crowd of 600 crammed into a nightclub in Lviv dance along to the defiant words of TVORCHI – the Nigerian-Ukrainian pop duo set to represent Ukraine at Eurovision 2023, which is taking place in Liverpool.
They are performing their song Heart of Steel live at the club, before the nightly wartime security curfew kicks in at midnight.
Frontman Jeffrey immerses the crowd in his performance, interacting with them in English and Ukrainian, while Andrii complements his soulful vocals with a booming, electronic sound from the DJ decks.
Backstage, the pair tell us Russia's invasion "is always at the back of their minds" when they take to the stage.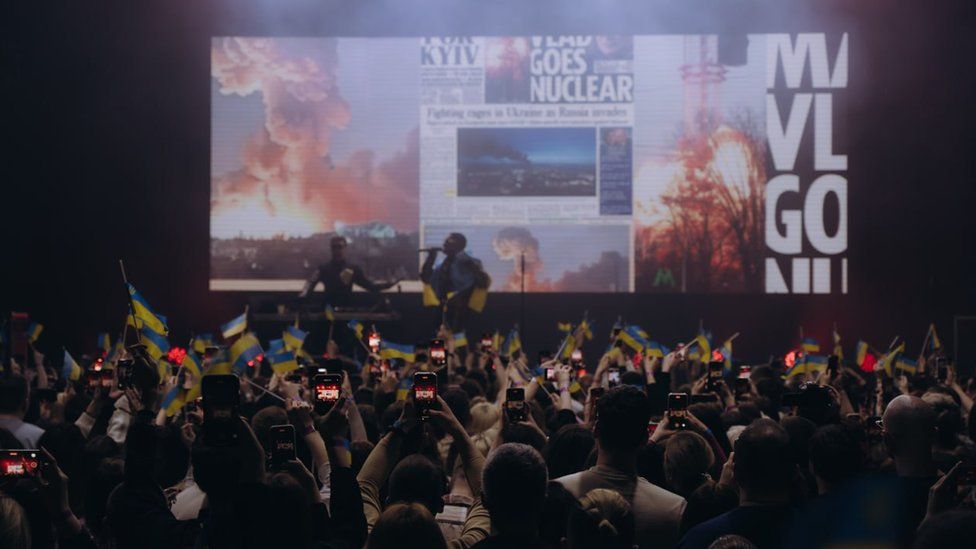 The responsibility of defending Ukraine's crown landed on Andrii and Jeffrey's shoulders when they won the public vote on the country's Eurovision selection show last year.
The pair describe Heart of Steel – which Andrii wrote as Ukrainian defenders were besieged inside the Azovstal steel works in Mariupol last year – as a song of "strength, confidence and responsibility". They do not exactly lack stage presence when performing it.
"It's about strong people who keep a good attitude in a negative situation," explains Andrii.
"For us, it is important that our country can win against the occupiers who came to our land. And if we win Eurovision, we would appreciate that too."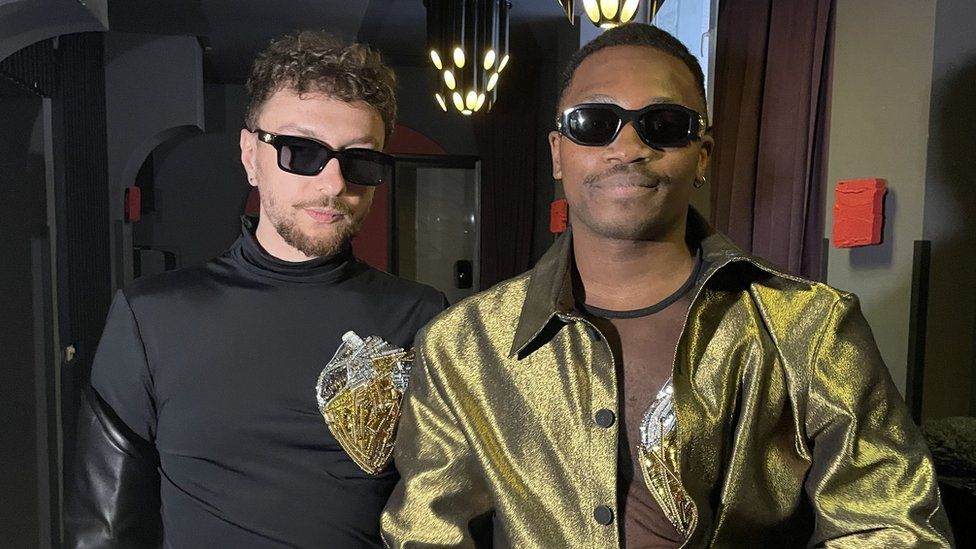 As you watch Jeffrey invite some fans on stage, you wonder about the home advantage Ukraine is missing out on this year.
Ukraine's success in 2022, with Kalush Orchestra's winning song Stefania, could have been a chance for the country to host the competition for the third time.
But because of Russia's continued assault on the country, Eurovision organisers have moved this year's event to Liverpool.
"No harm done," says a philosophical Jeffrey. "We know the reasons and we appreciate the UK for hosting on our behalf."
TVORCHI admit getting ready for Eurovision has been challenging at times. Their rehearsals and outfit fittings would sometimes be interrupted by air raid sirens.
"We go to shelters, but then carry on, like all Ukrainians," says Andrii.
Some of the audience have an appetite for Ukraine to be seen as more than a country at war with Russia.
In the crowd we bump into Kyryl, who thinks "the country needs to make something new".
"Last year, it was all about the war. Now we have to show people that Ukraine is more than this – we are a culture, it's about our language and our society."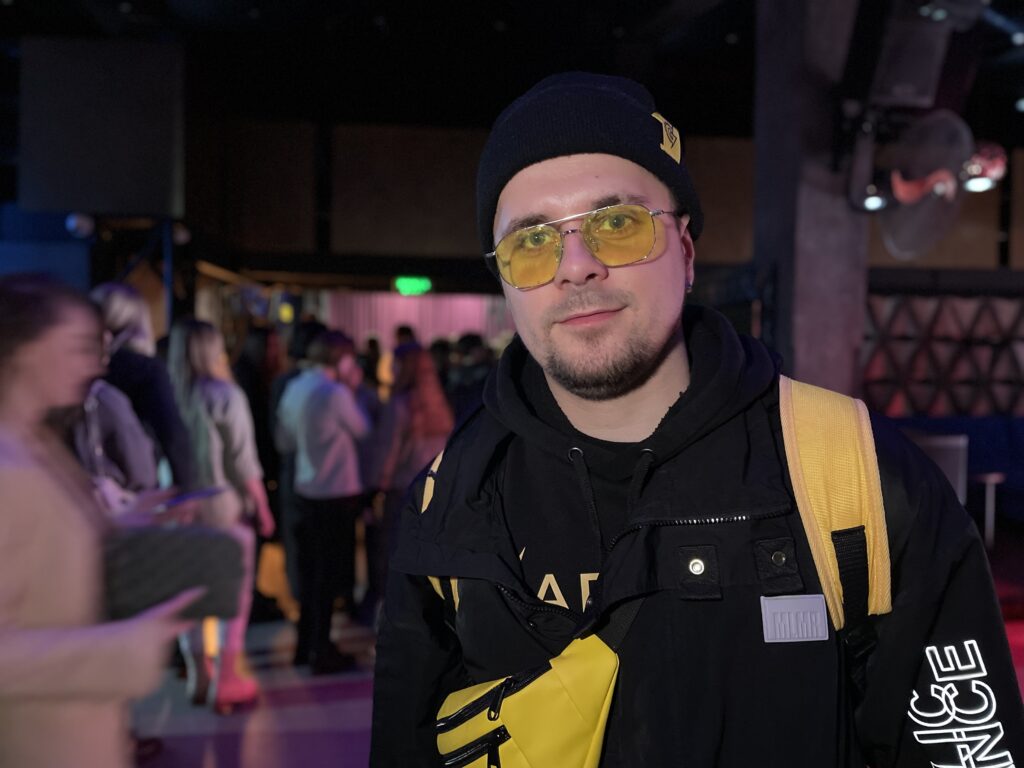 The story of TVORCHI begins in nearby Ternopil in 2016.
Jeffrey, who had travelled to Ukraine from Nigeria three years before, moved to the picturesque lake city to study pharmacy.
Andrii had signed up to the same course, and when he saw Jeffrey walk past him in the street, he stopped him as he wanted to find someone with whom he could practise his English.
Jeffrey describes how he was taken aback by the question, as he walks us down the same road. But he agreed, as he did not have any friends with whom to practise Ukrainian.
"I said 'all right', and the next day we went out for a beer. It started on this street."
A chain of events which would lead the duo to music's biggest stage.
Since 2018 they have released four studio albums and even tried their luck at the Eurovision national selection a few years ago.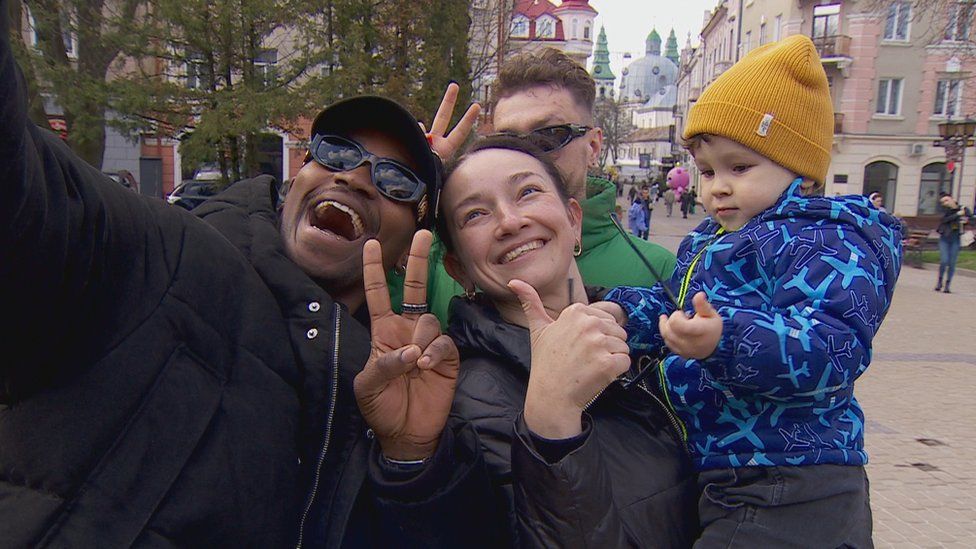 The pair attract a few stares as they stroll through their old stomping ground. But it seems not everyone here will be glued to their screens in May.
"I'm not following Eurovision this year," says an unimpressed Maria, who we meet in the town. "The news in Ukraine is more important now. I'll watch after we win the war, when I'm in a better mood."
Elsewhere, Jeffrey is unsure whether even his parents will be tuning in on the night.
"Back in Nigeria, no-one watches Eurovision," he explains. "They hadn't even heard of the competition when we were selected, I had to tell them all about it. They're happy for us though."
When Russia launched its full-scale invasion last year, Jeffrey decided to stay in Ukraine, mainly because of his music with Andrii.
Now it is the pair's music which is making them leave the country for Liverpool.
The duo say they will return – ideally with the glass Eurovision trophy in their luggage.