Before Carl Lewis, Gail Devers, Shelly-Ann Fraser, Usain Bolt and Elaine Thompson-Herah, there was Wyomia Tyus, the first person to ever retain the Olympic title in 100m.
Wyomia Tyus is a black American woman born in Griffin, Georgia in 1945. Tyus was raised with her three brothers on a dairy farm and even then, she could run circles around them on the playfield. She became aware of her colour and racism at a very young age because her parents refused to hide the harsh realities of the times from them. According to Wyomia, she lived in a time when white kids could not play with black kids and much worse, boys were not allowed to play with girls. However, her father always encouraged her brothers to allow her to play, because he believed she was probably better at everything than they were.
When Wyomia turned 14, her family faced a harsh tragedy that changed their lives forever. Whilst away in church, the Tyus family lost everything to a fire that gutted their home and the look of pain and despair on her father's face is something she has never forgotten.
A year after the fire, Wyomia lost her dad. 'He was too devastated by what had happened. He worked so hard for his family and children and the loss hit him really hard,' Wyomia recounted with tears in her eyes.
One day whilst running track in high school after being dared by her friends, Wyomia was approached by Coach Ed Temple – who will go on to become her ticket to the Olympics and the father figure she desperately needed.
Ed Temple was impressed with Wyomia and her run and extended an invitation to his summer program. After Wyomia made it to Tennessee State University, her success as a student and athlete was threatened by poor grades, study habits, and a general lack of interest in anything, however, Temple greatly motivated and helped her especially as he highlighted the struggles that come with being a black athlete and having to work harder to receive positive recognition.
Tyus' determination and hard work had her qualify for the 1964 Olympics in Tokyo at the tender age of 19. Before the race, she recalls, 'Ed Temple came to me and said he needed to speak to me. He said he knew I could do this because I was better than everyone else there. He was sure I could win a medal and I only needed to focus on what I was there to do.'
Wyomia Tyus went on to win her first Olympic Gold medal on that track and also a silver medal for the 4X100m relay race. This greatly motivated the young athlete who left the Olympics to win numerous national championships including a gold medal in the 200m race at the Pan African Games.
In 1968, the champion returned. This time with a different mindset. She was there to win the medal and nothing else mattered. In the final, Tyus set a new world record of 11.08s to become the first person, IN THE WORLD, to retain the 100m Olympic title. At the same Olympics, Tyus helped set a new world record, running the final leg of the 4X100m race for her team, winning her third gold medal!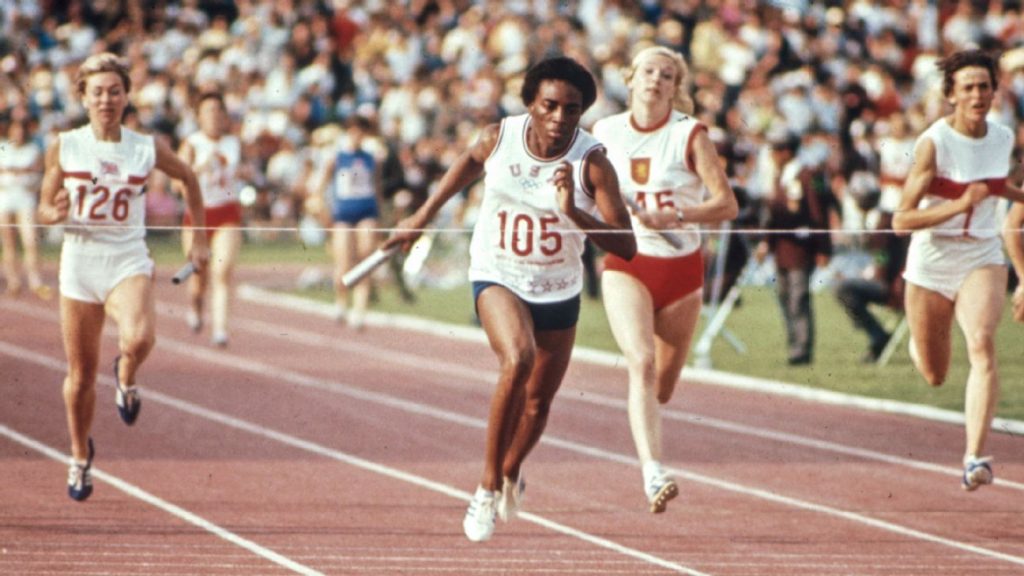 This feat, though first of its kind did not receive any attention or endorsement deals. The Olympic Champion returned home and went back to 'life as usual.' It wasn't until 1980 when Tyus was inducted into the National Track and Field Hall of Fame that her achievement was recognised. At the 1984 Summer Olympics, she was one of eleven athletes who carried the Olympic Flag during the Opening Ceremony. In 1985, she was inducted into the U.S. Olympic Hall of Fame
Wyomia Tyus retired from amateur sports after the 1968 Olympics. She went on to win eight out of eighteen events in 1973 when she was invited to compete in the 60-yard dash in the new Professional International Track Association competitions. She joined her fellow sportsmen to protest racial discrimination in the world of sports and went on to be a founding member of the Women's Sports Foundation.
In 1999 her hometown Griffin, Georgia honored her with the unveiling of the Wyomia Tyus Olympic Park. She also published the memoir Tigerbelle : the Wyomia Tyus story, with co-author Elizabeth Terzakis in 2018 and her story is FINALLY being told to the world.