It is not exactly normal for a nurse to spend her time kicking and punching people – but then Adaeze Efobi is no ordinary medic.
The 34-year-old could yet head to the Olympics to represent Nigeria in taekwondo, a sport in which she hopes to inspire both on and off the mat.
Efobi fell in love with taekwondo while watching it on television aged seven, but did not have the opportunity to compete until she was 22.
"I told my parents I was interested in taekwondo but back then they believed martial arts were a kind of hooliganism," Efobi told BBC Sport Africa.
"I played basketball and football and also participated in race walking while in secondary school."
Born and brought up in Lagos, it was only once Efobi was settled at Ebonyi State University, where she was studying for a nursing degree, that she was able to realise a childhood dream.
"In my second year, my classmates were having a football match with another class. I just looked across and saw a group of students doing taekwondo, wearing their dobok [uniform] and their belts," Efobi remembered.
"I went to their training session, did the required paperwork and started. I found out that the passion I had at the tender age of seven was still there."
Now both a qualified nurse and taekwondo instructor, Efobi believes the sport has helped her in life, particularly regarding self-discipline.
"Growing up as a child, I could not express myself but I had to undergo a lot of training to correct that," she said.
"I learned that mature people use their mouth, they don't use their hands. That's discipline, and I started making it part and parcel of my life.
"I am a better person if I compare myself now to how I was before. Breaking through those barriers, I saw myself doing certain things that amazed me and my family when they found that I was doing taekwondo."
Bringing nursing into taekwondo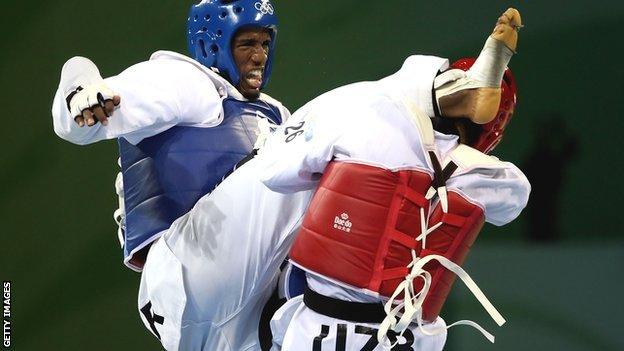 Nigerian taekwondo grandmaster Ferguson Oluigbo believes Efobi has an edge over fellow fighters given her background in nursing.
"I am looking at a day she will go with the national team to the Olympics – not just as a colleague but as a medical expert," Oluigbo said.
"She is going to compete and she is also going to be on the ground assisting the medical team. She understands what will happen to your leg when you are doing taekwondo – different from a nurse or a doctor who does not know anything about sports.
"She is going to say 'no, that thing you are touching is not the pain, this is where the pain is coming from' because she understands it."
Oluigbo is an experienced trainer of Olympians, having been among the instructors who helped Chika Chukwumerije win a bronze medal at the 2008 Beijing Games.
Efobi, meanwhile, has won several middleweight titles and hopes to become national champion in her class.
She also competes in poomsae – a non-combat version of the martial art where you run through a sequence of moves and attacks – and instructs at a Pan African Martial Arts International (Panamai) school, where she can combine the two things she loves most.
"I am following my passion, which is being a taekwondo instructor, but I am bringing nursing into taekwondo – I manage injuries during taekwondo training," she said.
"I believe being a nurse is being able to help people and you don't have to work in the hospital to help people. I can work in a company, a gym or anywhere I want to.
"As the saying goes, do what makes you happy; I love nursing and I have a strong passion for taekwondo."
Saving lives and building a legacy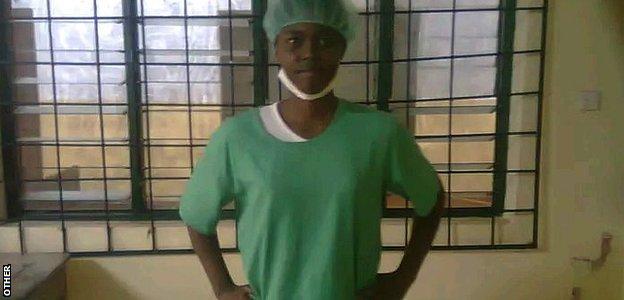 Efobi works as a mobile nurse and recalls one particular incident that had a profound influence on her desire to help others.
"I was coming back from treating a child and there was this motorcyclist who had been hit by a car," she said.
"I witnessed the incident and I was in the midst of people, pushing them back, trying to make them not touch him.
"I was talking to him, reassuring him, checking for broken bones. He was bleeding.
"My mind was in chaos. It was like 'he's bleeding, you don't have gloves'. But I had to save his life.
"What I did was risky. Ideally, I shouldn't be touching body fluids without gloves. I just had to improvise, took clothing, tore it and demobilised the site.
"He had a fracture. I moved it somewhat to tie the limbs together. Some other passers-by and I took him to the nearest hospital. I am happy the man lived to see another day."
Efobi hopes her combined life experiences can resonate far and wide as she encounters a diverse range of patients in her nursing career and trains people from white belt to black belt in taekwondo.
"In the end, I want to have a legacy where some day we in our Panamai schools in West Africa will all come together to see all the masters and grandmasters the organisation has produced," she said.
"I see us sitting down and everybody in a picture. It's a thing of pride."