As day breaks over the heads of the clubbers on a Kampala rooftop, arms are raised in unison as they dance on to the bass-heavy tracks. Florence Lugemwa has only been Dj-ing for a few weeks but had the party going until after sunrise.
By lunchtime, Lugemwa is still bright-eyed as she clambers down from a truck in Ggaba, one of Kampala's most deprived communities, with the battered trombones, trumpets and drums to hand out to an eager crowd of children.
Even when she's sleep deprived from a night on the decks, Lugemwa makes sure she is there for practice with the 20 children of the Homeland brass band.

There's no audition process for her group; the children they just need to make a commitment.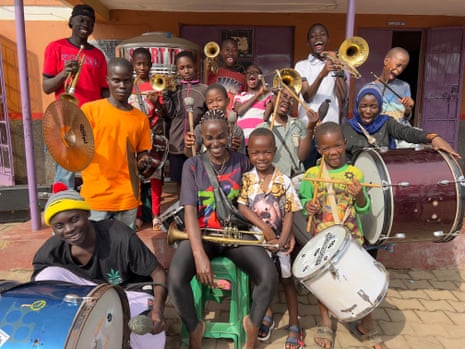 "I ask them, are you willing to practise, to be there when we need you, and to be obedient?" she says. "You grow up here having to make sacrifices. Being brilliant is how you survive."
Since being spotted on stage by Portuguese producer Jonathan Saldanha in 2019 in a venue in the Bunga neighbourhood where she now lives, Florence has played trumpet with the critically acclaimed band HHY and the Kampala Unit, breaking out from her city's underground electronic music scene to play at venues worldwide, including the Pompidou Centre in Paris, the Triennale Milano, and Unsound festival in Poland.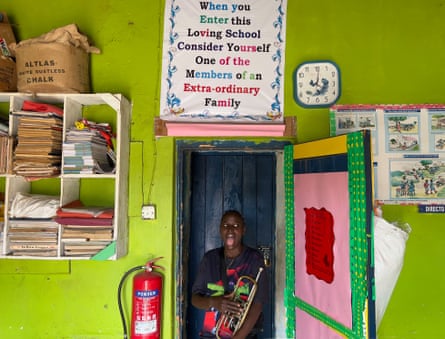 "I was born dancing to my father DJing at parties in our home as my mother sold beers and handed out food," says Lugemwa, 26. "Music is in my blood," she adds, fist-bumping a teenager carrying a trombone.
At 10 Lugemwa joined her school marching band, learning the side drum before graduating to the trumpet. They played weddings, birthdays and community events. Her father's death around this time made performing at funerals difficult, but she found comfort in the gospel melodies. A school bursary meant her family could keep her in school and she could keep up her music.
"I am happy [now] because I can support my mother and sisters with music," she says, making her way across the playground where she is greeted by the headteacher of Ggaba progressive school, Godfrey Senbulta.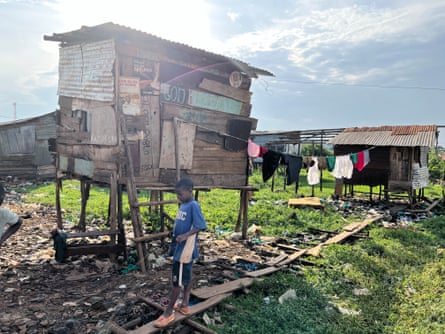 Many of the children are from the Katogo slums where parents struggle to find the money to pay for stationery, meals and uniforms.
Lugemwa raises funds, including through a Gofundme page to pay for five members of the Homelands band to attend the school. "We are close to the landing point of Lake Victoria," Senbulta says. "As a community of mostly fishermen, taking fish from the lake is considered more important than educating a child – we are here to show the difference an education can make."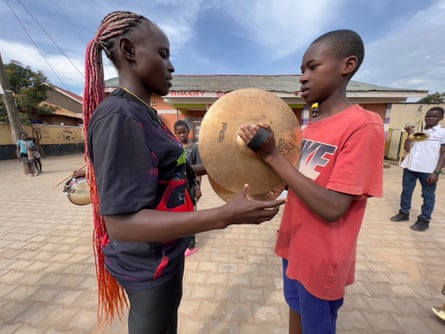 The band strikes up in the playground and other children appear to dance and skip around the players. Lugemwa picks up her trumpet, taking the lead, then allows the band to find their way. Tentatively, they soulfully playa gospel song, Jesus Loves Me. She moves among the players, offering encouragement.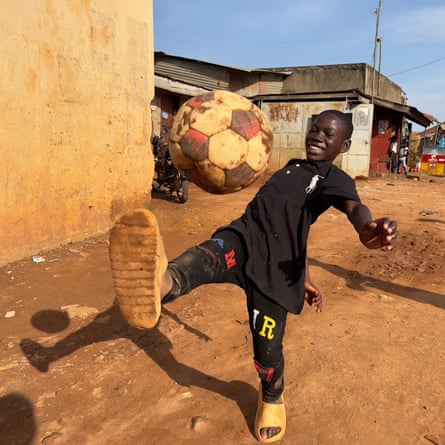 Later, the children talk about the joy of learning new things. Joseph, 12, says playing cheers him up: "It takes me into another world."
Michael, 16, who plays trumpet, can see the possibilities music can offer. "I have moved across borders with my instrument," he says of travelling to a festival in Jinja, 50 miles east of Kampala.
Amine, 12, plays a bass drum. "My brothers are here, but I can stand up for myself," she says. "Playing this makes me strong."
"I like to walk them home after practice," Lugemwa says. "The band stops them from straying into the wrong peer groups or into trouble. It gives them structure."
Across in the Katogo slums, closer to the great lake, narrow alleys open on to swamp, with wooden houses built on stilts and linked by planks of wood.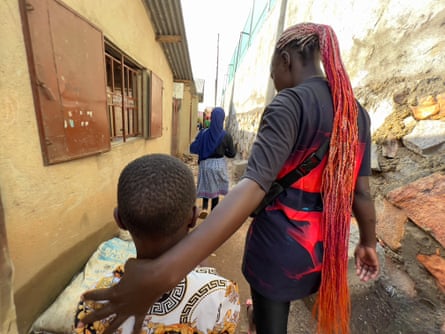 "You see what I mean when I say that their lives are simply sinking into the mud," Lugemwa says. "It's why I want to see them turn professional. Even Miles Davis must have started by making a terrible sound, but as a family, we practise together."