The son of a fisherman, Christian Atsu never got caught in the trappings of fame.
Humble beginnings meant the Ghana midfielder, who lost his life in the recent earthquakes that devastated Turkey and Syria, tried to use his success to help others in their lives.
His generosity and charitable nature led one former international team-mate to describe Atsu as "one in a million".
"He helped a lot of people solve their problems, gave cash out to those in need," John Paintsil told BBC Sport Africa.
"Atsu's mind was so good that it could come up with different ideas.
"He was jovial and creative, like a movie star," the former Fulham and West Ham defender added.
"We have lost a great soul. He was one in a million because he sometimes put others before himself."
The 'Ghana Messi'
Perhaps the highlight of Atsu's international career came at the 2015 Africa Cup of Nations (Afcon) in Equatorial Guinea where he scored two goals en route to the final which was won by Ivory Coast on penalties.
Nonetheless, the left-footed midfielder picked up two awards of his own for best goal and best player at the tournament.
"He was a joy to be with and a great team-mate, someone who had an abundance of skill and quality," said Kwesi Appiah, who played alongside Atsu at that 2015 Afcon.
"He was nicknamed Ghana's Messi for his style and also the way we relied on him as a team," revealed the former Crystal Palace striker.
"He was an exceptional player and I'm really honoured to have shared some special moments with him on the pitch."
"Away from football, he was very caring and supportive and would go out of his way to help anyone," Appiah continued.
"He'd light up any room."
From fishing in Ghana to finding the net in Europe
Atsu was born in January 1992 in Ada Foah, a town on the south-east coast of Ghana where the Volta River joins the Atlantic Ocean to create the delta that allowed his late father to eke out a living fishing and farming.
Growing up, he shared a cramped bedroom with his mother, twin sister Christiana and four other siblings.
Like other African kids, football was the dream ticket out of poverty.
Atsu cut his teeth at local clubs Cheetah FC and Feyenoord Fetteh – the African academy of Dutch side Feyenoord – before a move to Portuguese giants FC Porto in 2009.
Atsu was just 17 when he arrived in Portugal, initially struggling to break into the first team.
But a successful loan spell at Rio Ave saw him finally make the breakthrough at his parent club during the 2012/13 campaign.
25 appearances in all competitions for Porto, as well as playing every match as Ghana finished fourth at the Afcon in South Africa, convinced Chelsea to snap him up in September 2013.
But the move to London, for a reported fee of £3.5 million, did not work out as planned because Atsu never played a senior game for the Blues.
Instead, he became part of Chelsea's loan army, with temporary spells in the Netherlands, England and Spain at Vitesse Arnhem, Everton, Bournemouth and Malaga.
But his stop-start club career did not impact Atsu's performances on the international stage; it was during this time that he shone so brightly for the Black Stars at the 2015 Afcon.
During another loan, Atsu helped Newcastle United win promotion back to the Premier League, scoring in the game which clinched an immediate return to the English top flight.
The move was made permanent soon after.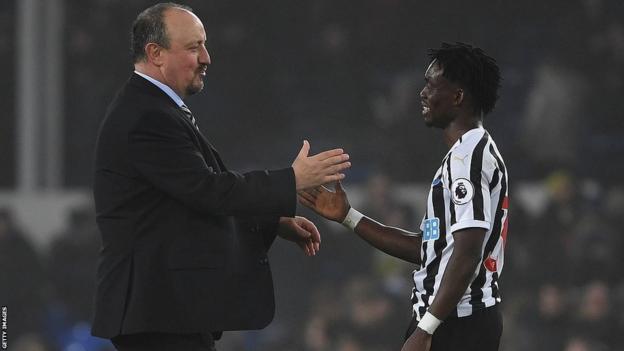 "He was someone who was very gentle, quite softly spoken," said BBC Radio Newcastle commentator Matthew Raisbeck, who remembers Atsu from that successful promotion campaign.
"(He) was often singled out by Rafa Benitez and Steve Bruce [both former Newcastle managers] for his hard work in training and a really high level of physical fitness."
After five years at St James' Park, Atsu suffered an injury-blighted season in Saudi Arabia with Al-Raed before joining Turkish Super Lig side Hatayspor in September last year.
In a poignant twist of fate, he scored a winning goal in the 97th minute of Hatayspor's match against Kasimpasa just hours before the first earthquake struck to claim his life.
He was 31 years old.
'A truly unique and wonderful man'
But perhaps Atsu's biggest success came off the pitch, where he led a life that was very much the opposite of the bling stereotype associated with modern day footballers.
He returned to Cheetah FC, where he learned his trade, donating boots and other items to the Ghanaian second-tier side's academy.
He also focused on rehabilitating criminals, people who were desperate for food and ended up convicted of petty crimes.
Atsu believed that prison should not damage people and he was responsible for reuniting several impoverished families in Ghana after paying out thousands of dollars in fines and bail money.
In one example, he helped free a 62-year-old grandmother and her daughter, jailed for stealing two dollar's worth of corn to feed their family.
He gave some of the prisoners money to get them started in business and also upgraded the football pitch in Awutu Prison.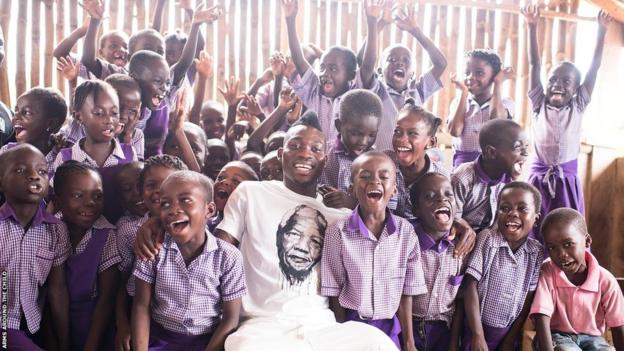 But Atsu's philanthropy was not limited solely to helping those in trouble with the law.
"He was such a giver, such a super human being," Ellie Milner, chairperson of Arms Around the Child, told the BBC when asked about the midfielder's work with vulnerable children.
"When he visited the children, he would arrive and kick off his shoes and play barefoot.
"They would welcome him like a hero, but also like a father, uncle or brother."
Atus had been an ambassador for the charity since 2016 and was the main benefactor of a Ghanaian school supporting abandoned children, orphans, the chronically ill and those rescued from trafficking.
"He was a truly unique and wonderful man," added Milner.
"One of the kindest, most talented, humble people to enter this world."
"His legacy will live on through the many hundreds, if not thousands of lives he has helped."