Growing up in the mid-1990s, there was no way anyone could recognise as a homosexual and be freely accepted by his family or friends.
Francois Clemmons a singer and founder of the Harlem Spiritual Ensemble in America was victim to this.
He became very famous after an episode on the hit children's TV programme 'Mister Rogers Neighborhood' show where he shared a foot bath with white Mister Rogers and even a towel, an act that was rare and unheard of at the time.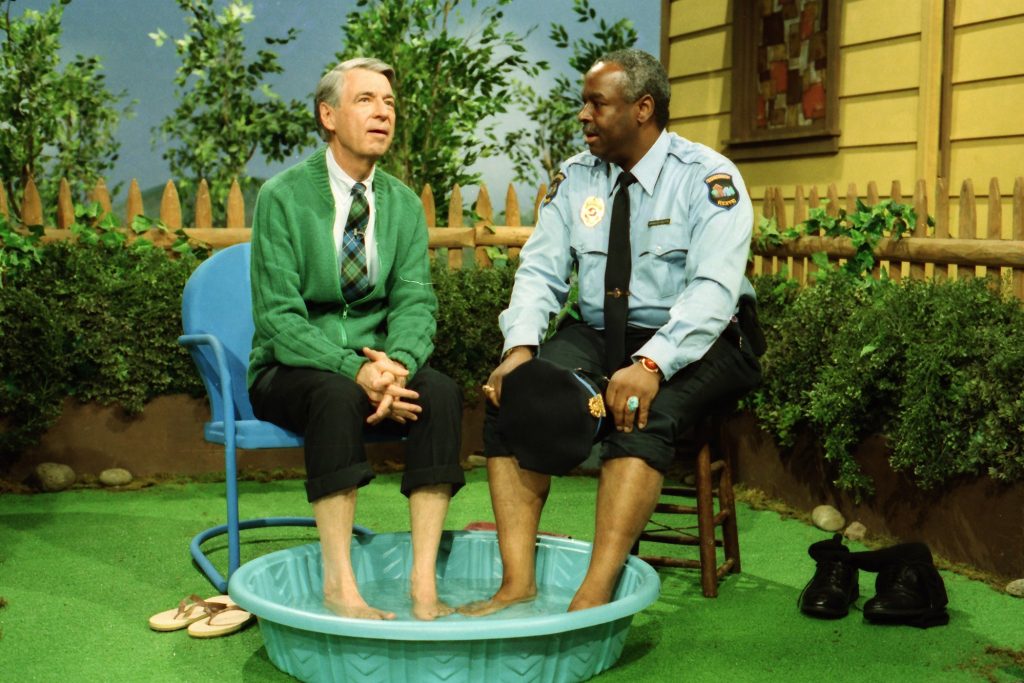 Francois grew up in a family of sharecroppers and he tells the story of his great grandmother Lara May who had to be the mistress of her Lord in order for the family to have a better life.
'The owner of my great grandmother, Lara May, Master Sanders, took an interest in her and though Lara was not interested, she was encouraged by the family to accept to be with him, since it was going to make life easier for all of them.'
After growing up in Alabama, Francois' family moved to Ohio where he says the only difference between the North and the South was that the signs restricting blacks from entering certain places were simply let down, however, the understanding was still clear, as to where Blacks were allowed and not.
Francois gained admission to the Oberlin College in Ohio (a liberal arts college) and decided to study music, though his family thought he did be better off finding a better paying and respectable job. Before getting into college, his guidance counsellor thought he needed to listen to his family as well since black boys were not known to study things like music. 'He had a list of things he thought black boys could do and obviously music was not one of them.'
The actor and singer recalls the first time he realised his sexuality saying, it was at a cousin's wedding. 'The occasion of my cousin's wedding is an outstanding memory I won't forget. I remember she was wearing a very beautiful wedding gown and I saw her and said I want to grow up and wear a gown just as beautiful as that. The words barely left my lips when my mother landed a hefty slap across my cheek. She had said no son of hers was ever going to be gay.'
In college, Francois further explored his sexuality and got closer to one of the boys whom he was spending more and more time with. His step-father and mum got wind of it and took him through a gruesome experience.
'They found me and dragged me into a brother full of women and they immediately started to place bids on me. I remember they called me 'Philly boy', which was to imply I was a woman. After the bids, my step-father handed me over to one of the girls and said to take me upstairs and show me how to be a man.
She led me upstairs to a room and in there, it was funny because I did not want to sleep with a woman, especially under those circumstances and again, I was a virgin. I asked to use the washroom and I could tell she was obviously mad. She pointed down the hallway and when I got there, I saw a window towards the fire escape, I climbed through and run like hell and never looked back.'
During this era, there were lots of emerging black role models who Francois greatly admired and key of them was Martin Luther King Jr. Martin Luther happened to visit Oberlin College and 'there were so many people hustling to see and I don't know what happened or how it did, but I found myself right in front of him and shaking his hand.
I talked non-stop and told him how I wanted to be a credit to my race. He encouraged me and said he did be watching out for me. I sang in the choir that day and I sang so passionately because I was doing it for him.'
After college, Francois Clemmons was offered a role on Fred Roger's 'Mister Rogers Neighborhood'. He initially did not like the role because it portrayed the very people who were hunting and pestering the lives of black people and saw no reason to depict them on TV.
He joined the show in 1968 after much convincing and was an important role model for young African-American children. 'The show started to get so many letters from kids from all races but especially black kids, who wanted to become police officers because of my role on the show. It gave me great joy to know I was imparting my people.'
Francois' fame and freedom to have fun was increasingly growing and he was spending more and more time with people of his sexuality. Somehow, word got to Fred Rogers about the perceived sexuality of Francois and Fred called to have a conversation with him. 'I remember him saying, he did not have a problem with my being gay, but only that I would no longer fit into the TV show. He went on to say most people who identified as gay were often bisexual and realised it a few years down the line.
He also advised me to get a woman to marry, in order to keep my public image.' As a gay man, Francois had to choose between his sexuality and his TV career, and enjoying the positive impact he was making on kids and his race, he chose the latter.
'There was a woman whom I was very close to and whom I could talk to about virtually anything, so I asked her to marry me. I knew she loved me too, so she agreed and we got married.'
This marriage between Francois and his wife, just to save his career and keep face kept going for nearly eight years. 'We became the favourite couple everywhere. We would go for parties and occasions but I knew that was not my crowd, so I would usually wander off to a corner and sit quietly. With time I developed a technique of carrying a book with me because I realised people are less likely to bother you if they find you reading.'
After many years of keeping up with this charade, Francois Clemmons finally came clean to his wife and asked for a divorce. Following his liberation, the singer says he found there were gay men everywhere and he started to hang out in places they often did and go for events they organised. But all this while, Francois had to ensure he was not noticed by anyone in public and allowed no one take photos of him as well.
'I was still on the show so I had to ensure I kept a quiet profile in order to keep my image intact and then it does not affect the show, just to keep the impact I was making on these young black kids going.'
In the 1990s, after Francois had finally quit the TV show, he formed his Harlem Spiritual Emblem, which was a dream come true for him. He and his folks sung at schools and at programs or events and he greatly enjoyed these performances, because he always sang from his soul. He was at this point free to identify as who he really was and be with whomever he wanted.
Having grown up, Francois says he chooses how to live and how to be identified.
'I grew up wearing jeans and raggedy shirts. All my life, my mum always said the girls needed to have nice things and not the boys. After I graduated Oberlin College and went to Pittsburgh, I decided to look around to see what others were wearing and from there I made up my mind, I would choose what to wear and what I like. I'm not trying to be a boy like my mum wanted and not wear certain colours. I don't need anyone to recognise me as the town boy from Ohio.'
Francois Clemmons has written a book called Officer Clemmons: A Memoir on his journey through concealing his sexuality and finally gaining his freedom.