No-one wishes to be a refugee and it will most probably be the most difficult thing to experience as a child at the age of four.
Unfortunately for Omar Mohamed and his disabled brother, Hassan, they were thrown into a rather harsh world after the war broke out in Somalia in the 1990s.
Omar Mohamed lived in a middle-class family that lacked nothing and were pretty comfortable. His father was killed in the war and someway somehow he was separated from his mother as well. The young lad then had to pick up his two-year-old brother and head on the run to an unknown destination.
'Hassan was only two years and the only words he could say was 'mama', so he literally called everyone he saw that.'
After walking for days unend and being cared for by some neighbours who were also on the run with them, Omar and his brother Hassan arrived at the Dadaab refugee camp – the biggest refugee camp in Africa – alone and having just each other.
'When we were fleeing, some of our neighbours saw us and saw we were alone. They then decided to take care of us. But, they were also struggling on their own, having to take care of themselves, so it was difficult to also take care of Hassan and I as well.'
After they arrived at the refugee camp, the two brothers were riddled with diseases and had to be treated. They even had to learn how to walk again after they had gone through many months of treatment. The search for the mother, which never stopped, only intensified at this point in time.
Being the eldest, four-year-old Omar had to take care of Hassan in their assigned tent in the camp, doing the cooking and everything else that needed to be done. But, luck partly smiled at the two boys. An older woman, Fatuma, who had also lost her family, took these boys in.
'Fatuma had also arrived at the refugee camp and she had lost everything. She didn't have a family or anything, so she decided to take care of us. She became like our second mum. Sometimes she did the cooking, sometimes I did, but she was always there to help and take care of us.'
Life in the refugee camp wasn't all rosy, nor a means to its end. Being taken care of by the United Nations High Commissioner for Refugees (UNHCR), food was rationed, water the same. 'Living in the camp, we had ration cards that gave us access to food. Sometimes we could go for food once a month and sometimes, it was made available every 15 days.'
The disability of his brother, would not go unnoticed or not talked about in the camp. After earning himself the nickname, 'Yankey', Hassan made attempts to fraternize with the other kids in the camp and play with them. Aside from his disability, he also suffered severe seizures. 'When I was with him alone, he will fall to the ground and start shaking vigorously and thinking he was going to die, I would hold him very tightly. But that was wrong. Epileptic patients should not be held when they have seizures.'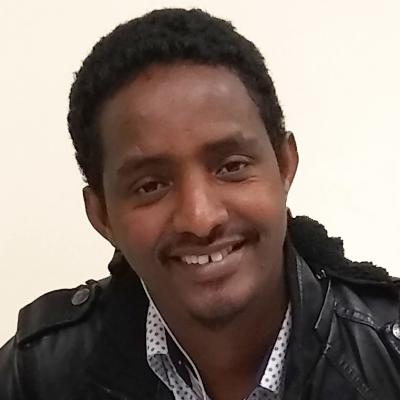 Life in the camp was made as exciting as the kids could afford. Since they could not have footballs, they made some out of rubber and happily play in the open fields. Omar Mohamed had friends to play with and he would often like his brother Hassan to join in, but the other boys did not feel the same.
'We had football in the camp, only that it was made of rubber by ourselves. You know each team must be made of equal players and sometimes the boys refuse to allow Hassan play. He will then pick the ball, place it in his armpit and just run away with it.'
In as much as these brothers and others were refugees, life had to be as normal as possible. Omar had to start school and the thought of leaving Hassan alone at home, kept him absent-minded well over a month after he had started.
He had to be greatly convinced by Fatuma, and one of their camp leaders. He was encouraged to go to school and if he still did not feel up to it, he was free to quit.
'Starting school was very hard for me, because I had never been away from Hassan before. But, in the morning before I leave, Fatuma distracts him with chores, such as feeding her goats and others and when he is not looking, I run off to school. Staying was hard, because I always wondered if Hassan would run away or wonder off if Fatuma was not looking, and then he would never be found. I was in school but always absent minded.
I did not quit though, because I was making new friends and learning interesting things. It was a nursery, so we had a song that said 'I am going home to my mother' and that made me always think about my mum since I did not have her at home to go back to.'
It was during his school years that Omar Mohammed formed the idea of wanting to be a social worker, so he could be of help to others like himself. 'At the time, I had the desire, but I did not know how to go about it.
Again, gaining admission to the government-sponsored school was very competitive. About 800 students wrote the Kenya Certificate of Primary Education (KCPE) and at the time only 100 could be sponsored. I was scared, but I sat and I was number 13 out of all the students.'
During these times, Omar had heard stories of people who had been resettled to the USA and Canada and he had seen how these individuals were imparting the lives of their family members back home. His desire to find his mother did not allow him to harbour such thoughts, hoping he did find her again.
However, after 13 years in the Dadaab refugee camp, Omar and his brother, Hassan, were offered an opportunity to relocate to the United States. Though this was exciting news, he had a big choice to make. 'Fatuma was not offered the resettlement deal and this was only because she had no legal papers to show she had adopted us. So, as hard as it was, we had to leave Fatuma, and that was like losing a second mum.'
Omar, now aged 17 and Hassan were relocated to Arizona in the United States, where they had to start a new life and give themselves a new beginning.
'We got to Arizona around 9pm, very tired after a long flight. We went to bed and woke up in the morning to see everything was different. There was no one outside, everyone was indoors and this was strange, because we had come from a place where everyone was always playing out in the open field.'
After arriving in Arizona, Omar had to get his first job as a pool attendant. 'It was here I first learned about tips. Where people give you money for picking their trash or giving them a towel and I was surprised. I wondered why they were giving me extra money for doing my job.'
Omar Mohamed and his brother gained their US citizenship after two years of staying in the country, and he admits life as a refugee was very hard and tiring. The big difference was when Omar started college and he says it was a very tough time for him, having to school and work to make money and also take care of his brother at the same time.
Omar got married to Sorara, another refugee who had been resettled from the Dadaab camp as well. 'Sorara really helped me with my education. I can say, without her, I would not have graduated from college, because I had so much happening at the same time. I was sitting in the same class with students who had iPads at the age of 3 and I had never had a computer'
Omar and Sorara got married and Sorara moved in, helping with Hassan. She and Hassan got along really well and are nearly best of friends. 'Hassan knows the people who care about him and he also cares, loves those people very deeply.'
In all of this, Omar never stopped searching for his mom. He had graduated from college and got the job of his dreams, being a social worker and helping in the resettlement camp in Arizona. 'Sometimes I ask some of the people coming from Dadaab if there was any news about my mum. I often asked knowing the answer, but sometimes I just asked hoping the answer will be different.'
Finally, the day came. Rumours spread around the camp that a woman was looking for them. Could this stranger be Omar and Hassan's mum? These rumours started nearly six months back and the story said there was a woman who had shown up at the Dadaab camp looking for her two sons.
'They said she had a photo and said she had been told her sons were dead but she never believed them.' His mom showed their photo around and was directed to Fatuma's house to ascertain if Omar and Hassan were indeed her missing children.
Due to lack of regular communication, it took a while until Omar was finally able to call in to ascertain the rumour. 'The moment I heard her voice, I knew deep within that she was my mum. She called me her sweet little boy and that was how she use to call us back at home. Hassan also spoke to her and I don't know how he figured out, but he immediately started shouting and I have never seen him like that before. We could say nothing and we just stayed on the phone and cried.'
After putting everything in perspective, Osman travelled back to the Dadaab camp in Kenya with Hassan and two of his kids to finally see his mum after 23 years of searching for her non stop. 'When we finally met, we just cried and hugged each other. Hassan will not let my mum go. He held on very tightly to her and we just cried.
We spent about 3 months with her in the camp, getting to know each other more and enjoy each other. She spent most of the time with my children because she said she had missed our childhood and wants to make up for it by taking care of her grandchildren. We stayed together with her and Fatuma in the camp and it was just nice.'
Omar's extraordinary story has been turned into a graphic novel co-written by Victoria Jamieson, and illustrated by Victoria Jamieson and Iman Geddy. It's called When stars are scattered. Omar has set up his own charity called Refugee Strong.
Hassan has since moved back to Kenya to live with his mum in their own place and three of Omar's five children also live there with them. He says his mum enjoys having the children around her.
'I have read the book to my children and sometimes Sorara reads to them. My eldest son says he has a lot of questions to ask but will keep them for when he next sees me.'