From monogrammed luggage to unerring faith, a sale of Talley's belongings shows the caring, complicated man behind the unforgettable image
If you're in the market for a size 13 pair of Manolo Blahnik snakeskin evening slippers edged with crimson satin ribbon, then 15 February could be your lucky day. At an auction at Christie's in New York of the personal estate of André Leon Talley, the former American Vogue creative director who died last year, they might be yours for a guide price of £400. A Chanel navy silk faille opera coat could be snapped up for about £3,000 (scattered "sun damage" is noted), while two extra-large Birkin bags look a steal at £4,000. There are no fewer than 29 Louis Vuitton trunks up for grabs (including one that made a cameo appearance in 2008's Sex and the City film), along with a Prada coat in white crocodile and an orange liveried Hermès bike that Talley never rode but kept in storage at the Ritz in Paris.
When Talley died, the gaudy inventory of his possessions and tales of unpaid rent and a painful exile at the hand of Anna Wintour seemed to paint an operatic, bittersweet portrait of an overdressed and overwrought figure. But Talley was a more creative, more interesting, smarter and kinder person than any of that. Having grown up poor and black in the still-segregated US south, he won a full college scholarship and graduated with a master's degree in French from Brown University. He forged a pioneering path to become the first person of colour to reach the highest ranks of Vogue, and his death at the age of 73 left a king-size void on the front row. And, in an elegant twist that Talley would have adored, it is the luxury wardrobe on which he splashed his fortune that will serve to portray him in a more flattering light.
Proceeds from his estate sale, which are expected to top $1m, will go to two historically black churches close to Talley's heart: the Abyssinian Baptist church in New York and Mt Sinai Missionary Baptist church in his home town of Durham, North Carolina. The gift reflects Talley's deep faith and his generosity of spirit, which was not always evident in a lifestyle stamped all over with logos and monograms.
Scratch below the surface bling of the auction's most eye-catching lots and you will discover a collection that speaks to his championing of black talent (a gold brocade caftan by the influential Harlem designer Dapper Dan, which he wore to a New York fashion week show by Carolina Herrera) and his love of art (a clutch of Warhols, a portrait of former Vogue editor-in-chief Diana Vreeland by photographer Horst P Horst and a signed portrait of Karl Lagerfeld by Helmut Newton). The auction is poised to be an elegant signoff from a man who believed fervently in the transformative power of fashion.
Talley was a complicated, contradictory character. Cathy Horyn, the fashion editor of the New York Times when Talley was in his Vogue era, recalled him last year as "a mixture of southern front-porch grandee … and persnickety Beaton-esque observer". The grandson of a sharecropper, he was raised by his grandmother, Binnie Francis Davis, whose high standards of elegance and aesthetics he credited with sparking his interest in fashion. Their laundry was boiled "in a big black iron cauldron in our yard", he wrote in his 2003 memoir A.L.T., but "until I left home, I never used a towel that hadn't been ironed".
By the time he joined Vogue in 1983 and became a semi-public figure as Wintour's longstanding chief lieutenant, Talley was already a legend within fashion, his encyclopaedic knowledge of fashion history set off to perfection by a glittering backstory of apprenticing for Vreeland and clubbing with Karl Lagerfeld.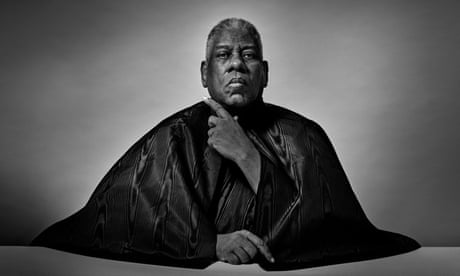 When I began attending fashion shows in the late 1990s, Talley was in his prime: a glamazon on a giant scale, draped in furs the size of king-size bedspreads and with a Lauren Hutton gap between his teeth. Once he told me that something I had written had amused him – and I hugged the compliment to myself for days.
For many years, Talley championed black designers in the pale pages of Vogue, featuring the work of Patrick Kelly, Kevan Hall, Stephen Burrows and Willi Smith. Toward the end of his life, he was an early cheerleader for the designer LaQuan Smith, who has gone on to build a prestigious brand – that buttercup-yellow trench that Priyanka Chopra Jonas is wearing on the cover of this month's issue of British Vogue is one of his. Talley recalled giving him $2,000 of his own money to "'go to Paris … just seeing how light falls on the buildings will inspire you'". In 2010, Talley persuaded his friend Serena Williams to help put Smith on the map by modelling in his New York fashion week show.
Highlights from the upcoming sale were sent to Paris for the haute couture shows this week, where they were feted with a champagne reception. Both as a Francophile and as a connoisseur of high living, Talley would have loved being honoured during couture week, said Deacon Alexis Thomas, the executor of Talley's estate and a close friend. "André loved fashion and he loved luxury. That was how he chose to live his life, and he did that beautifully, and this collection reflects that. But our hope is that it also reflects a holistic sense of who André was as an activist, a friend and a man of faith."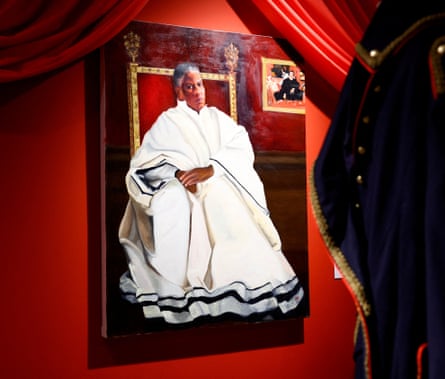 The party was packed, the champagne free-flowing, the glamorous tchotchkes endlessly diverting – who knew Chanel made hot-water-bottle covers? – but many of those present gravitated toward the portraits of Talley, rather than to his possessions. In one, a vast canvas by Kim Cole Moore, the artist borrows Diego Velázquez's posing of Pope Innocent X for Talley, who wears rich white robes and a solemn, knowing gaze. "He looks so wise, so caring," said Elizabeth Seigel, Christie's head of private and iconic collections. "It captures the dynamic life and personality that we are trying to bring to life through these objects. He was always larger than life – but this is intimate and meaningful, too."
But it is the Vuitton luggage that will attract the most heat under the hammer, Seigel predicts. "It is just so fun. The closer the association with the individual, the more competition there usually is, and the luggage is both his signature and a piece of fashion history. Some of them have his name on, and some have tags from his stays at the Ritz. It's very charming."
In his 2020 memoir The Chiffon Trenches, Talley wrote of being underpaid, sidelined and eventually frozen out by Vogue and by Anna Wintour. It feels poignant that he retained, in this library of prized possessions, an informal Annie Leibovitz portrait of Wintour in her New York townhouse. The presence of several Andy Warhol originals – including a silkscreen of a love heart signed as a Valentine's gift – tell a contrasting story of an enduring friendship with Warhol, who Talley worked for early in his career and stayed close to until the artist's death. A long and close friendship with Lagerfeld ended badly – Talley was apoplectic to find himself left off the guest list for the designer's memorial service – but several Lagerfeld sketches of the pair together speak, here, to happier days.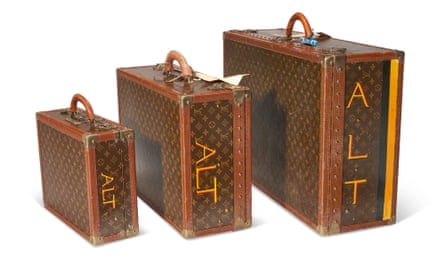 Talley's afterlife as a benefactor was very much planned in advance. "He was excited during his lifetime by the idea of creating a collection of fashion that would benefit the causes that were important to him," said Seigel. The auction house will partner with the Abyssinian church for a celebration of his life featuring the church choir.
At Talley's memorial service in Harlem last year, Michelle Obama paid tribute to his "kindness, charm and electricity", which, she said, "changed the world". Perhaps Talley is fated always to be remembered by his stacks of monogrammed luggage. But the tales of the young designers he helped and the generous legacy bequeathed in his name tell an altogether more sophisticated story.