Jazz Music, the genre that we hate to love. Over the years, jazz has been a musical style that has commonly been associated with African-Americans and despite the application of soulful notes and calming melodies, jazz is more of an acquired taste than a crowd-pleaser.
Wynton Marsalis was born in 1961 in New Orleans, the birthplace of jazz itself. His father Ellis Marsalis at the time was already considered a formidable contender on the jazz scene.
From the age of four, Wynton's father took him along to the bars he played at, immersing him in a musical education early in his life. However, in spite of the exposure he had to it, Wynton actively disliked jazz music regarding it as old-fashioned and he looked down on the older black musicians who sang about the civil rights movements of the time and felt embarrassed by them.
As a young boy, he preferred funk and electronic music instead. His father was undeterred by his disinterest and bought him a trumpet to encourage him to play. Wynton was put off even more by the choice of instrument because he felt that trumpet players had ugly lips and feared that he would end up looking like them if he practised.
That is not to say that Wynton did not have any love for music. He along with his five brothers played instruments and he recounted experiences from his childhood saying that their home was lively but chaotic, with all of them crammed into their small apartment.
Although they were not spared the struggles of life they were still able to find joy in music. One such experience was that at age 12 when he transferred to a new school, his father's reputation had preceded him so the school's bandleader was thrilled at the thought of having him in the school.
However, at his audition for the school band, he played so poorly that the man asked him if he was sure that he was Ellis Marsalis' son.
Wynton's musical awakening began one evening when he and his brother were looking at theirs and their father's music records, he remarked to his brother that the people on the covers of their records looked rather stupid whereas those on their father's records looked intelligent.
This prompted them to listen to those of their father. His favourite at the time being Cousin Mary from John Coltrane's album Giant Steps.
After properly giving it a try, Wynton says that he felt that it takes a long time for anyone's attention, let alone interest to be drawn jazz; but then suddenly, it just clicks and it is as though some secret code has been unlocked, and now the music speaks to the person and they are able to appreciate it like never before.
After that epiphany, Wynton was determined to get better at playing the trumpet and so he started practising more regularly and in earnest.
His first gig was at an elementary school called Our Lady Perpetual Help. During that time racial segregation was still very much in sway, so although they had a white drummer in their band, he was reluctant to come to their side of town to rehearse and they on the other hand also baulked at
thought of going to the white side of town.
They worked around this setback, though and learnt 20 of the Top 40 songs of the time that were poppy and danceable. But then about 45-50 minutes
into their gig, they had gone through the entire set and they still had an hour to fill so they just played those songs on a loop until the time was up.
At age 13, Wynton joined a funk band called The Creators and had several gigs from proms to dance clubs to police talent shows in the projects and he and his brother were the youngest players on the scene.
Over the years his father continued to introduce him to various musicians and even took him and his brothers to a classical music concert where they were the only black people in attendance. Inspired by the music, Wynton joined the New Orleans Civic Orchestra where he was once again the only African-American there. But that experience taught him that the people had true love for music and it translated into the choice of music and the manner in which they played.
And he felt hat it was great to have that as part of the civic life of the city.
At the age of 18, he got a scholarship to Julliard, a prestigious university for performing arts in New York. While there he got inspiration from Stanley Crouch and Al Murray, great writers who served as mentors to him. Around this time, his father finally got him to listen to Louis Armstrong's work and Wynton attempted to play Jubilee; one of Louis' songs but was unable to
play it all the way through.
This gave him a newfound appreciation for Louis Armstrong's skill
and stamina that made trumpet playing seem like an easy task. This also prompted him to learn more about his own father Ellis, and the impact that he had made as a historical figure on the New Orleans jazz scene.
Wynton also recounted his experience with racism in the North which was considered to be more liberal than the South where he was from. He said that although he did not have issues with fellow students, he did have trouble from some of the conductors of the school's band.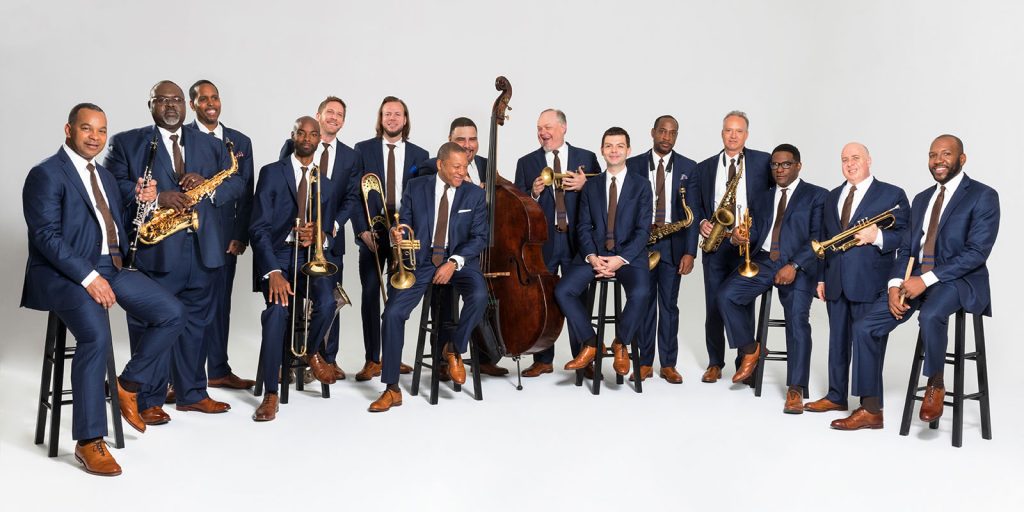 Suffice to say, Julliard was not a good fit for him and he dropped out after a year. This, however, worked out in his favour as it gave him the opportunity to work with Art Blakely, a legendary drummer and bandleader while he was on tour with his band The Jazz Messengers in the year 1982.
His affiliation with Art Blakely earned him more attention from others on the music scene and they referred to him as a being a prodigy. He later left Blakely and formed a band with one of his brothers. But what is all the fuss about Wynton Marsalis? Well he won his first Grammy at the age of 22
in 1983 for Best Jazz Instrumental Soloist, and later that same year, he won another Grammy for playing Haydn's Trumpet Concerto with the National Philharmonic Orchestra.
He was appointed as the Artistic Director for Jazz at the Lincoln Centre. And in 1997, he won the prestigious Pulitzer Prize for his composition; Blood on the Fields which told the story of a man and a woman and their journey from slavery to freedom, a piece that he composed by drawing on his
own experiences living in New Orleans, a place that had once been the biggest site for slave trade in America, as well as the stories of his mother's relatives who had worked on plantations during that era, and books and literature on black nationalism that his father had given him.
However, when asked how he felt about that particular award, Wynton said that although he was very honoured he felt that there were several great jazz musicians who deserved it more. Especially since unlike the Grammys which were more for popularity, the Pulitzer Prize winners were carefully selected by scholars.
This sentiment was apparently one his father Ellis shared because Wynton describes him as someone who plays music because he loves it and is good at it and not for the fame that comes with it. He described his dad as a naturally stoic man full of philosophical lessons about life, and one who expressed his emotions through his music rather than through physical displays of affection.
Wynton wraps up the interview by talking about his father who recently passed away after contracting the coronavirus. His father kept up this view of life right up to his own death. Ellis was not overly distressed about it and said that many people had already lost loved ones to the virus and that his death would not be any different. He embraced everyone's loss in the same
way- as simply being a fact of life.
Wynton ended by saying that he felt that the most important lesson that his father taught him was to liberate himself, to be himself in that he should follow his passion without the aid of a safety net. He said that he hopes that they will be able to have a parade for his father in the streets of New Orleans as is the custom, not because that is what his father would have wanted, but because many musicians looked up to his father and that would give them a chance to celebrate him.