Have you ever wondered what it would feel like to live with a legend and a world-celebrated boxer, much more to be his daughter?
Hana Ali, daughter of legend Muhammad Ali – American professional boxer, activist, and philanthropist- lived a fond life with her dad who totally adored her and spent as much time as he could with his family.
Hana narrates her parents, Muhammad and Veronica meeting during Ali's 'The Rumble in the Jungle' game in 1974 against George Foreman.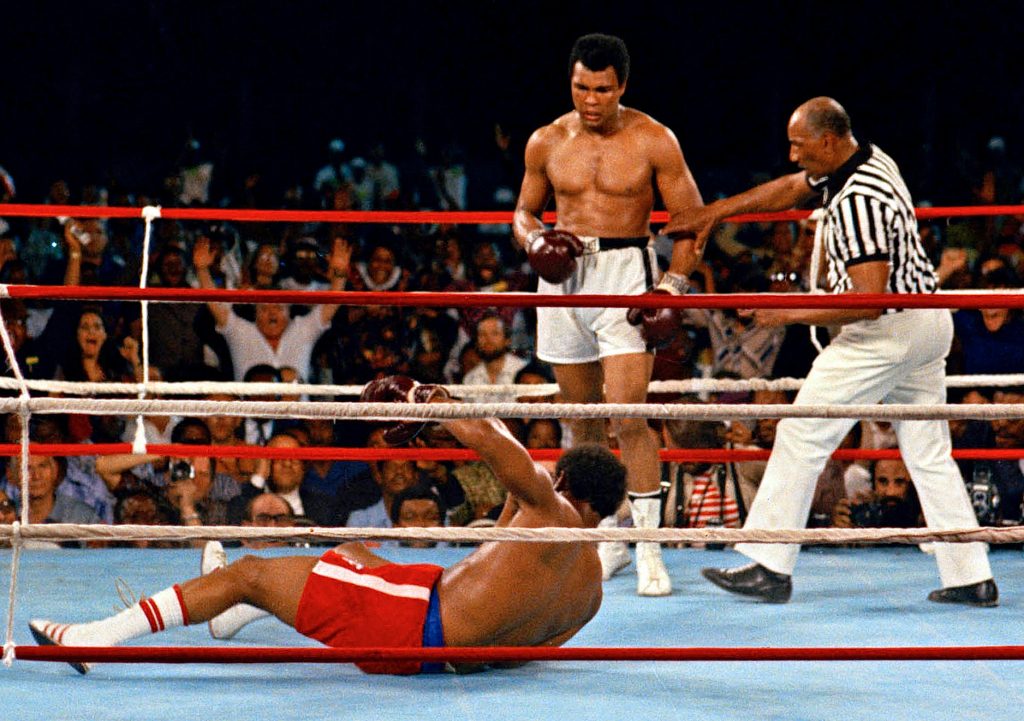 The boxing match was for Ali to claim back his title after he had gone nearly 4 years without a fight and being initially stripped of his tiltles.
Muhammad Ali as was expected, won the match just before the end of the eighth round and put George Foreman down. The over 60,000 people in attendance were left awe struck and full of praise for the legend.
Hana narrates the meeting of her parents saying, 'A few days before the match, Foreman was injured and thus left Ali with so much free time on his hands. That was how he met my mum, 18-year-old Veronica who was a model and a part of the show promoters. They apparently fell in love and Ali performed some traditional rites of some sort after the match in a private ceremony with only Ali's bodyguard present as a witness to the ceremony. '
The main reason why this marriage was kept secret was that Ali was already married to wife Belinda and had four kids. 'When the news came out that my dad was married again, there was chaos everywhere because everyone knew he was already married to Belinda. My mum believes if she could turn the hands of time, she would have waited until my dad sorted out his issues with Belinda, before getting involved with him.'
Muhammad Ali was everything a society could admire in a role model, but for his promiscuity. In 1977, after the scuffle with his first wife had ended, the legend officially wedded Veronica Porsche, who already had Hana Ali for him and was pregnant with a second daughter – Laila.
Laila went on to follow in her father's footsteps and became a boxer, whilst Hana took to writing. Barely 9 years after they officially got married, the marriage came rumbling amid allegations of Ali cheating.
In his entire lifetime, Ali married four different women and had nine children and others who showed up later in life after he had died. He did his best to spend as much time with each child as possible and he decided to document his time with his kids by recording their chats and occasional visits.
In Spite of his busy family schedule, Hana recalls, 'my dad adored and loved me. I remember when I was a kid I would wake up to a lot of kisses from him and sometimes I would have peed in the bed but he really did not care. He was just always present as a father, interested in knowing who I was dating and what I was up to or what I was doing at any point in time. '
The legend, born Cassius Marcellus Clay Jr. had a great relationship with nearly anyone and everyone who mattered in the world. Muhammad Ali changed his name after he converted to Muslim and insisted his birth name bore ties to slavery and as a free man, he had no business bearing a white man's name. Outside the ring, Ali attained success as a musician and received two Grammy nominations.
Hana recalls their home filled with so many visitors all the time and they were not always renowned people in society. 'My dad was the kind of person who would take a drive around LA and come back home with some homeless person he had met, just to show him or her a trick in the house.'
Her fondest memory was when she met Michael Jackson in her home one day after school. 'I remember getting home after school with my hair all roughed up and I entered the kitchen. Our help asked me to go get cleaned up because my dad had a guest, but before she could get the words out, I feel into my father's bedroom just looking for him to give him some hugs and kisses and there he was was. I looked at him and screamed, 'Michael Jackson' and run out of the room telling anyone who wanted to know that I had just met Michael Jackson. I remember he was seated showing my dad the badges from an accident he had when shooting a pepsi commercial.'
During the times of Muhammad Ali's divorce from Hana's mum, Veronica Porsche, Hana was already seeing a child psychologist two or three times a week to learn how to deal with and cope with all the fame her dad's name was bringing to her home.
When the psychologist dropped the news, Hana says she felt her world go blank and that is a memory she does not remember much of. Veronica's marriage to another man left the legend deeply troubled and he always wondered if his daughters were going to call the new man dad. 'Surprisingly my mum's husband was a huge fan of my dad so it put my mum in a rather awkward position. I remember one day when talking to my dad and I mentioned to him my mum was getting remarried, he quickly changed the subject, but midway through the conversation he asked if I was going to call the new man dad and I strongly gave him my assurance.'
Due to this, Hana barely spent any time with her new family and always tried to keep her allegiance to her father. There was one thing that always bothered Hana and she always wanted to find answers to, why her dad could not stay faithful to any woman? Even when she confronted him, he blatantly had no excuse and only apologised for his actions.
Hana knew her dad was suffering when she occasionally would see him shake slightly. 'He was diagnosed with Parkinson's disease – a long-term degenerative disorder of the central nervous system that mainly affects the motor system – which he vehemently refused to accept.'
However, as time went by, the man famous for sayings such as Float like a butterfly, sting like a bee, Service to others is the rent you pay for your room here on earth had to succumb to the diagnosis and seek help.
With time, Ali Muhammad's ailment advanced greatly and his shake was very obvious. In 1996, Atlanta hosted the Olympics and Ali was given the singular honour of lighting the Olympic torch.
He was skeptical to go out in public because of his ailment, but when he finally did, the cheers and applause greatly warmed his heart and gave him the assurance that he was still very much loved and appreciated by the people just as before. Ali simply loved the love he got from everyone when he went out that day.
Unfortunately, Ali's disease further progressed and on June 3rd 2016, Muhammad Ali gave up his spirit. 'All nine of his children were by his bedside when he died and it was a pretty emotional time for all of us. We were, however, happy with how he went out and we could tell from his face that he was too,' an emotional Hana explained.
Whenever Hana misses her dad, she listens to any one of his recording with her and fondly relives the moments. She also has a book, 'Home with Muhammad Ali' which tells a more in depth story of her relationship with her dad.