My name is Jean Christophe Shako. I am biologist and an epidemiologist who specializes in disease control. My colleagues have a nickname for me. They call me the complete man because I am a multi-tasker of the highest degree. For a start I carry around not one, not two but three mobile phones at all times. I also survive on just four hours of sleep a night.
I can't sleep more than that. There are so many responsibilities. I am on the phone all the time. I have to co-ordinate all the actions. There are a lot of troubles on the field. I have to tell the staff what to do. I have to give them the right instructions and so I can't sleep more than four hours a night. Sometimes it's even three hours.
I live in DRC's capital, Kinsasha but for several months now, I've been thousands of miles away from home in a place called North Kivu. It's a province that borders Uganda and Rwanda and is currently facing a deadly outbreak of Ebola.
I lead the Ebola response team there. I co-ordinate healthcare for hundreds of patients and I work with a team which is trying to contain the disease. It's a relentless job and there are more challenges than you think. Challenges like the fact that Ebola treatment centres are targeted by militias.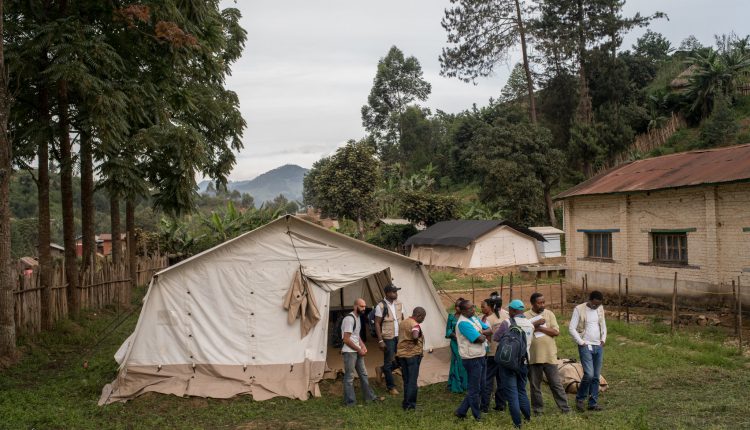 Last October at around 10 o'clock one evening, I was working when in the distance I heard a commotion. A large group of men were making their way to the building and they were armed. There were around 30 of them. They came to the centre, they attacked us from everywhere with machetes, with sticks, with fire weapons. They burnt what they could. They used absolutely everything.
I don't know why they would attack a centre like that. Are they angry against something? I don't know. It's very hard to understand their reasons.
But on that night I had to act quickly. I had my staff and seriously ill Ebola-infected patients to think about.
I told my staff to dress up with full medical gear so that we can evacuate the contaminated people, put them in an ambulance and drive as fast as we can somewhere else.
One patient sadly died because he recognized the attackers. Basically he knew them from before. The attackers realized that and they had to beat him to death because he would have exposed them later.
I managed to get the rest of my patients into an ambulance while the attackers were still pelting us with stones. We needed to move and fast.
As it was 10pm there were no drivers and so I drove the people to another centre.
The only focus on my mind at that time was obviously the people that are ill. I needed to put my life on the line and do whatever I could to save them. Psychologically, it's very hard. It's very traumatizing. You need to have solid nerves to do something like that.
Not only did I have to evacuate patients during this attack. I've also had to witness the aftermath of attacks on different centres and the choices people make in those moments.
The very stressful image I have is when I saw one three-year-old kid after an attack who had been abandoned, which means that his parents had ran and left that kid there. He was in a room all alone and as a parent it's such a stressful image to see one kid like this, absolutely innocent, abandoned in the middle of one room. He was the only one left at the centre. To this day I can't get over that image because it is terrible. This kid didn't have any idea what Ebola is and what these people are doing. And he had to witness all that.
There are various theories for these militia attacks – suspicion of outsiders and conspiracies about Ebola being spread by the government. As a result it's become so hostile in the region that even the charity, Medicins Sans Frontiers has been forced to stop its operations in Butembo, a city in North Kivu and the epicenter of the outbreak.
According to the World Health Organisation, since August there have been 886 confirmed cases of Ebola and almost 600 people have died. It's DRC's worst ever outbreak and so far the second most deadly in history.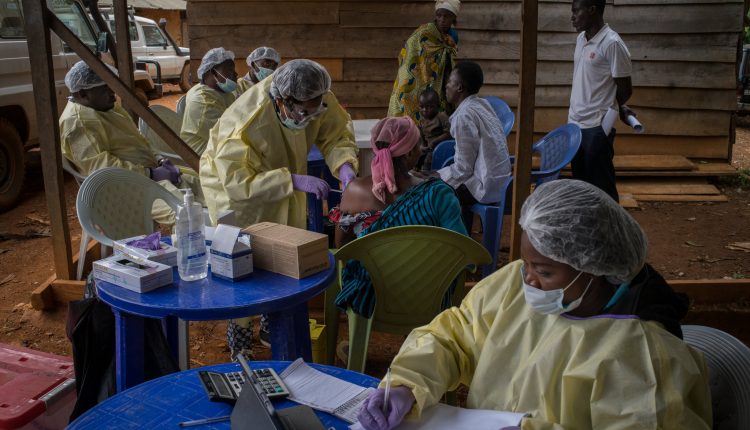 Why has it been so difficult to contain it?
There are a lot of armed groups spread in the North Kivu region. That makes it very difficult for us to cure the outbreak because we have this insecurity and attacks all the time.
It's the first time Ebola has broken out in what is essentially a war zone. There's been a bloody cycle of conflict and political turmoil in North Kivu since 2004. There are around 100 different militia groups vying for control, forging alliances and fighting against each other as well as against the Congolese army. There are so many rebel factions that there's an umbrella term for them.
They are known as the Mai-Mai. And people fear them. They have no limits. They do what they want and they are out of the control of the government. They attack soldiers when they come to villages. They kill the soldiers and take their weapons. And they take hostages. And, yes, they are all very threatening.
As well as kidnapping, they have been accused of recruiting child soldiers, rape and torture. Now with the outbreak of Ebola, these areas have reached unprecedented levels of danger. And as the Ebola response director in North Kivu, it's my job to negotiate with the Mai-Mai to be allowed into their territories and somehow stop Ebola from spreading.
Many people ask why I am not afraid of the Mai-Mai. But if I was scared I wouldn't have gone in the first place. I had to go despite people telling me that I must not go.
My first trip to Mai-Mai territory was in November 2018. An eight-month-old child had died from Ebola and the Mai-Mai took the body of this child and brought him back to the village. When I first got to know about the case, I was like 'no I had to go to this village because it was very dangerous for the rest of the community.'
Going there was not an easy thing at all. At first it was just courage that drove me there. I realized that I couldn't go with any sort of police or military escort because I knew that things would get really bad if I went with them. I couldn't go with a car as well because if I go with a car I'm targeted and as soon as I arrive in the village they'd start to fire their weapons at me.
I got a guide, an interpreter, a man who mediates between the village and the Mai-Mai and we walked through the jungle for almost two hours. When we got to the chief's house in Mai-Mai territory it was lunch time and I still had no idea how I would be received.
When I arrived they were eating. It was interesting because they asked me to join. There were five men at the dining table. They were covered in the amulets that some Mai-Mai use to protect themselves and there were large banana leaves draped at the feet of the Mai-Mai chief. I was offered a plate of food – cassava leaves, meat and fufu. Outsiders are a rare sight and the men all stared at me. But after my trek through the jungle I was starving and so started to eat.
They were happy to see someone come to their village to eat with them. They understood that I was not arrogant. I was not there to take control over them. This really helped because when I explained to them what Ebola was and how dangerous it was for the population because they had just brought in someone who had died of Ebola they understood straight away.
I was able to persuade the Mai-Mai villagers to travel to a neutral zone where my team would meet them and get to work. We managed to list all these people and vaccinate all of them.
When we agreed that we will vaccinate everyone, we had to de-contaminate the places that this dead child had been brought to. And when this was done, we had to monitor the situation for 21 days. On the 21stday when we realized that nobody had been contaminated and that this was indeed successful, it was a very proud moment for me. I realized that I actually did something great for my community. But the crown is not for me. It's for all the team members who had put their lives in danger for this mission.
Since that encounter, I have managed to meet Mai-Mai chiefs from other areas. I've even spent hours with one group of armed fighters giving them a crash course in Ebola – symptoms, treatment and prevention. This particular militia controls the road between Butembo and Goma, the capital of North Kivu and one of the larger cities in DRC. A lot of people live in Goma and it's a major travel hub – a mere seven kilometres from Rwanda and just a few hours from Uganda. If Ebola spreads here the situation would be disastrous. But I managed to broker a deal between the Mai-Mai chiefs and DRC's minister for health. The Mai-Mai promised not to attack any Ebola response workers and the minister reciprocated by sending boxes of medicines. It was a breakthrough.