Deep into one night on September 19, 2018, Lagos police officers were called to a grim crime scene at a local park in the Nigerian city: a young man lay in pain in his blood that oozed from a gunshot wound. He was identified as Friday Ajobor.
Friday, who had just arrived in Lagos from Edo State, a month earlier to earn a living to support his siblings, made his first visit to this particular park on what seemed a very peaceful night.
"People go there to relax, some go there to pray so when a friend took me there we were only sitting." Under the shimmering city lights and the dark night sky, around 8pm some two persons armed with locally made pistols began to approach Friday. He identified them as robbers.
"When they came I didn't notice they were holding small local made pistols because I have never experienced any robbing issue before. I've never been robbed and I have never met someone holding a gun before.
All of a sudden they pulled out their pistols and they shot at me in the stomach. After they shot at me, they ran and my friend ran away too, everybody ran away."
Quivering, he held on for dear life for he says he was afraid to die. "I was just praying to God that I won't die through gunshot injuries."
At a police station nearby, a call from the control room came through for the Ogudu Divisional Police Officer, Celestina Nwankwo Kalu.
"I was sitting right in my office after 9pm in the night when I got a call from our control room. That somebody is lying in a dark garden, laying in his blood. I was shocked. It's not common for somebody to be shot. So I said to the officers 'take him to the hospital'."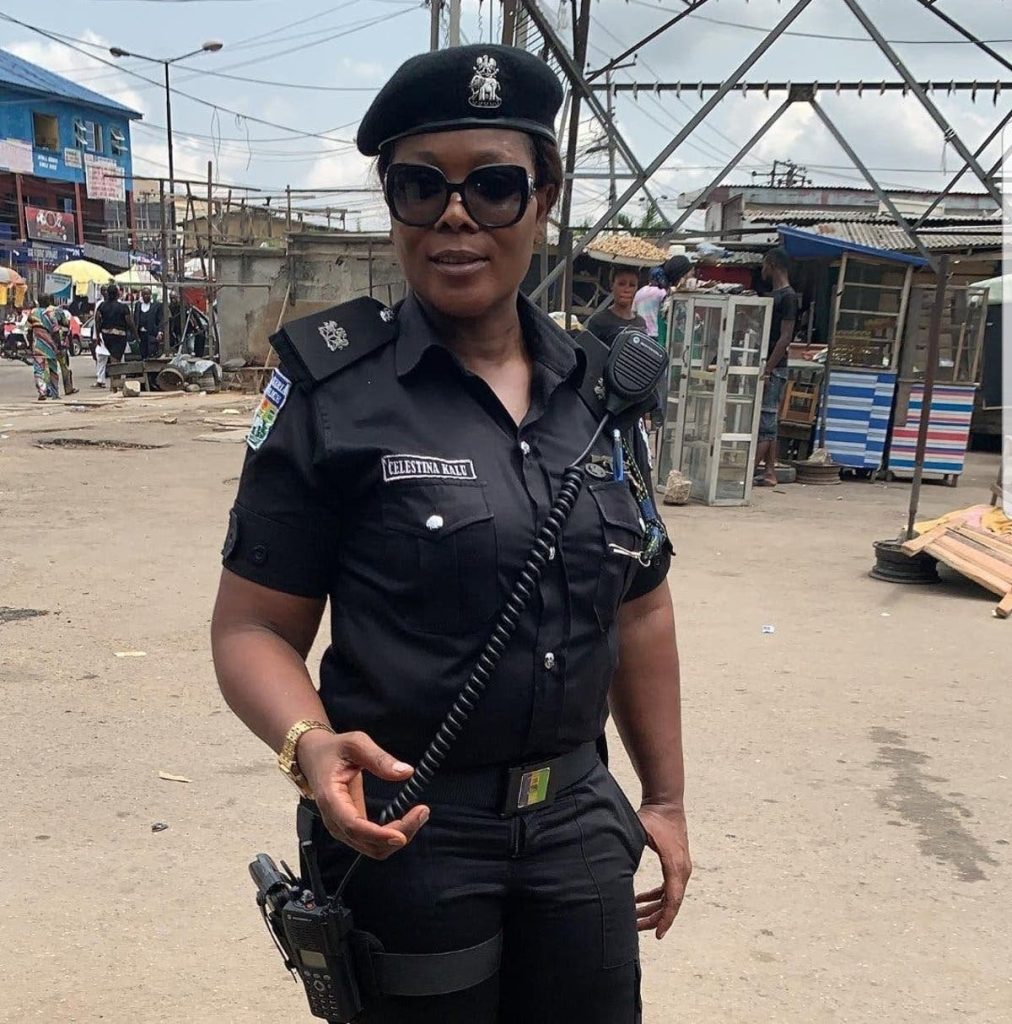 Celestina says when the officers reported back to her, they told her Friday could not be admitted to two hospitals they had been to so far and at the third, there were no beds available in the emergency room.
She decided to leave the police station and set for the hospital to attend to Friday's dire situation.
"When I got there, there were really no bed spaces but I had to do something because the boy had been bleeding since 9pm and it was 12am.
It was important to me to get him help because I saw him as another human being, he was a young man that needed attention. I just couldn't watch him die in my presence; that would not be fair. I couldn't stand seeing him lose blood."
"When I saw her the first time my mind was just telling me to say something to catch her attention. After many hours of stress, the doctor told me I might die. I was still processing everything when I saw her.
I just begged her that morning, that she shouldn't leave me there to die because I was really afraid to die."
"I turned and looked at him and became feeble. I couldn't leave because I knew if I left him, he would have died. Instead, I stayed.
After negotiations with the doctors on duty, Celestina convinced them to take Friday to surgery. From that night on till his full recovery she paid the bill which came up to N200,000 ($700) on that night and for later bills, gathered monies from relatives to help clear the rest.
"I bought everything they needed for the surgery; the blood transfusion, the injections. The bills went on and on everyday. It was crazy. I had to start calling family and friends to send money letting them know that somebody's life is in danger and that they needed help but I couldn't do it alone."
Surprisingly, nobody asked questions. They just understood and helped the way they could.
After the surgery, Friday had been placed in the hospital's Intensive Care Unit under surveillance.
"When I saw her, I wanted to stand up and hug her out of gratitude but I forgot I was in recovery. The doctors reminded me and asked me to wait to do that later. I couldn't even actually move, I was just still lying down. What I could do though, was to wave at her so I did and thanked her. I thanked her for what she did for me."
"I am an orphan so having her support made me feel like having a mother again. She did what a mother would do for her son. So for now, she's just my mother. I feel blessed being around her."
For Celestina as well, she has accepted him as her son. Though they do not live together, they have since kept in touch since the weary incident that changed both of their lives forever.