If you had to run for your life, with fighting all around, what would you take with you?
Clothes, of course, important documents and perhaps a photograph, or another small sentimental keepsake, would be on many people's lists.
But for South Sudanese Joseph Malith Matiang it was a bright red guitar in a bulky black case.
The 22-year-old recently fled the violence in Sudan's capital, Khartoum, to return to his country with his family after a decade. He is now in a temporary camp in the South Sudanese town of Renk, 45km (28 miles) from the border.
A musical instrument can symbolise hope amid destruction: the idea that human creativity can rise above human cruelty.
But for musician and band member Matiang it was more practical than sentimental in the hectic moments before finally leaving their home.
"I picked it up because it was very close to me [when I was leaving], other things were far from me. I left the keyboard behind because it was very heavy," he says.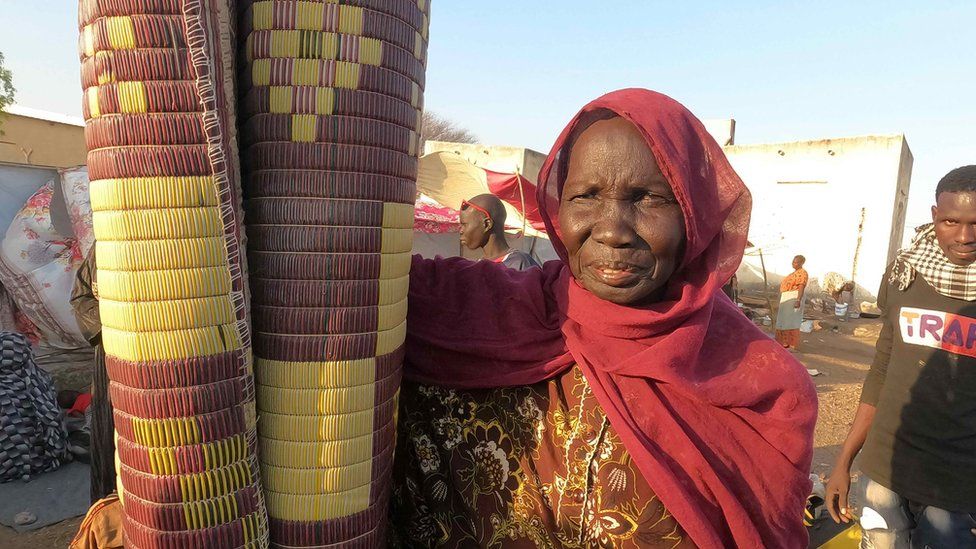 Surprisingly, Matiang, a singer, cannot play the guitar himself, but he bought it for 25,000 Sudanese pounds ($41; £33) as an investment for his band Kuenyipuoua, meaning "to think in your heart" in the Dinka language. It is a troupe of 37 singers, guitarists, keyboard players and drummers.
The members made a little bit of money entertaining others in Khartoum's large South Sudanese community.
They are all young men who, like Matiang, fled north after civil war broke out in South Sudan in 2013 and again in 2016.
Most of the band are now separated by conflict and only seven that they know of have made it back to South Sudan.
The journey from Khartoum to Renk that usually takes six hours on a paved road took several days for Matiang and his family as they crossed check-point after check-point.
Armed men use the stops to look for enemy militia, but also take the opportunity to loot belongings
"I gave the guitar to my mother because they do not question the elderly. Everything else they have taken. No-one was asking about the guitar," Matiang says, explaining how it survived the journey when other things did not.
He is talking to me in a jam-packed informal camp that has been set up in an abandoned university in Renk. Thousands of South Sudanese have fled Khartoum in the last three weeks.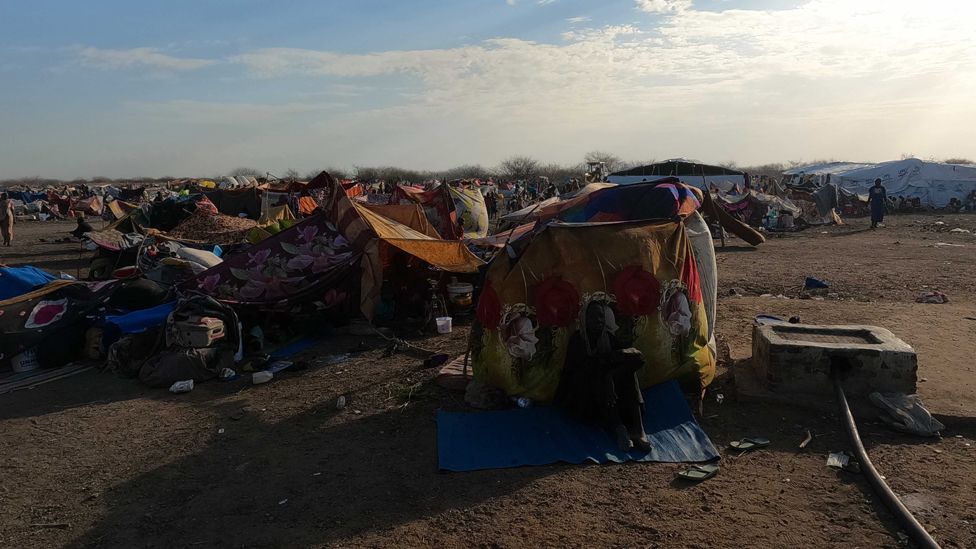 At first sight it is a scene that is difficult to take in.
Families have put up hundreds of makeshift tents made up of wooden poles and African-print clothes.
Mothers and children are sat under them sheltering from the burning sun, protected from the bone-dry earth by mats. In the evening small fires burn as some boil tea or cook fish, vegetables and anything else they have been able to gather.
Others are slouched over suitcases and piles of belongings exhausted from the journey.
Amid this I spot Matiang – dressed in a black and gold shirt and blue cut-out jeans, with a guitar case strapped to his back.
After he shows me what is inside, bandmate, 34-year-old Bol Yel Ring, offers to play.
A crowd quickly gathers as the slim, tall young man begins to strum.
After a long, lilting guitar intro, another band member starts singing.
"We in South Sudan have so many [natural] resources, but we leave them and go abroad," he intones.
"We left the women in South Sudan and we go out to work."
Most of the band took up jobs as day labourers and casual workers to make ends meet and the songs they perform, composed in Khartoum, are full of anguish and longing for home.
"The first song that we played, it talks about the challenges that we faced, how we are tired and lived in really bad conditions. That's why I decided to become a singer to discuss issues like this," Bol Yel Ring says.
South Sudan broke away from Sudan in 2011 after a decades-long military struggle against the government in Khartoum.
But just a couple of years later it descended into a new spiral of violence as elites in the world's youngest nation fought for political influence and the financial benefits that follow.
According to the UN, more than 800,000 South Sudanese then fled to Sudan.
Many are now displaced once again because of the new conflict – the latest UN figures show that more than 40,000 have now returned.
Young people, like those in the band Kuenyipuoua, have borne the brunt of the continuous cycles of violence.
"They have lost their livelihood sources or their properties first in South Sudan due to the [crises] in 2013 and 2016, and now with the new violence in Sudan they have lost. So, they have faced double shocks," explains South Sudanese activist Edmund Yakani.
Despite separating from Sudan, much of South Sudan's politics and economy remain reliant on its larger, richer neighbour. And the impact of the violence further north could get much worse in the coming weeks and months.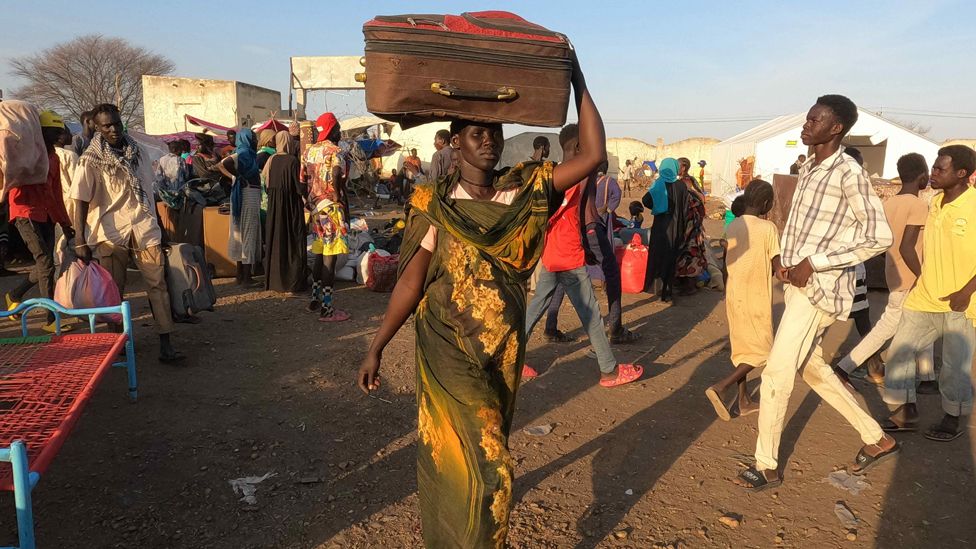 Here in Renk, and other border towns, communities are dealing with the influx of thousands of new arrivals as well as shortages of basic goods. Pretty much everything sold here from water to fuel to wheat comes from Sudan – the conflict has cut off supplies.
On a national scale, there is an existential threat.
Almost all foreign exchange and 90% of South Sudan's government revenue comes from crude oil exports, which leave via a pipeline that runs through Sudan. The conflict puts that money in serious jeopardy.
It could place real pressure on the politics of this country trying to emerge from years of civil war.
Some analysts believe the conflict in Sudan could have a negative impact on the South Sudan peace agreement signed in 2018 after years of war which is estimated to have killed at least 400,000 people.
The roots of today's battles in Khartoum, Darfur and other regions of Sudan can be traced to South Sudan's secession, taking with it the bulk of Sudan's oil reserves as well as other natural resources.
These are the same riches that Matiang and his bandmates sing about, led by the red guitar he carried with him through a war zone.
The people and the politics of both countries still appear to be locked in a similar fate – the men with guns trampling over the dreams of their people, especially the young.
Another of the songs the band sings appeals to the youth:
"Go out and develop your country. If God gives you such a good land like this, and if you have independence, we have to assist each other."
But while the guns are firing it can be hard to hear the call of the guitar.