Journey that started as her township team's only white girl has taken in a World Cup, coming out as gay and launching a club
Janine van Wyk was never afraid to be different. As a child she was desperate to play football, even though none of the girls she knew wanted to join her. As a teenager keen to turn competitive, she headed out of her comfort zone in white suburbia to a black township (an area demarcated by the apartheid government for black South Africans to live in) because it was her only option, even though no one else was doing it.
Now 36, Van Wyk has captained South Africa for a decade and is Africa's second-highest-capped footballer, male or female. In a country where racial tensions are never far from the surface, she is a symbol of how bridges can be built.
"White girls played hockey and netball but my love was always football," says Van Wyk, who is now at the Greek club Ergotelis. "The nearest women's team I could play for was in a township and as the only white girl it was difficult at first. I had to learn a different culture and background and a whole different language of the game. I had never seen such living conditions in my life. Some of the girls didn't have any shoes or football boots and I was getting football boots every second or third month. It made me realise how privileged I was and what I had."
Van Wyk's club, Springs Home Sweepers, were 25 miles east of her home in Alberton, in Johannesburg's south-east, in KwaThema. There she was spotted by Fran Hilton-Smith, a former South African Football Association technical director, and invited to enrol in a high-performance programme in Pretoria.
The idea was that the girls would be housed in a boarding-school environment, with an academic and sporting programme, and would return to their parents during the holidays. Van Wyk felt homesick. "I really couldn't cope. I only stayed there for six months. Some of the girls stayed there for four years and that was something I couldn't do because I needed my family with me."
She dropped out, and ended her school career at 16. But she kept playing football, with the hope that her club exploits would earn her a place in the national side. To make money she coached various school sports from hockey and cricket to netball, and tried, unsuccessfully, to launch girls' football programmes at the institutions who hired her. "Many times I was rejected because it wasn't a very popular sport to play for schools."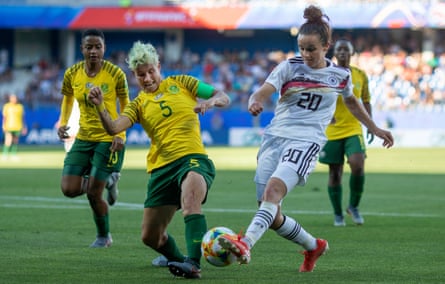 In 2005 she made her debut for South Africa in the African Women's Championship, against Nigeria, and scored the goal that gave them their first victory over the Super Falcons. She has been a mainstay in the team since and has won 183 caps, played in eight Women's Africa Cup of Nations (Wafcon), two Olympic Games and a World Cup. In all that time South African women's football has not professionalised. Players are given match fees and what Van Wyk calls "incentives" for training camps and tournaments but the two-tier domestic league is semi-professional (bar a few clubs who pay their players).
Van Wyk's first salaried job from football came when she was signed by Houston Dash after the 2016 Olympics. She went on to play for Glasgow City, and made her debut for them in their Champions League quarter-final in 2020, which they lost 9-1 to Wolfsburg. "Even though we lost by a large margin, it was about the experience."
Her time in Scotland is one of the highlights of a career that reached its zenith with victory in the Wafcon last year. After South Africa had notched up two bronze medals and five silvers, Van Wyk believed they would eventually cross the line. "I always wanted to lift that trophy," she says. "It was an incomplete dream of mine. And we won at the right time, when women's football is exploding. We were on the news, we were in papers, people are following women's football in our country and that is something that we as a national team created."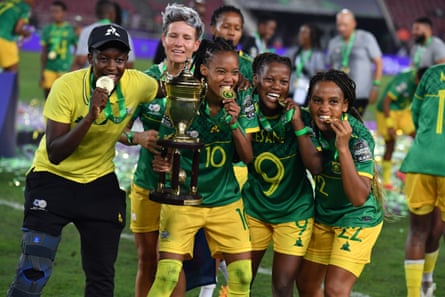 South Africa have qualified for a second successive World Cup but Van Wyk is unsure whether she will make the trip. She has not been part of the preparations and calls it "disappointing" but admits she is ready to retire in the next year or so. In preparation, she has completed her Uefa B licence and hopes to become involved in coaching, where she has created a foundation to build on.
In 2012 Van Wyk launched her own club, JVW FC. They won the second division in 2019 and, with the 2020 league cancelled because of the Covid-19 pandemic, have been playing in the top flight since 2021. "After being rejected by so many schools, I wanted girls to have a platform to play, which is why I created this environment. I wanted to see a change and I wanted to be the change."
That is not the only sphere in which Van Wyk sees herself playing an activist's role. She is known as one of Africa's only openly gay footballers and readily speaks about the challenges of coming out on a continent where homosexuality is punished. In 2008 her Springs Home Sweepers teammate Eudy Simelane was gang-raped and murdered for living in KwaThema as a lesbian but Van Wyk believes things are changing and will continue to speak out for those who cannot. "I openly came out to my friends and family when I was 16 years old even though there were some obstacles and challenges with my family but homophobia has had a rapid decline in society, which is really good. I came out because I automatically knew that's who I wanted to be and I was never afraid. It's not the same for everyone but I hope one day it can be."