There aren't many black cyclists on the global sport stage. So when riding in town, one can stick out like a sore thumb. Mani Arthur, the founder of a cyclist group for black cyclists in the UK, the Black Cyclists Network, says it is an onward uphill challenge riding while black in the cities.
"We needed the community so we created one. Cyclists of colour we're already a minority in our sport. As a black cyclist, I have so many obstacles to already go through. To then have to wonder whether the police are on my side or not, is another layer."
Mani Arthur was stopped and searched by the police last year during a ride to promote diversity. His complaint against the officers has been upheld by the British police watchdog, the Independent Office for Police Conduct (IOPC).
Official figures show that in London, if you are black, you are four times more likely to be stopped and searched, according to a police study.
Mani says incidents like these are examples of why diverse riders need a space and why he created this club for them.
"In the cycling universe we're looking around and we're saying: 'Are we doing enough?' and to be honest, the thing is, we've not done enough. When I initially set up the Black Cyclists Network, I knew I wasn't the only one. I knew there was a community out there.
We're trying to appeal to a certain demographic who have been marginalised. They've felt unwelcomed."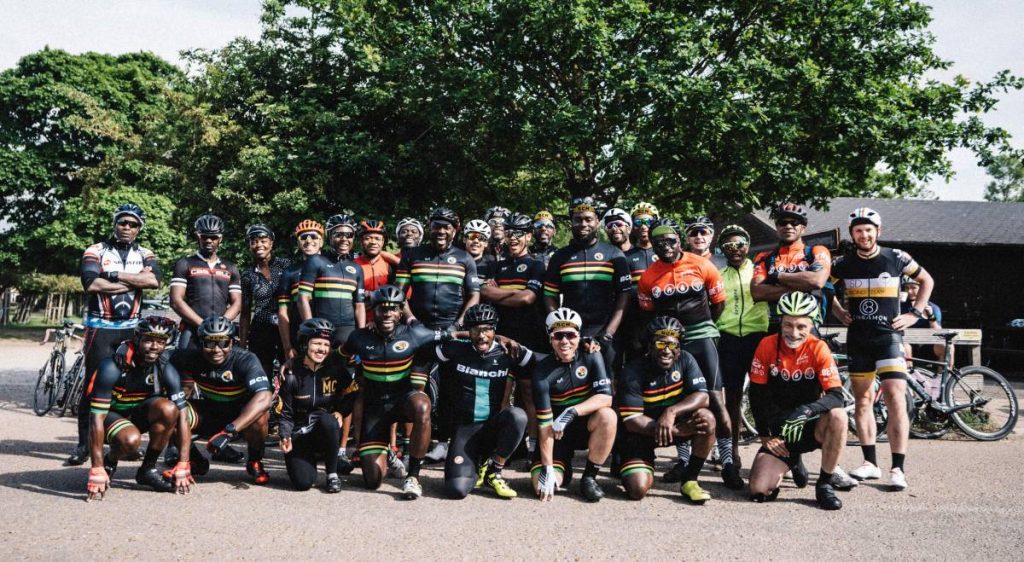 When riding, the cyclists ride in pairs.
"To have someone look like them and to have a group they feel comfortable in it's so important."
One cyclist said, "I want to ride with people that are going to encourage me and not look down on me or look at me in a different way. As a woman of colour there aren't many places to go."
Cycling is a very white-dominated sport. "Since Goerge Floyd's murder that has brought up a lot of questions about structural racism and instituional racism.
Mani said the police officer told him he smelt cannabis on him. "And I said, 'really?' He said he's going to need to search me so I said ok."
"When I was younger I used to get stopped and searched quite often. I sort of blamed it on the way maybe I was dressed."
"White cyclists generally don't really think about what riders of colour go through."
After the search, the police said they no longer smelt cannabis on Mani. Mani says the whole experience was humiliating.
"It was a degrading experience."
"It all comes down to where there's a will, there's a way. I've been speaking to British Cycling Association to try and see what they can do because at the moment there's nothing happening. That's why I partnered with a friend of mine, Andy Edwards, to produce the Diversity in Cycling Report."
The diversity in Cycling Report is a study with information that informs conversations within the wider cycling community to analyse whether it's diverse. The study revealed that it's not. There were many issues. Visibility, accessibility, and lack of being inclusive were all major problems identified.
Mani says even though he is very proud of this project, "it's a shame that we have to create our own ecosystem."