Africa is gradually becoming a hotbed for innovation and Ghana's KudiGo is the latest addition to a slew of tech-driven platforms revolutionizing informal consumer retail in Africa.
KudiGo is a mobile platform that provides retail, analytics, accounting and payment engine for consumer retail businesses.
"The idea of KudiGo was birthed out of a personal experience my grandmother encountered says Kingsley Abrokwah the "Chief Enabler" at KudiGo.
His grandmother owned a provision store (mini grocery store) and she once decided to access a loan of less than $100 to boost her business, of which, she was charged 40 per cent interest. This seemed outrageous and got him upset.
"I found out the loans company couldn't verify her records which is risky for them so they are charging high interest as a risk measure so they can reap back their money if she fails to pay back. That got me thinking," he explained.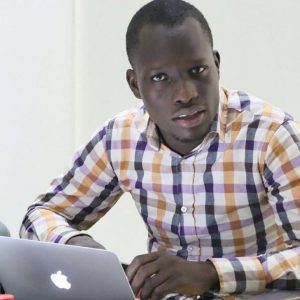 This for him, goes beyond his grandmother's experience. A lot of people engaged in informal retail businesses in Africa have no proper framework, and a well-structured activity account, which often leads to businesses going bust and closing up once the owner passes away.
The first 6 months of creating KudiGo Storefront was spent on researching informal businesses, with a focus on gathering information from their perspective, to build a product tailor-made for them.
"I found out that they do understand technology, but solutions out there wasn't designed with them in mind. So we thought, what if we could build a solution that works like WhatsApp; Simple to use, and in a way that will be easy and improve the way they do things."
He then founded KudiGo in 2017 and got a few hands on board to help build it, which included CTO Gideon Adjekum Boateng, Co-founders Bright Ahedor and Lucky Dogbe.
"All mony for KudiGo came from my personal savings. We were bootstrapping when we started, but now, we've raised funds and we are looking to raise more in the coming months," he said. We just closed our seed round of around half a million dollars and it was led by an accelerator called Founders Factory Africa. The accelerator led the round and two other angel investors as well, helped us raise funds and we are looking to do another round in the next 6 months of around 10 million dollars."
The fund is to help with product market fit focusing on quality to ensure that people are effectively using the product, augment growth to the 5000 users target and stimulate better service.
The first year after launching was a learning ground for the team. Today, the platform has garnered almost 1000 businesses (users) in Ghana and Nigeria.
"We believe our product have strong social impact, so we are looking at quality businesses rather than quantity. By end of the year (2019, we want to have 5000 businesses so we can manage them properly and help them grow before scaling up."
Business model
To generate revenue and sustain the business, KudiGo offers a premium service for GH₵69 monthly (a little above $13 at the time of this report), which provides users with everything retail, accounting, analytics, and payments an all in one application. Users can run multiple stores on the platform concurrently at no extra cost.
Another way it generates revenue is through the percentage on payment charges, made through the platform such as Mobile Money, card payments etc.
There's also an enterprise product that costs $3000 per license for the big corporates.
The influx of fintech platforms in Ghana is no cause for alarm for the company as its founder explained, "there's no company offering a holistic solution like KudiGo and that differentiates us from other players on the market. KudiGo is in between 3 different markets; retail technology, fintech and big data."
For him, KudiGo's success is partly hinged on strategic corporate partnerships with established institutions in similar fields.
"One strategy that has worked for us as a company is the corporate partnerships; we have corporate partnerships with Sage Pastel and Interswitch Group, and these companies are present in the countries we want to expand to, so we are looking at where our partners are and how easy it will be for us to set up there."
How it works
KudiGO is designed to make running your business easy and seamless; this principle is applied in every aspect of the system design.
Users, especially people in consumer retail space like provision shops, pharmacies and table top stores get to download the KudiGo mobile app from Google playstore for free. After setting up the store in three easy steps, users get upload inventory, track sales, detect expired products, and perform other retail activities that would seem cumbersome initially.
Future
KudiGo is aiming to become the largest company in Africa with a complete oversight on what happens in consumer retail in Africa.
Leading to KudiGo
Kinglsy Abrokwah was born and raised in Accra, Ghana. He had his Secondary School Education at Wesley Grammar Senior High School, completing in 2007. Upon completion, he worked as a call centre agent to fend for himself and to pool funds to further his education. He completed his first degree at NIIT in Network Engineering in 2013. His academic life was shared between running night shift jobs and schooling in the mornings.
Abrokwah harboured hopes of becoming a pilot growing up but realising his deficiency in Physics and Maths backed by a discovery of the power of Information Technology (IT), he bowed out of his initial pilot dreams and embraced IT.
Today, he is the 'pilot' flying consumer retail businesses in Africa.