The daring prison break, the celebrity girlfriend and the escape across borders had all the elements of a fictional thriller.
But in some ways that tempting description serves to glamorise and trivialise what South African rapist and murderer Thabo Bester actually did.
While many were open-mouthed after each revelation about how this man managed to flee prison and live undetected for a year, his victims saw it a different way.
It also exposed a stunning level of official incompetence.
One of the women he attacked spoke to the BBC on condition of anonymity.
Bester, known locally as the "Facebook rapist" for using the site to lure his victims, had pretended to be an agent who was going to help her find a job in television.
"Reading his stories in the news is bringing back a lot of triggering memories," she said.
"The escape left me triggered and traumatised.
"My only prayer is that he stays in jail and doesn't get a chance to hurt any more people."
He was never convicted of her rape, but in 2011 Bester was found guilty of raping and robbing two women.
A year later he was sentenced to life in prison for the rape and murder of his then girlfriend, model Nomfundo Thyulu.
Bester went by many aliases and was a charming, charismatic smooth talker – a personality that got him what he wanted.
But behind the charm was a cunning career criminal, a dangerous and ruthless man.
"He's a person who clearly doesn't really feel much remorse and has gotten worse, not better over time," clinical psychologist Dr Gerard Labuschagne, who first met Bester in 2011, told the BBC.
"The punishment [of prison] didn't have the effect that I guess we would like it to have had upon him."
Dr Labuschagne interviewed Bester while working at the police's profiling department.
He said that even 12 years ago Bester showed indications of "impression management". He was manipulative, never fully taking responsibility for his crimes, even as he pleaded guilty.
After the conviction many in South Africa forgot about him, until the news that the man who once preyed on desperate women, enticing them with promises of job opportunities, was back living among the free.
Confirmation of his daring escape made headlines last month.
"He's gotten worse in terms of his criminal behaviours," Dr Labuschagne said.
"There's something with his personality that is very different to the rest of us, and that's never going to change."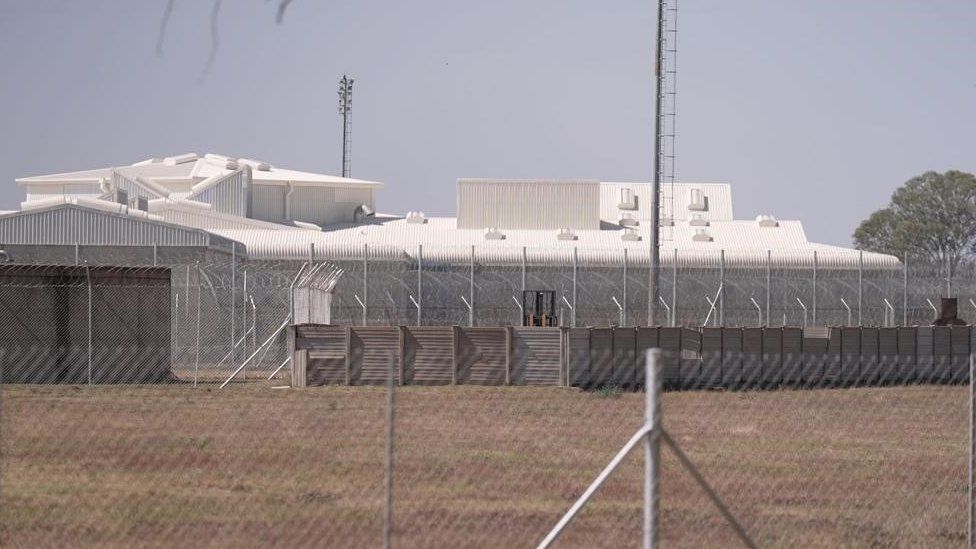 Last year, in the early hours of 3 May a fire broke out in an isolation cell at the Mangaung Correctional Centre.
It was thought that Bester was inside.
After frantic attempts to douse the flames, the prison authority notified the police and other officials that the man in the cell was dead and that he had killed himself.
The existence of the gruesome, charred body opened the door to a series of months-long investigations about how this could have happened. These were conducted by the police, the prisons watchdog, as well as one by the firm in charge of running the prison, British multinational security company G4S.
GroundUp, a South African news agency that focuses on human rights issues, was one of the first to report on the fire at the time, to shine a light on the death. It wanted to try to get answers about how a fire had started in an isolation cell and how a prisoner had been allowed to die.
"Even when it was believed it was Bester who died in that fire, we covered it because we believed it was an issue of public interest," GroundUp editor Nathan Geffen told the BBC.
"This was supposed to be a maximum-security prison, run by the one of the world's largest security companies, G4S. And yet by their telling, someone managed to kill himself by setting himself alight in the prison and no proper investigation had been done," he said.
A few things did not add up in the weeks that followed the fire.
The autopsy report showed that the man in the cell had died from blunt force trauma to the head, not in the fire. His body smelled of accelerant, possibly paraffin, and his lungs were clear with no sign of smoke inhalation.
This suggested a dead body had been placed in the cell before the fire.
It turned out it was an elaborate ruse to allow Bester to escape that same night dressed in a warder's uniform.
The body had been smuggled into the prison in preparation for the breakout and Bester had conned his way into the isolation cell, which was located near a fire escape. It also happened to be in a part of the prison where CCTV coverage was not the best.
He allegedly greased a few palms, from warders to camera operators, and bought his way out of prison.
But it would be months before officials admitted not only that the corpse was not Bester's but also that they had no idea where this dangerous man was.
With no-one really looking for him for nearly a year, Bester appeared to be living it up under a new name in the millionaire Johannesburg suburb of Hyde Park.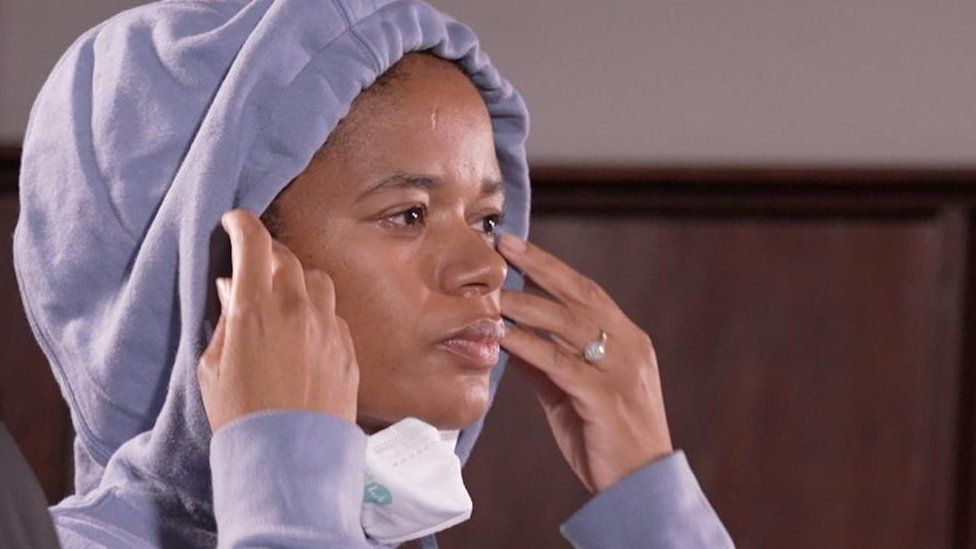 He hid there in plain sight with his celebrity girlfriend, 35-year-old doctor, Nandipha Magudumana. She specialised in medically treating things such as skin conditions to improve the way that people look. She had worked for Bester in 2006 when he was an events manager and then started visiting him in jail in 2017.
But GroundUp did not stop asking questions and it was the first to publish an article on the story complete with photos that included a man, who bore a striking resemblance to Bester, out grocery shopping with Dr Magudumana, her children in tow.
It was shared by a fan of the celebrity doctor, who was curious about the man she was with as she did not recognise him as the doctor's husband.
"Quite frankly, what's happened is depraved and South Africans should be extremely concerned that Thabo Bester managed to get out in the way that he did, and that G4S ran the prisons so incompetently that this was allowed to happen," said Mr Geffen.
The exposé would be the beginning of the end of the pair's secret life.
Other local newspapers followed GroundUp's lead and Bester and his partner went on the run.
The media coverage also led to some uncomfortable questions for the people in charge of the country's prisons.
"There are authorities who knew what happened, did nothing for months and months and months until the story was broken," said Mr Geffen.
He was referring to an ongoing investigation by a parliamentary committee looking at Bester's escape, which has heard evidence by officials claiming that the police and Justice Minister Ronald Lamola knew of Bester's escape last October – and sat on the information.
Mr Lamola has apologised to Bester's victims, saying that more information should have been shared at the time.
G4S – which was summoned to appear before the committee – has admitted to a number of security failures on the day of the escape but it has denied that it should be held accountable.
Some of its employees have been sacked over the incident and the government has taken over management of the prison following the scandal.
Defending the decision to keep Bester's prison break quiet, the police said it was to gather more information for their investigation before acting. However they have been criticised by MPs for moving too slowly, while the rapist and murderer was living freely.
It may have been a mix of public pressure and relentless media coverage on the story that pushed officials to finally act with haste. The couple were arrested in the Tanzanian city of Arusha late on 7 April, in possession of multiple passports with fake identities, the authorities said.
They apparently left South Africa by car via the Zimbabwean border, then travelled north to Zambia and finally to Tanzania.
They were arrested, officials have said, after a joint operation with Interpol and private security companies and the two are now back in South Africa where they are facing new charges.
This week, Bester's alleged accomplice Dr Magudumana returned to court for her second appearance since their Arusha capture.
Isolated from Bester she appeared in a crowded courtroom where there were more armed security officers than the general public. She sat with her face covered, head bowed, in the dock with thick shackles around her ankles.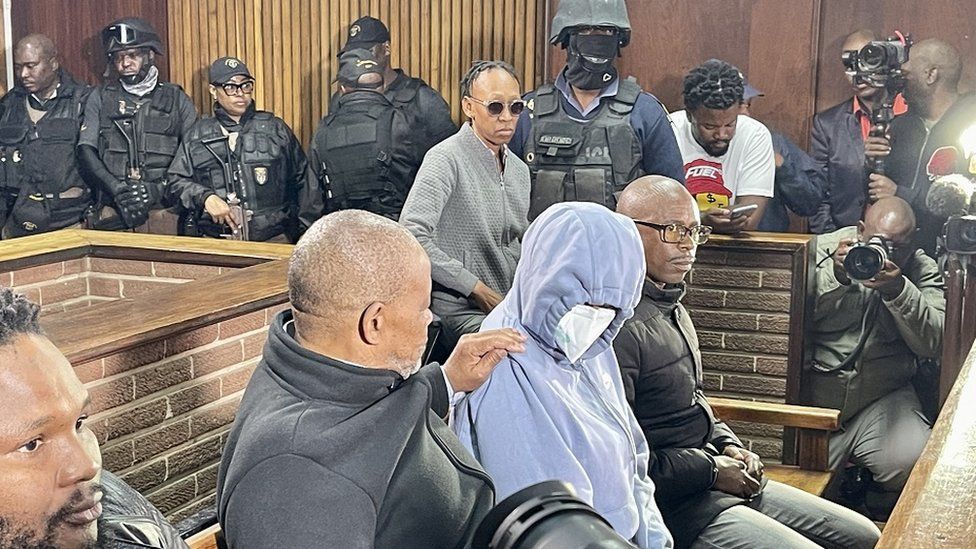 It was a huge contrast from her glamorous social media image of champagne lunches and frequent international holidays – a far cry from the glitzy image of a sought-after doctor, a "super mom and wife".
In court she looked small, tired and shrunken.
She is yet to plead to the charges, which include fraud and murder.
These are in connection with three bodies the doctor allegedly tried to claim over the last few months as part of the escape plan, including the corpse found in Bester's cell.
At least four other people, including a former G4S supervisor and Dr Magudumana's father, Zolile Sekeleni, have been arrested so far over their alleged roles in Bester's escape. They have not commented on the accusations.
Sixty-five-year-old Mr Sekeleni sat beside his daughter, stroking her hand and leaning in occasionally to comfort her. Perhaps both questioning how that moment came to be.
As for Bester, he too will have his day in court. He is being held in another high-security prison.
In contrast to his seemingly shy alleged accomplice, at his brief first appearance last Friday, Bester scanned the room boldly as photographers snapped away, apparently unfazed by all the attention.
There was something dark in his demeanour as he sat there.
"We have to accept that some people can't be rehabilitated. I don't think Correctional Services or society likes it [but] some people are bad," said Dr Labuschagne.
"It's a small portion of offenders, but some people should never be released back into society."
But South Africa's prison system does not allow for life without parole – a position that many have said should be re-evaluated, especially when it comes to dangerous criminals.