Fashion they say as an art is a careful expression of an individual's mood and personality well James Maina Mwangi from Kenya can be said to be the most expressive man on earth.
If you do not have the accurate sense of attraction to fashion yet, then you have probably not met the most fashionable man in the world.
James introduces himself as, 'I am James Maina Mwangi from Nairobi Kenya and I am the smartest man I think in Africa – or in the world.'
The Kenyan says he came to the country's capital, Nairobi, with only one shirt which he had to wash and wear each day and people laughed at him, so he asked God to give him something different from what all others had and that is how he got his sense of style.
Now, Mr Mwangi owns over 160 coloured suits to fit every occasion and every mood.
When dressing up, James carefully coordinates his attire and ensures every single thing he wears matches his colour theme for the day, even to his underwear and phone cover.
'When I want to wear something, if it a green suit, I wear it with green shoes, green cap, green handkerchief, green underwear, green pen and a green phone cover.'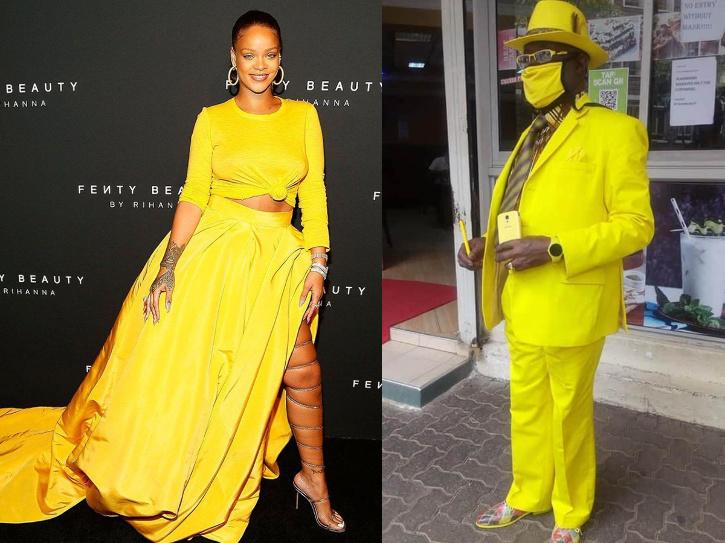 In this era of COVID-19, the 59-year-old Kenyan has added to his fashion statement the mandatory yet inconvenient face masks.
Mwangi's brightly coloured suits and hats always make him stand out even on the busy streets of Nairobi which are always buzzing with activities.
In recent times, James Maina Mwangi has been realized to be coordinating colours with American artiste Rihanna, an act no-one can tell if it's intentional or just by accident.
For anyone who wishes to be like James, he says you need to pray to God for these three thing; 'Taste, choice and wisdom.'