With her 11-year-old brother suffering from cerebral palsy and epilepsy, Hana Zeratsyon is extremely worried about whether her brother will get his medication following the outbreak of a new conflict in Ethiopia's already war-scarred Tigray region.
He lives in the regional capital, Mekelle, with my parents and siblings and – just days before the conflict started – I had what has turned out to be my last video chat with them about his treatment.
As his medication is expensive and pharmacies in Mekelle often run out of stock, I agreed to send money to my family to pay for the drugs, while they were going to get the medication from the federal capital, Addis Ababa.
I did a bank transfer from Kenya's capital Nairobi – where I live – to Mekelle, but with the state-owned National Bank of Ethiopia now shutting all of its more than 600 branches in Tigray because of the conflict, my family cannot withdraw the money.
And even if they get the cash, they cannot get the medicines, as all passenger flights into Tigray have been halted, meaning that no-one can bring it from Addis Ababa. Road travel between the two cites, about 700km (435 miles) away from each other, has also stopped, leaving many Tigrayans stranded in the federal capital.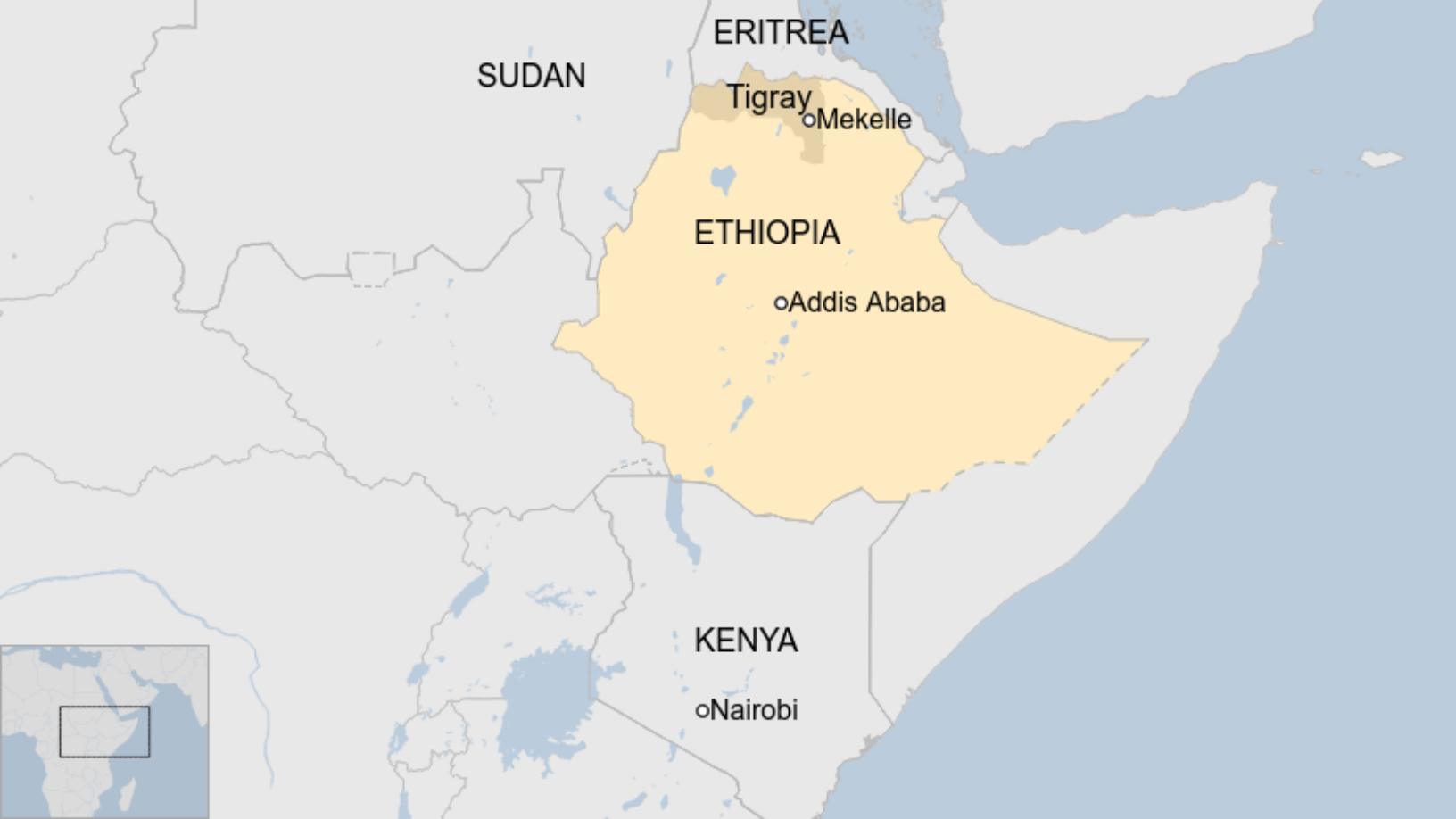 The airspace is now restricted to military aircraft.
Ethiopia's Prime Minster and Nobel Peace laureate Abiy Ahmed has warned people in Tigray to avoid holding gatherings as he has ordered air strikes to destroy the military arsenal of the regional government. He wants to dislodge it from power after accusing it of being illegally in office and of violently taking control of a federal military base near Mekelle, charges the Tigray government denies.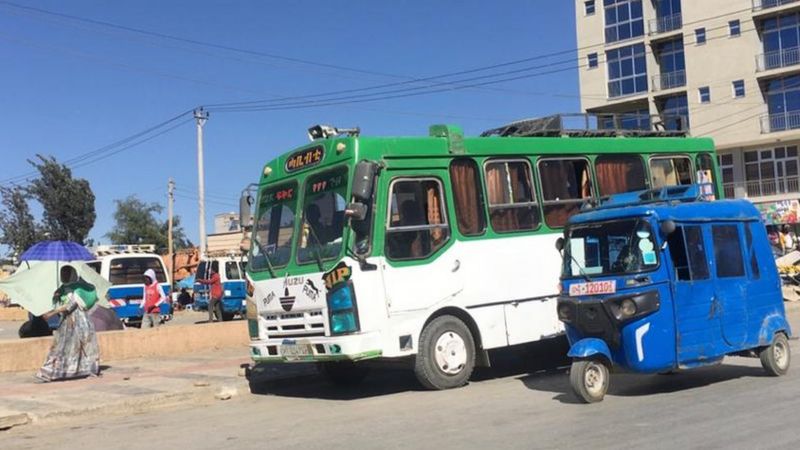 The regional government has also heavily restricted road travel within Tigray, as fighting takes place, according to the UN, in eight locations, including in the sesame-growing area of Humera, where farmers are usually harvesting crops at this time of the year, helped by workers from the neighbouring region of Amhara, in a sign of how the fate of Ethiopians of all ethnic groups is intertwined.
Now, fear and suspicion are growing, with some Tigrayans in the federal police and military telling me that they have been ordered by their superiors to hand in their weapons, and to stop reporting for work.
Water rationed
When news of the conflict broke in the early hours of 4 November – the day the world's attention was focused on the fiercely contested US election – I received a message from a colleague, saying: "Have you heard what's happened? Have you checked on your family?"
I immediately dialled the numbers of my parents and siblings, but could not get through to any of them as the phone lines were down and the internet was shut, cutting me – and hundreds of thousands of others – off from our families in Tigray.
I miss my little brother the most. As he cannot talk, I used to see him during video link-ups of my family.
Now, I cling to the photos I have of him – and hope that the conflict ends soon so that he can get his medication. I had also been thinking of getting him over to Nairobi for further medical check-ups. I was also thinking of buying him a wheelchair as he has difficulty walking.
All this will have to wait until the conflict ends, but what if it drags on? This is a real possibility as the prime minister has rejected mediation while the regional government – led by a former guerrilla movement, the Tigray People's Liberation Front (TPLF) – is unlikely to give up power without a fight to the finish.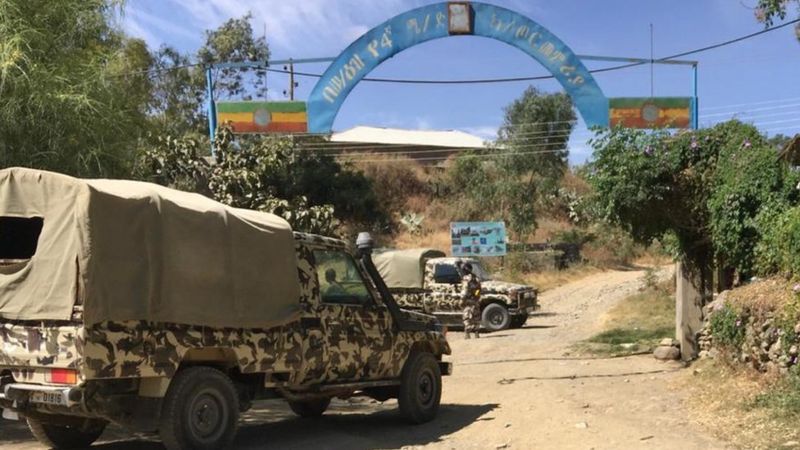 What will then happen to my family and other families? Will there be a scarcity of food? Will prices rise? How will families cope with a shortage of cash, especially if they rely on remittances sent by relatives living abroad?
There are already reports of a shortage of flour and fuel in Tigray – and, worst of all, water which was already rationed.
In Mekelle, which has a population of between 400,000 and 500,000, homes used to get piped water once a week, but the supply has stopped.
Families used to buy water from vendors, but with phones disconnected, they can no longer call to put in orders.
On Thursday it was reported that a power-generating dam had been damaged in an air strike, cutting electricity.
'Never wear white'
But my biggest worry is this: What if tanks roll into my home town or if it is hit in an air strike?
This aversion lasted until my teens, when I finally said to myself: "It really is OK to wear white."
I have vivid childhood memories of the 1998-2000 border war between Ethiopia and Eritrea – of being shielded by my mother in our home as we heard the terrifying roar of fighter jets and of being told never to wear white clothes to avoid being spotted.
Some of my friends – whose minds are also racing back to that era, a time which we thought we had left behind – are having worse flashbacks – of building bunkers in their school as four-year-olds; of an Eritrean air strike killing children at another school; of friends and neighbours never returning from the frontline.
One friend's memory goes back even further – to the stories he had heard about how his mother fled to the outskirts of Mekelle in 1989 to escape air bombardments ordered by Ethiopia's then-ruler Mengistu Haile Mariam's Derg regime, and to how his grandfather survived the 1943 bombing of the city by the British Royal Air Force at the request of Emperor Haile Selassie.
So, the people of Mekelle – like those in other parts of Tigray and Ethiopia – have lived through war after war.
They are worried about another one, especially when the festive season is approaching.
I had planned to go back to celebrate Christmas in January – as Ethiopian Orthodox Christians do – and to get married to my boyfriend, who continued to live in Mekelle after I moved to Nairobi a few years ago to work for the BBC.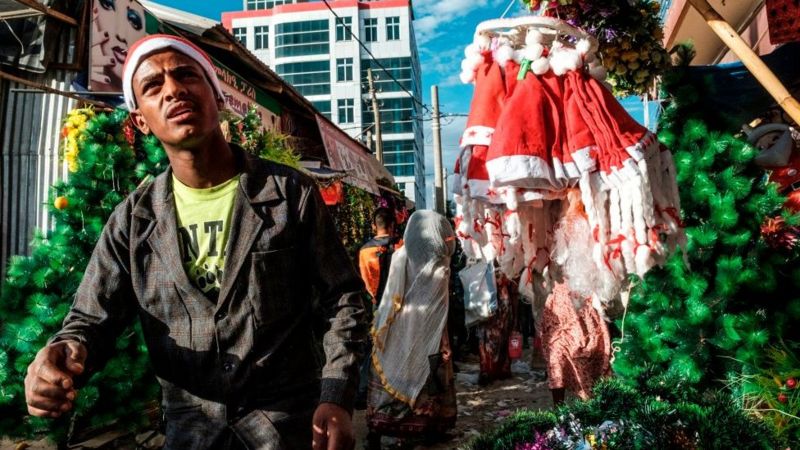 But my plans are frozen, as I find myself cut off from him and my family. It reminds me of my father, a humble carpenter, who lost all contact with his sister in Eritrea because of the war that the two countries fought.
For two decades, he spoke of how much he missed her. When border crossings reopened – albeit temporarily – following the peace deal Mr Abiy negotiated with Eritrea's President Isaias Afwerki in 2018, he was looking forward to seeing her, only to learn that she had died.
For his peace efforts with Eritrea, Mr Abiy was awarded the Nobel Peace Prize in 2019 and, in his acceptance speech in Oslo, said:
"It takes a few to make war. But it takes a village and a nation to build peace. For me nurturing peace is like planting and growing trees. Just like trees need water and good soil to grow, peace requires unwavering commitment, infinite patience and goodwill to cultivate and harvest its dividends."
Like many others, I am hoping that Mr Abiy and Tigray's leader Debretsion Gebremichae now make peace.
Otherwise, the seeds of hatred could grow, in a nation already hit by ethnic clashes that have left about two million people – including more than 100,000 Tigrayans – homeless in different parts of Ethiopia since 2018.