At just 20 years of age, Madusu Koroma already has plenty to grapple with in life.
Not only did she inspire her country at last year's Commonwealth Games in Birmingham, narrowly missing out on a bronze medal in the wrestling, the Sierra Leonean is also a taekwondo black belt, medical laboratory student and, perhaps most surprisingly of all, a movie star.
All-action barely does her justice.
"Sport is the thing that inspired me to act because there was a time when I had a project to do about self-defence for ladies," she told BBC Sport Africa, recalling her days before wrestling when she specialised in martial arts.
"After that, directors and managers started calling to be part of their movies since I have ideas and skills, so as time went on I fell in love with acting."
Koroma has switched between two major movie studios since taking up her new role in life in 2014, winning a national award for best supporting actress in 2017.
Given her sporting background, action-based roles come naturally.
"In my experience sport is all part of entertainment, so I try my best to do both at the same time," she explained.
"Whenever I am shooting, I talk to the director to be on set by this time because I train for wrestling in the morning from 7am to 11am, Monday to Friday."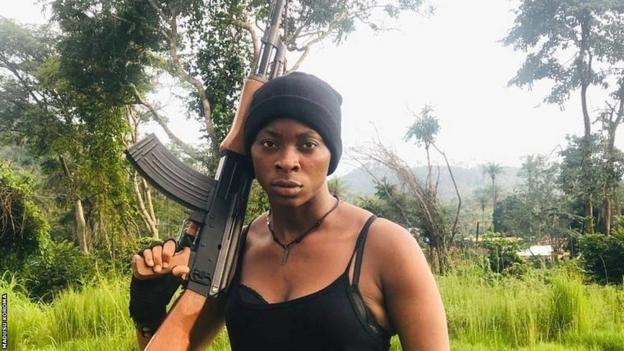 Commonwealth tears
While it is clear Koroma is a strong woman, even she could not hold back the tears in Birmingham when beaten by England's Georgina Nelthorpe in the 76kg freestyle wrestling bronze medal bout.
Part of a 27-strong squad that travelled to England, Koroma, then 19, was determined to win Sierra Leone a first ever medal at the Commonwealth Games.
Instead, she was pinned by the shoulder inside 23 seconds.
"I want to change the idea of women (in Sierra Leone).
"They are out there, they are willing to do sport and sacrifice everything they have, but I did not come with good results that time round," Koroma admitted.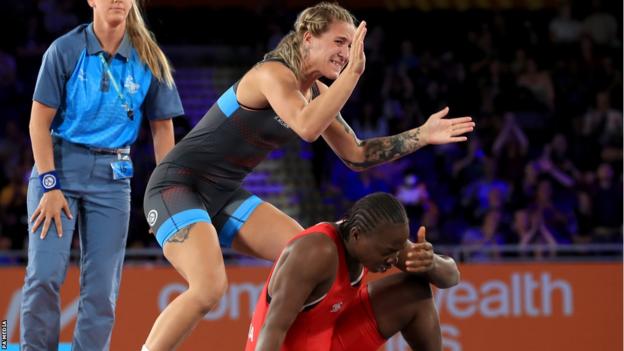 The negative attitude to sport in her country is something she encounters regularly, particularly when it comes to her arduous training schedule.
"When going out every morning, they say, 'Madusu, are they paying you? What are you getting? What are you benefiting?'
"I say, 'No, nothing. Why are you asking?'
"People now look at me strangely. They don't understand, they don't know what my vision is.
"I love the sport, it's my career. It is the thing I love doing so I don't want someone to mess up my head.
"There is no space for those people. I just have to change their mindset about it.
"My dream is to reach the top, to be known by people, to change the lives of women."
'They don't believe in sport'
Support might be lacking in the general population back home, but moves are afoot to encourage more women in Sierra Leone into sport.
Bai Bangura, secretary general of the Sierra Leone Wrestling Association, acknowledges that a medal for Koroma at the Commonwealth Games could have been a game-changer.
"It would mean a lot," he told BBC Sport Africa.
"Back home in our country, this should have been history for her and us, because they have not seen other women succeed in the sport.
"The sport that most people have success in, especially in our country, is football, when young men succeed.
"We're working on talent development, talent identification back home. We are mostly targeting women."
"Representing your country is a great, great opportunity," added Koroma.
"When it comes to sport, the majority of the ladies (in Sierra Leone) are not part of it. They don't believe in sport.
"So I want them to know that today I might have lost, but tomorrow might be a victory for me."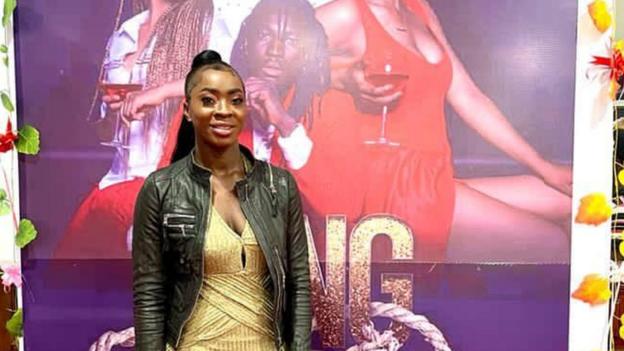 A future leading lady?
Amazingly, Komora only took up wrestling two years ago.
But her previous experience in taekwondo and mixed martial arts meant she was no stranger to success in combat sports.
"I set a record in taekwondo – the first female black belt dan in Sierra Leone, and I want to set it again in wrestling," she revealed.
These days, as well as dividing her time between the wrestling mat and the movie set, Koroma is also a laboratory science student at Milton Margai University of Science and Technology, based in Goderich, west of Freetown.
"I try the best I can to share my time between university and sport because I need the education as back-up."
Koroma's love of sport was originally inspired by her older brother who used to take her to watch football matches, an audition that would go on to see his sister take on her many roles in life.
And she has ambitions to be a leading lady in future.
"I want to be a president, minister of sport, wrestling director – all of those," said Koroma, aiming high.
"If you want to feel the pain of people, you have to go through the process."
The final scene of Madusu Komora's story is yet to be written, but the script so far has been a thriller.