Siya Kolisi made history in South Africa when he became the first black captain of the national rugby team. With a deep rooted love for the sport he also took the Springboks to world cup victory in 2019. This is his story.
The day South Africa cried for joy was an unstoppable historic moment in the country's rugby history. Thousands lined the streets in several towns across South Africa; Durban, Soweto, Johannesburg, East London, and Port Elizabeth to welcome home the Springboks and to celebrate the victory that they, led by Siya Kolisi, had won. They brought home the 2019 rugby world cup trophy.
Although South Africa had won the rugby world cup some years prior; first in 1995 and again in 2007, what made this win extra special is the fact that the team was led by the first black captain of the Springboks.
Siya Kolisi remembers the day. "I had never seen such support like that from people back home and honestly don't think we could've done without them."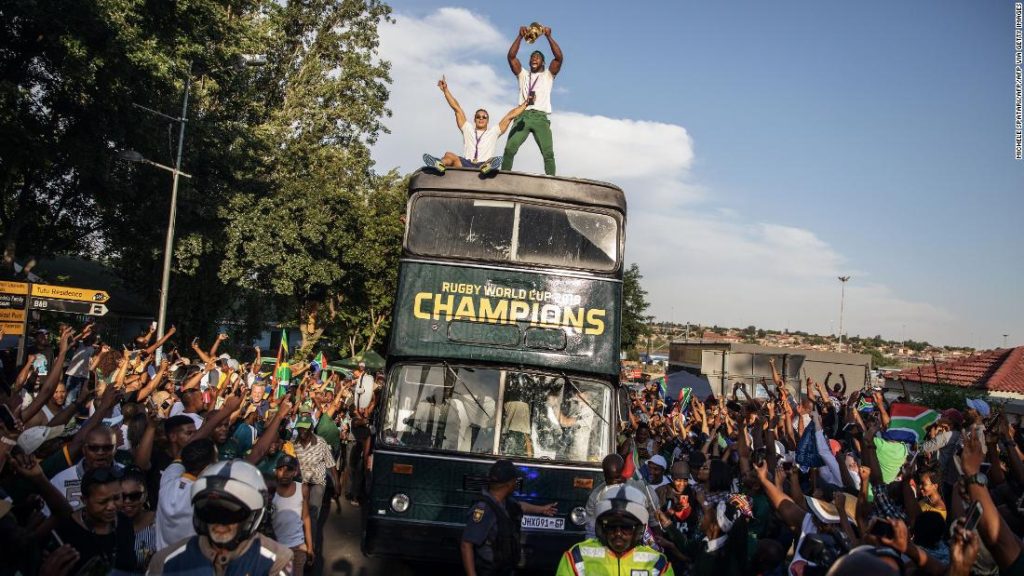 Siya Kolisi is the type of individual who works with what he's got. He makes sure to always be himself and play his best on the field. Off the field, he's also always had the same mindset.
Raised by his grandmother in a township in the Eastern Cape, by his extended family, namely his grandmother, Siya Kolisi survived on a combined meal of powdered milk and a slice of bread.
"My grandmother just had an amazing heart and she gave me time, love and support. That's all she could offer me at the time. There was no money for my R50 ($3.08) school fees. But we still made it work and that's when I learnt to use everything around me for my good before anything else."
He was born into poverty and life outside of home was not in the slightest easier either. Between crime and sport, young people like Siya Kolisi, didn't have any other option. Siya chose sport. First he tried football and it wasn't his best performance.
"There were a lot of options like getting into gangs which were not good. Luckily I loved sports because my family played rugby. So that took me away from the crime. I lost a lot of friends because they just lost their way."
"I tried football first and I was horrible. I couldn't kick the ball straight so they put me in defence so I could just stop others from scoring. Then I became a goalkeeper and I just realised, they just shifted me out of the team slowly. So I went to rugby."
"I loved it! I lost a lot of weight and went on straight to win. It came more natural to me because my dad, grandfather and all my uncles played rugby as well."
"I would go to school, do all my stuff and just be excited to go to training. I spent the rest of my time there and watched the first team play at the stadium."
By the age of 12, Siya was playing amateur rugby all the time. He got his lucky break when he impressed scouts at a youth tournament in 2003 – he was offered a scholarship to Grey High School in Port Elizabeth, a prestigious educational institution. Grey has a reputation for producing top sport athletes who represent South Africa on the global stage at the international sports level and Siya became one of them.
"I felt I had a purpose and people recognised the hard work that I put in. The resilience I had as a kid, and the hard work that my grandmother put into making sure I become a better man," that's the moment it all led up to.
All costs were fully covered for Siya at his new school in this new chapter. He had unlimited access to food, school uniforms and boots to play his favourite sport. Things he once did not have.
"I remember when I got to Grey, I was 15 or 16 years old and I started getting big from being a small guy previously. I went from eating one meal a day to six meals a day. I got big, they had to stop me because I was eating too much."
While one challenging chapter was closing, another seemed to be closely round the corner. Siya heard that his mother was being abused by men in the community. They battered her face, a picture shown to her son revealed and this hurt Siya a lot.
"I got a picture from my mum. I had never seen my mother look like that. It was tough for me to see that. I had moved to Grey and when I went home there would just be violence in my community."
"If people didn't agree with each other, they would just physically resolve it. I felt helpless that I couldn't help my mum."
On another front, at his high school, Grey, he had to get used to a different culture. English was rarely spoken in the township, Siya came from but everything was in English at school.
"That was the toughest part, the language barrier. It was very hard because in my school I was an A student but when I got to Grey I was failing because the language was very hard and I just couldn't cope or function. It took quite a while. I knew I had to adapt to the new culture."
Just when he picked up the language, another blow came his way. His mother and his grandmother passed away. Though it pained him that the two most important women in his life had gone, he carried himself on.
In 2007, a little tavern, a desperate Siya had to watch his favourite rugby team, South Africa play in the world cup final against England in France. Witnessing South Africa's victory then, Siya's dream to play for the national team came to fruition in the midst of glorious national pride.
"It was amazing, the tavern was packed. People who didn't know rugby, people who knew rugby we all celebrated together and their win just made everybody happy that day. I was just hoping that one day I'll represent the springboks too."
That dream did come true.
Siya turned professional and was a rising star who produced great results on and off the field.
"I felt good. I knew all the work I wanted to do is now possible. I'm getting closer and I remember my first salary, it was 5000R a month. I was still helping out my school, and then my club. The older I got I did a bit more, buying jerseys for the school and the club."
Five years later, his coach, Rassie Erasmus made a historic announcement. He told reporters that Siya Kolisi was to become the national team's captain; the very first black man to take up this role. 
It was significant, for Siya, his family, and the nation. For the longest time rugby had negative connotations in South Africa. It was seen as an apartheid sport because it was played mainly by white South Africans particularly during the painful years of racial segregation.
But even in the democratic era, it took a long time for black players to make the national team. So when Siya was made captain it became a powerful moment signifying that the country was taking a step forward.
"I didn't understand how big it was for the people of South Africa. It was something that I never dreamt of and then it was very big for the country. It was like a barrier broken for other kids to come from all backgrounds; black or white, it became possible for them to achieve."
Children with similar backgrounds to Siya's also now had an existing example of someone they can aspire to become.
"Now they've got a point of reference to say this guy was able to do it with his background, now it's possible."
In 2019, South Africa began to prepare for the rugby world cup which was held in Japan. At the end of August 2019, Siya and his team left for Japan carrying the hopes of millions of South Africans.
South Africa kicked off its word cup campaign against New Zealand. Siya and his men lost that match with some rugby pundits writing them off in the early stages of the tournament but they quickly picked themselves up. They went on to win against Namibia, Italy, Canada, Japan, and Wales, before meeting England in the final.
Now on the verge of greatness, Siya needed to psyche himself up.
"I'm always putting myself under pressure. Everytime I step on the field, I'm always under pressure to know that I have to give my 100%; not only for me but for everybody else that I would like to help. I think about it all the time. 
That's why it's not easy for me to give up or to stop because I want to make sure I think about everybody I can help if I'm at my best the whole time."
Back home, groups gathered to watch and they sang war cry songs about leadership. They jubilated non-stop over the victory.
"It was sheer joy and endless opportunity abounded. I think a victory for a lot of people that prayed, a lot of people that put in effort and hard work it was huge. The two years before that, we were in a difficult place."
"We lost terribly, and right there at the world cup, the country was going through a lot in gender-based violence, xenophobia, there was nothing good going on and the team, we knew we had to do so much more. Not just for ourselves but for our country too. We had to bring a bit of good news."
Siya was the first black South African not only to captain the Springboks, but also to lift the rugby world cup. Shortly after the game at Yokohama, a jubilant Siya walked across the field holding his two small children taking photos. 
"It was amazing and it was so special, even my dad was there and my best friend was there. They just came for the final."
"To have them there, just for my kids to know if you put your mind in something and work as hard as you can and have good people around you, you can achieve greatness. It's also an example for fathers to show their kids they can be role models to them too."
Siya Kolisi has become a sporting hero in South Africa. Not just because of his strides on the pitch, but also because of the struggles he's been through that many black South africans can relate to.