Nujuum Hashi, who has overcome traditional prejudice to become a respected artist in Somalia, decided on her career as she drew pictures in the sand as a seven-year-old in the capital, Mogadishu.
Her family had no fixed abode as this was the height of the civil war of the 1990s and early 2000s. They fled from neighbourhood to neighbourhood, but Hashi always found sand to draw in.
"Art has always been a form of relief for me," says Hashi. "During periods of intense fighting, drawing pictures of normal, peaceful life calmed my nerves."
Art also helped her after the war quietened down. "My quranic teacher was super aggressive. He used to beat us. I was terrified of him. I drew pictures in the sand on my way home as a form of stress relief.
"I used my school pencils to draw a whole city on my bedroom wall, building it up image by image over time."
Hashi never went to art school. "My father was my teacher. He wasn't an artist but he used to doodle in his spare time. I asked him to show me how to draw. But he died when I was young."
Her mother did not support her dreams of becoming an artist. Neither did her neighbours, who accused her of being un-Islamic. Most Muslims believe that art depicting humans and animals is forbidden.
"They forced me to stop painting. I abandoned art completely and studied nursing. But I found it boring. One day I decided art would never leave me and I would never leave my art, no matter what people thought of me."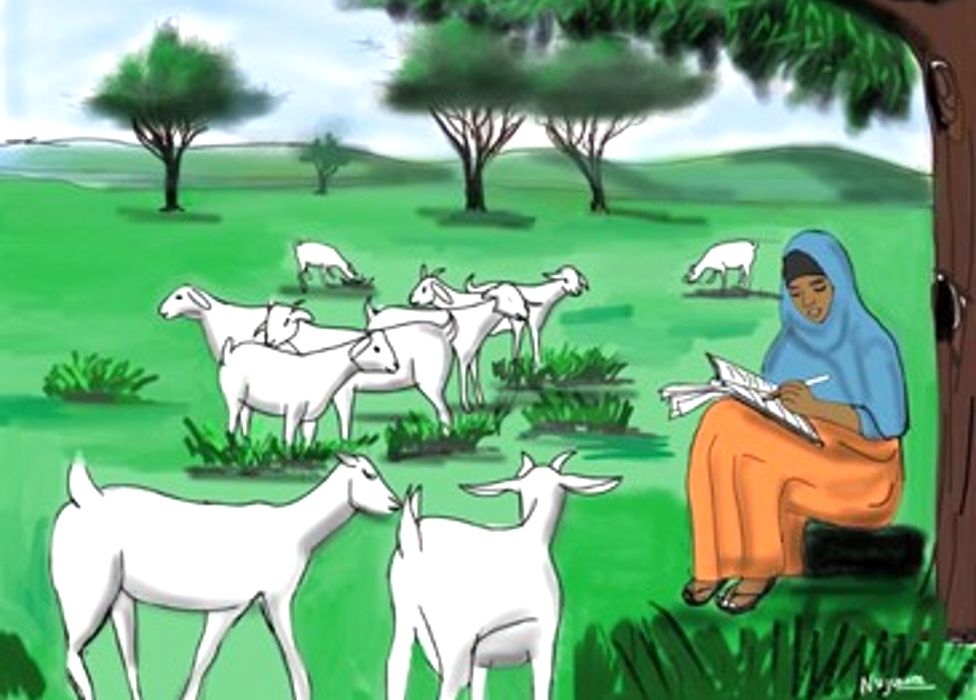 Now Hashi makes a decent living from her art and is able to support her extended family.
The 26 year old lives in Hargeisa, the capital of the self-declared republic of Somaliland, and receives commissions from government departments, international organisations and individuals. Somaliland's education ministry asked her to provide images for its campaign to get more girls into school.
"This girl is doing her homework while she tends the family's goats after her long walk home from school. I wanted to show that girls can study alongside their household duties."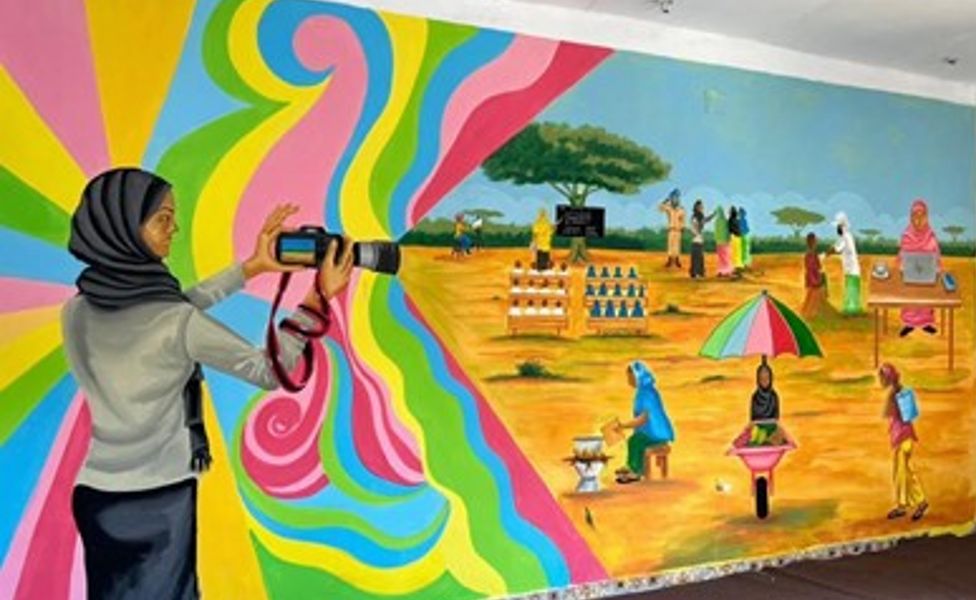 A recent commission was a mural for a women-only media house, Bilan, recently established in Mogadishu. It shows a journalist filming women as they go about their daily lives. If you look carefully under the tree, you can see Hashi painting a picture.
It is not easy to find artists' materials in Somalia and Somaliland so she has to ask friends to send her paint, brushes and canvases from Kenya, Djibouti and beyond.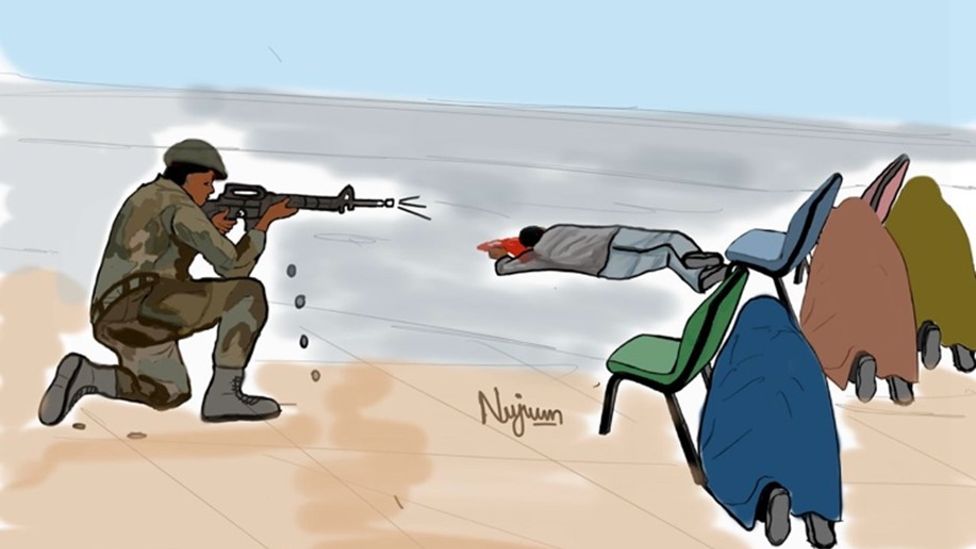 Hashi's art is becoming increasingly political – and some news organisations and journalists use her work.
During August's opposition protests in Somaliland, at least five people were shot dead during clashes with the security forces.
"I saw a photo of women hiding behind chairs as a policeman opened fire. I couldn't get it out of my mind." "A minister showed up uninvited at the funeral of one of the protesters. People were furious and a lady kicked him in the backside.
"She's now seen as an opposition hero!" With the region is enduring its worst drought in four decades, Somalis are facing a huge humanitarian crisis.
"The politicians beg the outside world to send money for starving people," says Hashi. "Then they stuff it into their own pockets." Drought and environmental degradation inspire some of her abstract paintings. This painting in her Hargeisa studio symbolises the cracked, dry earth and the burning of precious trees to make charcoal.
Many of Hashi's paintings show people going about their daily activities. "This is a nomadic family listening to the famous journalist Ahmed Hassan Awke on the BBC Somali Service. "Sadly he is dead now. People loved him so much, especially his amazing, deep voice."
Some paintings are intensely personal. "This shows me fighting the Covid virus. I was incredibly ill and was scared I would die like so many others around me. "After I painted this picture, people started calling me to ask for tips on how I managed to recover."
One of Hashi's favourite pastimes is to go out into the countryside, especially Somaliland's stunning Sheikh Mountains.
"This time I was travelling with friends who didn't know how to paint. I shared my materials with them and by the end of the day they had all painted glorious pictures. "Art enables me to show hidden aspects of Somali life, far away from the stereotypes of war, famine and disease."